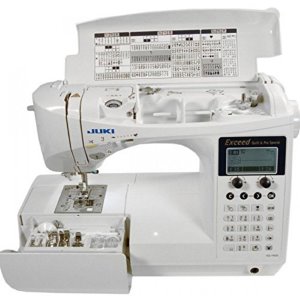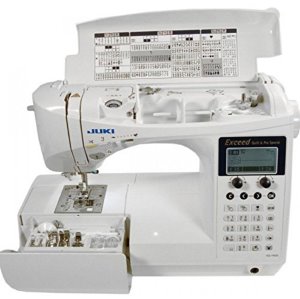 It is time for my Juki HZL-F600 review. The Juki HZL-F600 is one of the best machines they have ever made. Juki is known for its unyielding quality and commitment to satisfying their customers. When you use the HZL-F600, you will immediately feel the difference between it and a lower grade sewing machine.
What can this machine do for you? It can help you produce garments in record time, it can stand up to all the brutal punishment you throw at it, and it allows you to do excellent free-motion sewing. There is really nothing you can't complete while using the HZL-F600.
As a computerized sewing and quilting machine, you should know that this unit comes included with lots of built-in stitches to help you from project to project. I'm talking about 255 sewing patterns and an additional 4 fonts to keep you creating.
Juki HZL F600 Review: Overview
There are so many amazing features packed into this machine that I won't waste any of your time with fluff. Let's dig right into it.
4x Larger
An average sewing machine gives you enough space to work and be moderately comfortable. The HZL-F600 gives you four times that space. With an amazingly wide work surface, exactly 8 inches wide, and 12.25 inches long, you can easily work on larger projects that would have given you a hard time on an ordinary sewing machine.
This is excellent news for people who like to work on quilts, on large pieces of decor, blankets, and multiple pieces at once. You will definitely feel liberated with a working surface that is four times larger than what you were probably used to on your old machine.
255 Built-In Stitches
Sure, there are some computerized sewing machines that have upwards of 1,000 built-in stitches. But who needs 1,000? The Juki HZL-F600 comes with 255, and I think that is a very ripe number for anyone who wants lots of customizability without the drama of having to sort through 1,000 mostly useless options.
A panel on the top of the machine clearly displays all of the stitching patterns, and you can easily select which one you want to use by utilizing the oversized LCD display. You even get four different fonts that can be extremely useful for embroidery.
A Fluid Transition
One thing this sewing machine does extremely well is transition fluidly. What I mean is that thanks to its intuitive features, the machine can switch from complex garment sewing to hemming within seconds. You can then switch from hemming to ordinary sewing, then straight to free-motion sewing. This is one of the best units money can buy for switching up your sewing styles.
Transitioning is not even difficult to do. Because this sewing machine is so intuitive, you can operate it practically blindfolded. The quilting foot for free-motion sewing is extremely well-designed, the bobbin winder works to fill a tight and even bobbin with almost zero effort, and the stitch quality is unparalleled.
For anyone familiar with Juki and their sewing machines, you will not be disappointed with this purchase. It even comes with an independent bobbin motor so that you don't need to stop, reconfigure, fill your bobbin, and then continue sewing. This machine does it all at the same time.
Quick, Quiet, Convenient
There is almost no end to the quality and convenience of the Juki HZL-F600. It transitions smoothly, it has perfect needle placement with exactly ¼" needle distance from the fabric for flawless piercing, it comes included with an amazing thread cutter, and it is extremely quiet.
There is nothing greater than a quiet sewing machine. When you use the HZL-F600, you will notice how incredibly quiet it is. Even though it has a super powerful motor that is capable of many stitches per minute, it still purrs almost silently.
Related Articles:
Along with being quiet, the machine is super convenient. All of the buttons are exactly where you would expect them to be, selections are all very easy to make thanks to the LCD display, and the twin LED lights make it extremely convenient when working at night. There is one light over the needle and another light over the bed. You can work deep into the night without bothering anyone else in the house.
Quality Stitching
The most important thing with any sewing machine is that it sews properly with quality stitches. And you definitely get that when using the HZL-F600. The stitching with this machine is consistent and quality. It does not matter what kind of stitching pattern you use, nor does it matter what kind of fabric you are sewing, every last stitch is going to be strong and precise.
Between the large range of utility and decorative stitches, the well-thought-out included sewing feet, the free-motion capabilities, the reasonable price, the quality stitching, and the amazing speed at which you can piece together quilts, there is no better unit in this price range right now. The Juki HZL-F600 is 100% quality.
Juki HZL-F600 Review: Final Thoughts
It all comes down to quality. Sure, you can buy a budget machine that will only break a few months down the line. But if you invest in the Juki HZL-F600, you are getting a machine that is good for life. Thanks to its industrial strength, it can easily punch through any type of material. This is great for people who sew leather, denim, fleece, lace, cotton, and every other type of fabric.
This unit comes with a large LCD display, it can make buttonholes that are above industry standards, it has a massive working surface that lets you take on huge jobs, and it is built to be extremely tough. The sewing machine itself weighs almost 15 pounds more than your standard sewing machine. That means it is strong.
What I'm trying to say is that I love this unit. If you are looking for a new sewing machine, look no further. The versatility, the value you get for your money, and the longevity of the HZL-F600 make it very much worthwhile.
Related Articles: