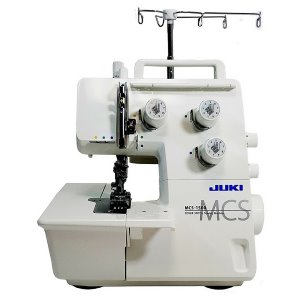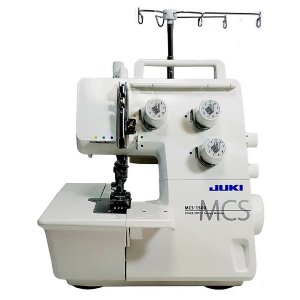 Juki is a well-known manufacturer of high-quality sewing machines. It's a name that's been around a while and is a brand we've all come to trust. They offer a wide range of sewing machines that are fit for a wide number of purposes. Among their expansive collection of sewing machines, they have some that can carry out multiple sewing functions, while others specialize in just one or two areas.
Coverstitching is a way of producing a professional-looking hem and can be used for most projects, including hems and sleeves. Chain stitching involves creating a series of looped stitches in which to form a chain-like pattern. You'll most often find this kind of stitch in things like the waist and the side seams of pants.
If you're looking for a new cover stitch and chain stitch machine that will enable you to produce beautiful and accurate stitching each and every time, then the Juki MCS-1500 may be the perfect match for you. It's well-made, it's easy to use, and it's affordable.
Juki MCS 1500 Review: Overview
The looper is very easy to thread on this machine, meaning less time threading, and more time sewing. This is partly down to the color-coded guide that's printed directly on the machine for easy reference. It's also partly down to the thread looper being so easy to operate. All you need to do with this is push the button and watch as it lowers in front of you.
Another simple to use but helpful feature is that of the thread cutter. It's very effective and takes no effort to use. As soon as you lift your foot off the presser foot the machine cuts the thread for you. You also get a very helpful extension plate with seam guidelines. This is the perfect tool to help control straight stitching.
If you do happen to get stuck with anything along the way, just refer to the enclosed user manual. It is very comprehensive, covering things like how to thread the machine or how to run a test to ensure it's working as it should. There's even a troubleshooting guide to refer to in case any issues arise while using your machine.
For added peace of mind, Juki also supplies a 2-year electrical warranty, a 5-year mechanical warranty, and a 90-day adjustment warranty with your purchase.
Adjustability
When it comes to making adjustments on Juki MCS-1500, everything works just as it should. The differential feed is adjustable and comes in handy when sewing materials of different thicknesses. It even works with stretchy fabrics, which is a bonus. To adjust the differential feed simply turn the relevant dial in the direction required. This can be done either before or during sewing. The settings you get to choose from are 2, 1.5, N, and 0.7. While the number 2 or 1.5 settings will give your stitches a pushed effect, the 0.7 will give your stitches a stretched effect. Choose the N setting if you want a normal feed.
The presser foot is fully adjustable to 8mm or 10mm, allowing you to feed fabrics of different thicknesses more easily. This feature will help prevent any bunching or stretching. There's also a presser foot guide that presses down on either side of the material. Used in conjunction with the seam guide and extension plate, you can create the most straight and accurate stitches.
Runs Like a Charm
As well as being easy to use and easy to adjust, the Juki MCS-1500 is super smooth in action, producing some of the finest quality stitching you could expect from a home machine. There's no bunching of fabric or skipping of stitches. Everything works just as well as you'd expect a professional machine to.
It has a maximum sewing speed of 1350 stitches per minute, so it is suitable for even the more advanced machinist out there.  And, despite it moving at supersonic speeds, the Juki MCS-1500 remains stable while in use, leaving your stitching to be nothing but flawless. There is very little vibration thanks to the super solid frame, and it's actually one of the quieter models out there.
Related Articles:
Versatility
You might think that because it's a specialized machine, the Juki MCS-1500 will be lacking in features and functions, but that's not the case at all. In terms of stitch options on offer, there's a 4-thread cover stitch, a 3-thread narrow cover stitch, and a 3-thread wide cover stitch. On the wide setting, the width is 5mm, whereas at the narrow setting, it's just 2.5mm. The narrow setting is good when working with lightweight fabrics as it will prevent your fabric from tunneling. The stitch length is also fully adjustable, up to a maximum of 4mm.
Another great feature this machine has to offer is the automatic roll hemmer. With this in place, the edge of the fabric is rolled over itself twice in order to conceal and secure the edges of the material. This roll is then sewn over and sewn. There are two different modes to the automatic rolled hem feature on this machine. The first mode allows for rolling over the end of the hem, while the second ensures extra durability by providing a strong overlock stitch.
Juki MCS 1500 Review: Final Thoughts
Overall, the Juki MCS-1500 is a fast and featureful machine that's most suited to the intermediate or advanced user. It's got a whole load of fantastic features on offer to make your sewing experience both easier and more enjoyable, and it's not a bad price either.
Being made by Juki, there are no concerns when it comes to durability. All the components that make up the machine are solid and built to last, and the super-rigid frame ensures there's no excessive vibration, leaving you with a professional finish each and every time.
So, if you are on the look-out for a reliable cover and chain stitch machine to see you through a range of projects, the Juki MCS-1500 comes highly recommended.