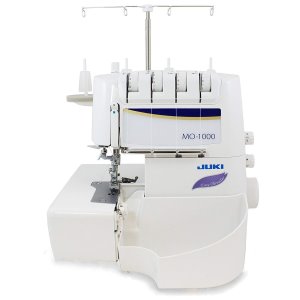 The craft of sewing has been around for thousands of years. And while the processes may have changed somewhat in that time (particularly with the introduction of the modern sewing machine), the basic principle is still the same – to either repair or make clothes, quilts, or pretty much any other home décor craft you can think of.
While there are hundreds of different sewing machines available to buy on the market today, there are really only a few manufacturers that produce good quality models worth a look in, one of which is Juki. Founded in Tokyo in 1938, Juki is one of the leading manufacturers in the world, when it comes to both industrial and home sewing machines. It has quite an extensive range of machines under its offerings, with models capable of doing pretty much anything sewing related.
One of the company's top-selling models around at the moment is that of the Juki MO-1000 Serger. It's professional-looking, it's fast, and it has some amazing features to offer. In this review, I'll go through just what else it has under that cover.
Juki Mo 1000 Review: Overview
While it's probably not the most suitable machine for someone completely new to the world of sewing, the Juki MO-1000 Serger is actually a pretty simple device to operate. When you first look at the Juki MO 1000, you'll probably think it looks like any other serger out there. However, once you get inside that looper cover, it's a whole different story.
Inside most serger covers you'll find an intricate thread maze running its way through. But with this machine, you simply get two holes in which to insert the thread, a switch that turns the air on and off, and a handy little color-coded threading chart that explains how the whole threading process works. This is what's known as jet-air looper threading and is, by far, one of the coolest functions this (or any) machine has to offer. Not only does this function save you time, but it will also save you any hassle of fighting with thread as you weave it through the machine.
In fact, it's probably one of the easiest machines out there to thread – period. All you need to do to get up and sewing with this machine is insert some thread that's about 9-12 inches in length into the corresponding opening and press the 'air' button. Then watch in awe as the lower looper threads are sent through and ready to go. The upper looper is just as easy to thread. Simply follow the guide on the machine, then let the automatic needle threader do the rest.
Great Functionality
The Juki MO 1000 has the ability to produce seven different kinds of stitch. These are: a 2, 3, or 4 thread overlock; a 3 thread narrow overlock; a 3 thread flatlock; a 3 thread rolled hem; and a frilled 3 thread rolled hem. Every stitch produced by this machine is tight and accurate and a breeze to sew, even when using thicker materials such as knits or leather.
There's a retractable blade that's integrated into the machine and is activated at the simple pull of a lever inside the looper cover. And it has a wide throat area which quilters will appreciate. To make sure you can see what you're sewing the Juki Mo 1000 has a super bright LED light illuminating the needle area.
Related Articles:
To change the number of threads you want to work with from 2, 3, or 4, just turn the dial located on the side of the machine and you're good to go. The differential feed and stitch length controls are also located on the right-hand side of the machine for convenience.
High-Speed Stitching
If you're someone who likes to sew at warp speeds, then you'll get on well with this machine. This serger machine can sew up to at an eye-watering 1500 stitches per minute, which is plenty fast enough for most people. Surprisingly, it's actually one of the quieter machines out there, thanks to the machine's sound reducing design.
The Juki MO 1000 measures in at 15.4" x 15.2" x 16.3", and weighs 23lbs., so it's probably not the best machine to use on the move or for taking to sewing class. But if you've got a nice little space for it in your sewing room, workspace, or somewhere else suitable, then it will be a reliable workhorse for many years to come.
Low Maintenance
Another added bonus about this machine is that it requires very little maintenance in order to keep it running at it's most efficient. As long as you give it a little wipe/brush over whenever you stop sewing for the day to reduce the chance of any stray pieces of fabric getting stuck in the machine, there's nothing more you need to do regularly. Occasionally you may want to give the head a quick wipe with a damp cloth and maybe add a touch of oil every now and then (but very, very sparingly). Too much oil can have an adverse effect on the machine.
Juki Mo 1000 Review: Final Thoughts
Some people say that every modern sewing machine is only as good as the features it offers. If that's true, then the Juki MO 1000, is one of the best. It has all the usual bells and whistles you'd expect to see on a good quality machine such as the automatic needle threader, the adjustable presser foot pressure, and an adjustable differential feed. But it also has a few extras like an automatic rolled hem feature and a thread trimmer thrown in for good measure. And, one of the best features ever known to sewing machines – the jet air looper threader.
It's also strong and sturdy and likely to last for a while. So, if you are looking for a new serger machine that's durable, easy to use, and works like a charm every time, the Juki Mo 1000 is definitely worth checking out.