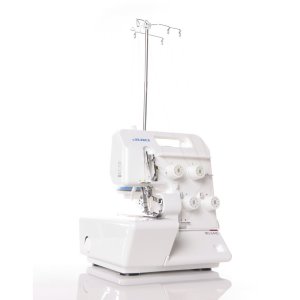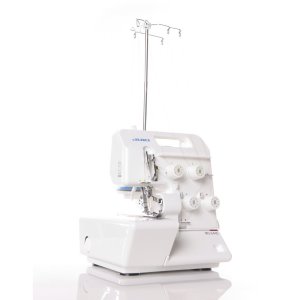 In my Juki MO644D Serger review, I will go over all the amazing points that make this one of the best serger machines available. This unit is incredibly affordable, it is high quality, it has color-coded threading, looper adjustments for the length of the stitch and for the differential feed, a powerful knife system, and it works to sew light and medium fabrics.
As a 2/3/4 thread serger, you are going to get the strongest seams, the most reliable hems, and so much more. If you are unfamiliar with what a thread serger is, it basically works to tighten all of your seams and to make your stitches appear far more professional than they would by using a normal sewing machine.
This unit is easy to thread, it can do cording, blind stitching, piping, and gathering, and it has an automatic rolled hem capability. For a medium-priced serger, there are no better options than going with a Juki machine.
Juki MO644D Serger Review: Overview
There are many reasons why you might be looking for a new serger machine. Perhaps you are unhappy with your current unit, or maybe you have never had one before and are looking to improve your fashion projects by making them look more professional. Whatever the case, I promise you will be happy using the Juki MO644D Serger.
Now let's take a look at the characteristics that make this such a great thread serger machine.
Built to Last
You will notice immediately how sturdy and robust this machine is. All of its parts are designed to last a very long time. The thread serger operates very well, with all its components working together seamlessly. The motor is reliable, the speed is more than adequate, and all of the features are top-notch.
The best thing about this thread serger is that it will stand up well to heavy use. If you have need of a thread serger on a daily basis, this is the best option for you. It is designed specifically to handle all the most intense applications imaginable. There is a very slim chance of this serger ever breaking down, even if you are using it with heavy fabrics.
Powerful Knife
The powerful knife system on the Juki MO644D is impressive. It comes with its own dedicated drive mechanism, making it extremely useful. You will never have to worry about your blade getting dull too fast or having any other problems while trying to cut your threads. The knife system is 100% functional with its dedicated drive mechanism.
Unending Benefits
There are so many great positives about the Juki MO644D Thread Serger that it is extremely hard to list them all. For starters, the machine is quiet and it runs extremely smooth. There are no annoying noises and you'll never be interrupted due to some unforeseen problem.
The owner's manual is actually very handy. It comes with detailed pictures and really teaches you how to use the machine. This is important considering how many techniques you can perform using this thread serger. It has extreme versatility. You can get away with just about anything.
Related Articles:
The cord is very long, which may not seem like much but it is actually very useful if you have your table far away from an outlet. The color-coded threading labels are handy, the machine comes with a nice supply of included accessories, so many that you probably won't need to use them all. Also, there are suction cups located on the bottom of the machine so that it stays exactly where it needs to be.
The machine is sturdy and compact, and you can feel how strong it is just by lifting it. It is built by a trusted manufacturer, it comes with a differential feed that can be adjusted, and the handle on the top of the unit is excellent for carrying it around when you need to take it with you on the go.
But wait, we are not done yet! This machine is ideal for people who are unfamiliar with serging. It is extremely easy to master within a few practice rounds. You will easily be able to learn and grow while using this thread serger, improving your technique until you have mastered it. You can practice the role hemming, the gathering, and you can practice on lots of different types of fabric. If you ever get confused, the owner's manual has all of the techniques listed.
Top Rated
Even if you don't trust my review, a quick search online will show hundreds of incredibly satisfied customers. People all over the world simply love using this portable thread serger. It has all of the best features, it is extremely affordable, and it is a great replacement for an old unit that doesn't work the way it should.
If you don't trust me, at least you can trust the hundreds of certified purchasers who have found the perfect serger and have improved their sewing techniques thanks to the Juki MO644D.
Juki MO644D Serger Review: Final Thoughts
In conclusion, I have to say the Juki MO644D is probably the best thread serger at this price point. If you want an advanced piece of serger technology inside your home, this is it. The drive cutting system is incredibly powerful, it is easy to use, the stitch formation is extremely high quality, and you will have fun using it.
All your threading is going to be correct thanks to the color-coded threading and the breakaway looper. Differential feed and the stitch length are both adjustable. You get a multipurpose sewing foot for a large variety of stitches. And, there are additional presser feet available that you can use for a lot of different applications, including piping and gathering.
I highly recommend this system to anyone who wants better seams and hems, and who needs expert lock stitching. Juki is a reliable name in the world of sewing and this machine is proof of their dedication to their customers' happiness.