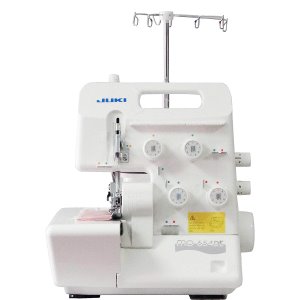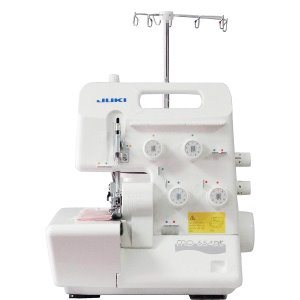 If you have never purchased a thread serger before, it is time to read my Juki MO654DE review. For those who are not familiar with the importance of using a thread serger, prepare to be learned. The thread serger is an incredibly important device that you should have in your sewing room alongside your main sewing equipment.
This serger is exceptionally useful. It works as either a 2-thread, a 3-thread, or a 4-thread serger to seriously improve how you stitch seams and hems. The serger is incredibly useful when making bags, aprons, or purses. Anything with a seam or a strap can be improved with the thread serger.
In fact, having a thread surgery is not even debatable when tailoring. For you to make the strongest seams and the tightest hems, you absolutely need to use a thread serger.
Juki MO654DE Review: Overview
Let's talk about the Juki MO654DE Thread Serger Sewing Machine. This is the kind of unit you want in your sewing room at home to tackle all of your projects with professional performance. This is not a boring thread serger that can't handle the heat. It works as an all-in-one product that makes your sewing easier.
The speed is incredibly quick, you are able to sew through fabrics that are light and heavy with surprising ease, and you have a maximum stitch length of 4 millimeters. Plus, you even get a safety switch so that the machine will not run if the swing cover is open. With an expert differential feed, you get even more versatility when using the thread serger.
Now let's take a deeper look at some of the main features.
Maximum Stitching Speed
I am extremely impressed with the stitches per minute offered by the MO654DE Thread Serger. How many stitches exactly? I am talking about a maximum of 1,500 stitches per minute. That is quick enough to tackle any task in record time.
Most standard sewing machines only have around 800 stitches per minute, so that should really put how powerful this machine is in perspective. And even though you are dealing with incredibly quick speeds, the machine is still going to make a stitch formation that is high quality.
Color-Coded Magic
To make your life even easier, the thread serger offers color-coded threading and even a special breakaway looper feature. These two things combined mean that you will always have the correct threading when working on a project. Color coding is always the best way to stay on track.
Another great way to stay on track is with adjustments that can be made to the stitch length and to the differential feed. To make these adjustments, you simply have to manipulate the dials that are on the face of the machine. Everything is right there for you to adjust with one easy motion. You can even calibrate the knife to ensure 100% consistency from project to project.
Wide Variety of Options
There are more options than ever with the MO654DE Thread Serger. The machine itself comes equipped with a multipurpose foot that you can use with all kinds of different stitches and products, such as elastic and tape. There are also additional presser feet available for even more tasks like cording, piping, gathering, blind stitching, and much more.
Seeing as how this is a convertible thread serger, your options are increased dramatically for what you can do. From simple 2-thread stitching to complex 4-thread stitching, there is nothing you can't accomplish with this awesome thread serger.
Quality Mechanisms
Everything inside Juki MO654DE is of high quality. The components, the frame, the housing – all of it is built to withstand punishment and stay practical for years to come. You can really feel the difference when you pick the machine up, between this unit and others. It doesn't wobble or shake, and you can feel that the machine is dense with industrial-grade parts.
Another thing you will notice is how tough the knife is. There is nothing worse than being in the middle of a project and realizing your serger can't cut through the fabric. But you never have to worry about that when using the thread serger from Juki. It can easily cut through many layers of cotton or denim without breaking a sweat.
Related Articles:
Everything else works too. The differential feed can actually make sewing through knits an enjoyable activity rather than a chore while switching to rolled hem mode is easier than tying your shoelaces. The tension dials work extraordinarily well, which means you don't have to fuss with them once you find the perfect setting.
As for the stitches, you can expect them to be immaculate. Once you have mastered how to thread the machine, it won't take you longer than a handful of minutes to rethread it. And once you get going, you will never want to stop. This is a serious game-changer when it comes to sewing, especially when you are working with complicated fashion items.
Juki MO654DE Review: Final Thoughts
When you purchase the Juki MO654DE Thread Serger, you are getting a machine that is incredibly easy to adjust, simple to thread, and effortless to use. It is lightweight and easy to set up, making it perfect for people who sew while traveling.
The MO654DE cuts very effectively, even through two thick layers of fabric or three layers of thinner fabric. And if you do decide to go ahead and seriously abuse this thread serger, it can take it. The great thing about buying this machine is that you will not need to buy another one. It is going to work for many years to come.
Because of its low cost, the MO654DE is an excellent option for upgrading from your old machine. It is also one of the best thread sergers you can buy if it is your first time using one. It is not as complicated as a 5-thread serger, but it does have all the settings you need to stay on your game.