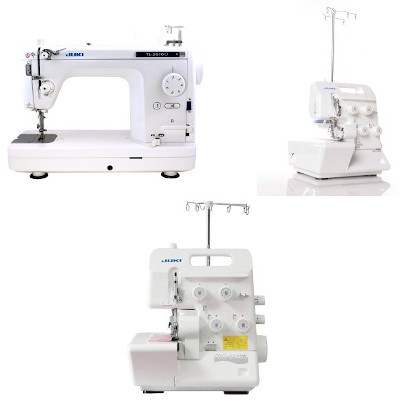 Juki is a Japanese manufacturer of sewing machines that was founded way back in 1938. Originally, the company offered only machines fit for the industrial market. However, not too long ago, the company decided to take the skills and knowledge they'd gathered from supplying industrial machines and started to offer models that were better suited to the home user. Now, you'll see that Juki is one of the leading brands not just in the commercial sector, but in the retail sector too.
The company now has quite an extensive range of home sewing machines under its belt, all with varying attributes and fit for all kinds of purposes. When some people think of sewing machines, they often imagine the kind of old-style sewing machine that your grandma used to own. A far cry from the advanced models we see on the shelves in the stores today.
In this review, I'll go through three of the most popular Juki sewing machines available to buy right now. You'll have a chance to see what features and functions each machine has to offer to help you decide which could be your next machine.
Top Rated Juki Sewing Machines
---
Juki TL 2010Q – Best Overall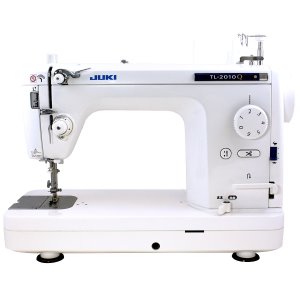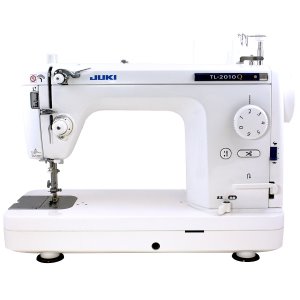 If you're in need of a good quality single lockstitch machine in which to mend holes, sew new clothes, or make beautiful quilts and other crafts, then you've come to the right place. The Juki TL 2010Q is a very versatile machine that's capable of carrying out a wide number of functions. Not only is it great for straight stitching, it's also very good when it comes to quilting too.
Simple Yet Effective
Even though it's so very featureful, the Juki TL 2010Q is a simple machine to work with. Its maximum sewing speed is an eye-watering 1500 stitches per minute! And while that is pretty fast, it's easily controllable by the enclosed one pedal foot control to a speed that suits. The foot controller is well made and smooth in operation. And as well as being able to control when you start and stop, and the speed you sew at, you can also activate the thread trimmer function by pressing the heel side of the foot controller.
Advanced Functionality
One of the machine's most prominent features is the industrial-level sub tension unit. With this system in place, never again will you worry that your stitches aren't stable. Some other fantastic features it has to offer include an automatic needle threader to help get you started; a presser foot pressure adjustment feature that enables you to adjust the pressure to accommodate the type of fabric you're working with; and a reverse lever for when you want to reinforce your stitching.
---
Juki MO644D – Best Budget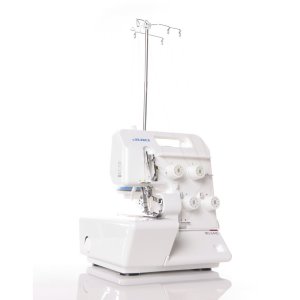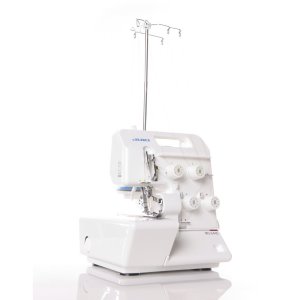 The Juki MO644D was first released in 2014 as a 2/3/4 thread home serger machine that could be enjoyed by both new and advanced machinists at an affordable price.
Lightweight and Portable
If you're looking for a compact machine that's small and lightweight yet still able to cater for all your everyday sewing needs, the Juki MO644D is a good match for you. Measuring in at 10.6" x 13.4" x 11.6", and weighing just 15 pounds, it's the ideal machine to take to a sewing class or for using on the move. While it doesn't come with a hard case, there is a dust cover to help protect your machine from dirt and debris when not in use.
Solid as a Rock
Don't be fooled into thinking that because it's a compact machine, the Juki MO644D is anything less than superior when it comes to quality. Being made by a company that specializes and found its roots in industrial type sewing machines, one thing you can be sure of is that it's durable. Thanks to its solid construction, even when sewing at maximum speed through multi-layered material, there's no vibration and your stitching is finished to a professional standard.
---
Juki MO654DE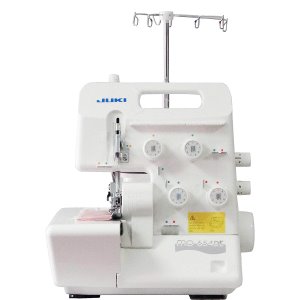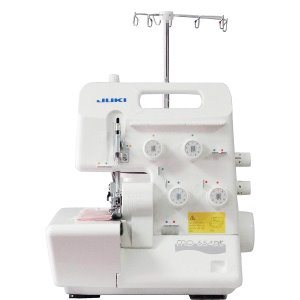 Another of Juki's most popular models out right now is the MO654DE. Like the MO644D, it too is a 2/3/4 thread portable serger sewing machine, but with a few extra bells and whistles to share.
Features Galore
As well as being a compact machine (10.6" x 13.6" x 11.6"), the Juki MO654DE has a load of other great attributes on offer including an automatic roll hemmer which has two different modes to choose from. The first mode allows for rolling over the hem while the second enables an overlock stitch to be made.
There's a built-in tape guide featured in the presser foot to help when sewing stretch fabrics. While the differential feed ensures these fabrics are fed through evenly and not pulled out of shape. It also features a super-sharp knife system that is fitted with a dedicated drive mechanism that ensures consistent cutting.
Made for Convenience
For ease of use, and fewer interruptions, there are adjustment dials within easy reach for just about everything. And despite it being made from a company with a background that pertains more to the industrial world, it's actually pretty simple to operate. There's a very clear color-coded thread guide printed on the Juki MO654DE meaning even those with no prior experience should be up and running in very little time.
---
Juki Sewing Machine Reviews: A Complete Buying Guide
Juki is an excellent brand when it comes to both industrial and home sewing machines. They offer a wide range of models that are fit for a variety of skill sets and purposes. But before you rush out to by the first Juki sewing machine you come across, you may want to think for a moment about what you actually want from your next sewing machine. In this section, I'll just go through some of the things you may want to consider before making your final decision:
Related Articles:
Size and Weight: These are two very important considerations to make, particularly if you're planning on taking your sewing machine to a class at all. If it's a machine that's going to sit at home, just make sure you have enough room for the model you're looking at.
Features and Functions: When it comes to deciding on what features and functions you want from a sewing machine, you need to consider what you're aiming to do with it. For example, those wanting a machine just to mend clothes as and when they need it, will really only need a basic machine that enables everyday sewing tasks to be completed. Everything else like an automatic thread cutter or thread tensioner would be a bonus. If you want to start designing intricate quilts or other home décor, then you'll want a machine that's equipped with the right tools to do that. Or maybe you're looking to use it in a professional capacity, in which case you'll probably appreciate as many time-saving features as you can get.
Speed: If you're new to the world of sewing, this probably won't be as important as those more experienced users as it's always possible to sew lower than the maximum speed. For anyone who does like to sew fast, you're in luck as Juki is renowned for producing some of the speediest machines out there.
Controllability: Learning to sew can be fun, but it can also be very difficult if you don't have the right machine to work with. Therefore, you'll want to ensure you choose a model that's user-friendly and easy to control. Having a machine that's featureful but overly complicated is no good for anyone, especially a beginner. The same goes for advanced machinists also. If you're looking to earn money from sewing, then time is vital. Having a machine that's effortless to use will mean you get more done in a shorter space of time. And saving time means saving money!
Price: The final thing to consider when making your next Juki sewing machine purchase is what budget you have to work with. Personally, I believe that budget should never be the main deciding factor when it comes to buying a new sewing machine as it is an investment and you don't want to waste money buying something that's unreliable. So if you do find a machine that you have your heart set on and you don't have the funds to buy it, you have two choices: either hold off until you can raise the rest of the funds or find an alternative model that almost ticks all the boxes.
Related Articles:
Juki Sewing Machine Reviews: Final Thoughts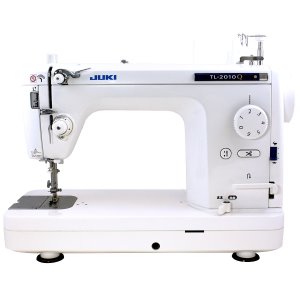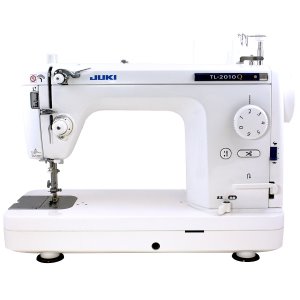 The MO654DE is very similar in functionality to that of the MO644D but with one big difference – it can handle much thicker fabrics. While the MO644D is very good at sewing light to medium fabrics, at a level that's nothing short of superb, when it comes to heavier fabrics, it's not so great. And that's where the MO654DE excels. But, it's still not quite on the same page as the mighty TL 2010Q.
As well as being packed full of some amazing features and functions, the Juki TL 2010Q is such a user-friendly machine to work with. It's got the capability of an advanced machine, yet the controls are simple enough for a beginner to use. The maximum sewing speed enables you to sew at warp speeds and it's super robust.
So, if you are looking for a top-quality machine to help take your sewing to the next level, the Juki TL2010Q is definitely an option to consider.
Related Articles: