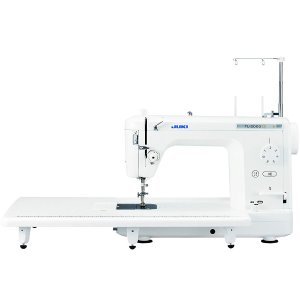 In my Juki TL2000Qi review, we will go over all the amazing features of this stellar sewing and quilting machine. This sewing machine comes included with operational LED lights, one pedal functionality, 1,500 stitches per minute, an automatic needle threader, an arm made from aluminum, low vibration, and an extension table.
This sewing machine is a great addition to your home office. It is ideal for quilting because of its huge workspace, it can stitch through many layers of fabric thanks to its strong motor, and it can complete tasks very quickly because of its high rate of stitches per minute.
If you are replacing an old machine or simply looking to upgrade, the TL2000Qi is an excellent choice. Whether you are a beginner or an experienced sewer, you can use this machine to complete all of the most complex sewing jobs.
Juki TL2000Qi Review: Overview
In this overview, I am going to detail each of the most impressive features this sewing machine has to offer. The Juki TL2000Qi is a phenomenal machine that is highly rated online, which is extremely powerful, and that offers unparalleled stitching.
Extra Space
If you have ever used a basic sewing machine, you know what comfortable space is all about. If there is almost no room between the needle and the main body of the machine, and you have big projects to do such as quilts, blankets, and even large pillowcases, it can be a struggle.
With this sewing machine, you never have to struggle again. It comes with an extension table that dramatically increases your workspace. No more clutter and no more fuss. You can easily work on massive chunks of fabric without stressing or fighting with no room to work.
Stitches Per Minute
This machine comes with an astonishing level of power. The massive motor outputs an incredible 1,500 stitches per minute. This is almost double what you find in other sewing machines that are similarly priced.
1,500 stitches per minute basically means you can stitch twice as fast to complete jobs twice as quickly. If you are a deft sewer, and you know what you're doing around the machine, you can easily push the machine to its limits and become absorbed in the work. It's like driving a Ferrari, except that you're sitting at your sewing machine.
Low Vibration, Low Noise
Welcome to one of the quietest machines I have ever seen in my life. The Juki TL2000Qi is silent as can be, even when you have the machine jacked up to its maximum speed. The unit is so quiet that you barely know it's on, but the low sound is enough to lull you into a deep concentration that keeps you sewing for hours.
Another great thing is that the machine has almost no vibration. Whereas some powerful machines vibrate like a blender, the Juki TL2000Qi is extremely stable. There is not going to be any annoying vibration, nor will there be any annoying grumbling sounds. This is an extremely relaxing sewing machine to use.
Reliable Juki Product
Let's talk about the manufacturer for a minute. Juki always makes the most reliable sewing machines with the most dependable components and mechanics around. This company takes sewing seriously, always developing the best sewing technology so that you have peace of mind when using their products.
I highly recommend anyone to use this brand. I have never seen a faulty Juki sewing machine in my life. In fact, when compared against the competition, Juki machines just like this one always have better internal components and a cleaner body.  For example, this machine comes with six oil ports whereas most machines come with none.
And even though the Juki TL2000Qi looks simplistic on the outside, internally it is full of computers and sensors that are built with longevity in mind. You cannot get a more robust product than a Juki sewing machine. Plus, this unit is incredibly cheap. Or maybe a better word is affordable, considering there is nothing cheap about the Juki TL2000Qi.
Patience Required
While any beginner can certainly use this unit, it will take some patience. This is definitely a skilled sewer's machine. All of the settings must be exact. For example, both the top thread tension and the bobbin tension must be adjusted exactly or the machine will not sew properly. You must also use the correct needle for the job. And you need to adjust the presser foot if you want to make the most out of your sewing.
Related Articles:
But don't let this frighten you. Once all of the settings are corrected appropriately, this sewing unit is going to blow your mind. If you are indeed a beginner, it could take a bit of practice and patience for you to master the machine. If you are already a pro, you will have a lot of fun setting everything manually to your preferred specifications.
In fact, this is a win-win for everyone. I highly recommend this machine to anyone interested in quality. It may not be fancy, but the Juki TL2000Qi is definitely a lot of fun to use and great at what it does.
Juki 2000Qi Review: Final Thoughts
To sum up everything in this review, my final conclusion is that the Juki TL2000Qi is an innovative sewing and quilting machine that will make your sewing experience 10 times better. It comes with all the necessary features to see you through project after project without any hiccups.
The motor is strong, the 1,500 stitches per minute allow you to execute precision work very quickly, the quality of the stitches is fantastic, and the entire machine is built from very strong materials. This is not the type of sewing machine that will breakdown or need repairs.
I highly recommend this sewing machine to anyone who needs a bit of an upgrade. It is not computerized, but it is extremely simple and effective. If you need a straight stitch machine, the Juki TL2000Qi is for you. I promise you now that you will not be disappointed with your purchase.
Related Articles: