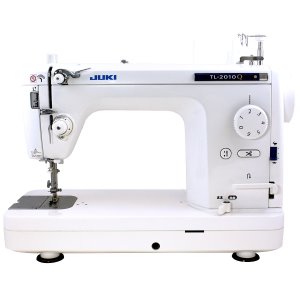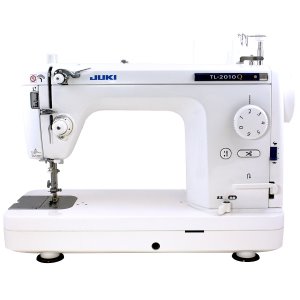 Today I am presenting my Juki TL2010Q review. This is one of Juki's high-end machines, complete with some really great functionality. It has lockstitch capabilities, a lightweight framework that makes the machine very portable, and an extra-large work area.
Make no mistake, this is a premium unit and it does cost quite a bit of money. But it is incredibly well made. Juki does not make junk. Every last aspect of this machine is engineered to perfection, all the way from the needle mechanism to the inner workings. For quilting, tailoring, or making home decor, you won't find a more robust unit from any other manufacturer.
This is the ideal choice for your main sewing machine. It is versatile enough to handle all breeds of sewing, it offers incredible longevity so that you never have to replace it, and it does quality stitching that will leave you seriously impressed.
Juki TL2010Q Review: Overview
If you could find a sewing and quilting machine that offers higher performance than the new Juki TL2010Q and sells at the same price, I would be flabbergasted. This is a single-needle machine that outperforms almost everything else in its class. Let's take a look at some of its intense features.
Industrial-Quality Sewing
How often do you come across an industrial-quality sewing machine that also works as a lockstitch machine, a free-motion machine, and is extremely portable? Because this sewer is constructed from ultra-lightweight aluminum, you can take it with you easily on the road to sewing events. It is not bulky, it is not cumbersome, and it is not difficult to transport.
Industrial-grade means advanced features, such as a superb sub-tension system, a control slider for variable speeds, extremely bright LED lighting for optimal visibility while stitching, and unmatched precision.
With the extremely large work area, approximately 23 inches with the auxiliary table, you can create industrial-sized orders. That is to say, you could make an entire box of jeans in no time at all. Alternatively, you can use the large work area to expertly stitch together an oversized quilt or a massive home decoration project. The choice is yours to make.
Amazing Additions
Unlike standard sewing machines, the TL2010Q comes with some of the best features I have ever seen. There is a unique trimming system that you control with your foot to trim the top threads and the bobbin threads. All you need to do is rock your heel and the thread is immediately cut. Now that is convenient.
There is also an automatic thread system that will trim both the bobbin thread and the needle thread at the exact same time by merely pushing a button. All these amazing threading systems make it so that the thread will never quiver when you are sewing at high speeds. You will always have an accurate thread tension for quality results.
Speaking of thread tension, the machine comes equipped with a thread tension scale. The scale allows you to precisely adjust the tension of your thread according to exactly what kind of material you are using and what kind of thread you are using.
Ultimate Speed, Ultimate Control
Because this is an extremely quick sewing machine, it is imperative that you control how fast you are sewing at all times. With the specialized speed control lever, you now have the ultimate control over sewing speeds. You can sew your materials at a slow and steady pace, or you can kick the machine into overdrive and sew at lightning speeds.
Along with speed control, you get an accurate feed and a perfect stitch. This includes when you are working with heavier fabrics, when you are quilting, and when you are working with many layers of materials. It all comes down to you controlling the speed to make the most out of your final results.
Related Articles:
To quicken your sewing, the machine automatically stops with the needle in the complete down position. That means you can pivot immediately without having to fuss with an up/down switch. It also makes it much easier for you to do free-motion sewing.
As a final bit of automation, you get an automatic needle threader so that you don't strain your eyes or waste time fussing with the eye of the needle. Plus, the knee lifter level lets you either lower or lift the presser foot while never having to use your hand. You can raise the presser foot as much as 12 millimeters.
Quality Built
It is undeniable how well-designed the TL2010Q is. They really went through all the stops to make sure this sewing machine is extremely durable, that all of its components work seamlessly together, and that it is constructed in such a way that it will stand up to the heaviest uses.
This machine proves that you do not need a computerized sewing machine to have quality. There is no LCD screen, no built-in stitches, no fancy buttons, and yet this is a premium, relatively expensive unit that is going to last a lifetime. This is what quality looks like.
Juki TL2010Q Review: Final Thoughts
There are honestly no negatives to purchasing the Juki TL2010Q Sewing Machine. It sews extremely smoothly and produces the evenest stitches that you have ever seen. The extension table it comes with is twice as large as its competitors, and all of its features are well-organized to give you a seamless experience.
My final thought is that you should definitely try out this machine. At least give it a try. You can do free-motion quilting so that you have complete control over your creations. This is helped by the machine's extremely large throat, which also allows you to make bulkier quilts. And although the threading of the machine is not as simple as with others, it is easy to master.
Then there is the speed. You simply can't get a machine that is so durable and so fast. It winds even bobbins, it gives you total control over the quickness of it, and you can even cut the thread in three different places. I highly recommend going with this unit from Juki for your next primary sewing machine.
Related Articles: