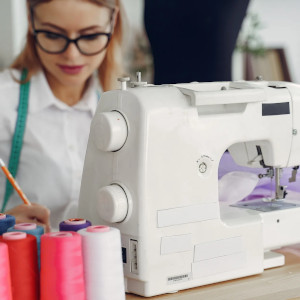 One can take up sewing as a profession as well as a hobby. The scope of sewing has widened in the modern world. If you have a craze for stitching, embroidery, and the latest fashion trends, try your hand to learn how to sew as well. Customize your outfits, give them an edgy look as per your choice, and earn a handsome amount if you take up the craft seriously.
Before one learns how to sew on a sewing machine, one must also have a thorough concept about the peripherals required in sewing. Hand stitching is different from that of sewing on a device, although the basic idea is the same. However, a sewing machine provides clean and precise finishing and also takes very little time. Experienced workers can also use a sewing machine to embroider on a fabric. It requires years of study, research, and practice.
Learn How to Sew: Basics
The Sewing Machine
The essential element of sewing is, of course, a sewing machine. Purchase a sewing machine as per your budget from a local store or online or use the existing one available at home. As a beginner, prefer using a tool, which has the most basic functions instead of using a complex mechanism one at the learning stage.
Threads
Threads and embroidery floss are the next critical component of sewing. One must have a proper idea of color and its shades while using it for stitching on fabrics. Organize them in a clean and appropriate order so that they do not get tangled.
Needles
Also, know about the needles used in a sewing machine. Different fabrics require different sizes and thicknesses of needles. The selection of needles depends on the material.
Cutting Tools
Make sure you have a sharp scissor and a rotary cutter as well. Sharpen it with sandpaper or aluminum foil in case it has gone blunt. That perfect cut on the fabric is achieved only with a smooth and sharp blade.
Fabric
Finally, yet importantly, the material is needed to sew on. While beginning to learn how to sew, do not waste new materials. Use scraps and old ones and practice on them. Recycle used cloth pieces and turn them to something useful. Gather knowledge about various types of fabrics, as they require different stitching patterns and needles. The stitch used in cotton cloth is different than the one used in a silk fabric. Similar is the case with other delicate and heavy materials.
The Procedure Of Sewing
To learn how to sew, the starting point is to know how to thread a sewing machine. Follow the user's manual to see the technique. Insert the bobbin properly so that the thread moves clockwise. Different devices have different procedures to begin to sew:

Step 1: Switch on the power, if the machine is an electronic one.
Step 2: Cut a long piece of fabric.
Step 3: Fold and press it firmly to form a crease in between. Use an iron if required.
Step 4: Insert thread and needle in the machine.
Step 5: As you are a learner, set the machine to the basic straight stitch.
Step 6: Place the fabric and start sewing from the end.
Step 7: Draw up the pressure foot.
Step 8: Hold on to the top and bobbin thread
Step 9: Place the fabric under the machine needle
Step 10: Bring the presser foot down
Step 11: Lower the handwheel to pierce the needle into the fabric.
Step 12: Move your fingers along with the fabric and start sewing.
Step 13: On reaching the corner of the edge, draw the pressure foot up.
Step 14: Cut the threads and pull out the fabric.
Step 15: Repeat these steps while practicing.
Essential Tips For Sewing
When learning to sew, do not start with a complex project. Start sewing on scrap fabrics. Understand the various types of stitches and their patterns. To begin with:
Learn the basics of measurements in centimeters and inches, especially.
Learn about the different parts of the sewing machine in depth- the bobbin, pressure foot, hand wheel, pattern selector, setting adjustments, etc.
Service an old sewing machine before you learn how to sew. Regular oiling and servicing will give the machine longevity.
Start straight sewing lines on the fabric. Do not jump to complicated stitches.
The initial stage should not include any fancy patterns like zippers, buttonholes, piping, etc. Move forward gradually for these attachments.
You may start with simple household requirements like handkerchiefs, pillow covers, etc.
Use a sharp cutter to cut the fabric, no matter what your project is. Frayed edges hamper the final look.
Use a marker or chalk to mark the points for a better understanding of measurements.
Do not over speed.
Maintenance of speed will achieve even stitches and reduce mistakes.
Practice different stitching patterns on scrap fabrics.
Use pins to secure the folding positions.
Beginners can follow the steps mentioned above for the initial start in the world of sewing. Do not get upset if the first few stitches are not proper. With proper practice and experience, you will understand that perfect sew. Understanding art and all other crafts related to it takes time. Perfection is not possible in just one day. It might also bring years of practice. You can always get yourself trained and certified by a professional for sophisticated techniques of sewing. Regular maintenance and cleanliness of the machine and the workplace will encourage positive vibes.
Learn How To Sew: Final Thoughts
Learning to sew not only includes stitching straight patterns on the fabric but also involves the technique to sew a primary seam. Once stitching is complete on all the sides, remember to iron the final product to discard the wrinkles on its surface. Enhance your creativity with sewing outfits, gowns, household items, furnishings, quilts, etc. The scope of sewing is vast. With patience and perseverance, one can achieve significant milestones in the field of sewing.