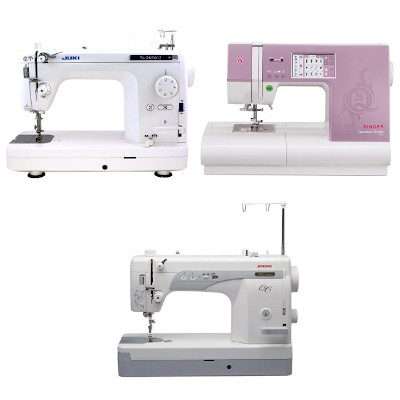 Here we have the three best mid-arm quilting machine reviews. These are the best machines for quilting that you can find today. They boast huge speeds, great versatility, all the features needed for quilting, and large work areas that make quilting a breeze.
These machines are able to sew and quilt with zero difficulties. If you want to complete projects at home in record time, then I highly suggest picking up one of the three quilters on my list. Yes, these are some of the more expensive models, but they deliver on all fronts.
You are able to tailor, create home decor, fashion your own apparel, and do anything else that involves fabric by using one of these awesome mid-arm quilting machines. You get automatic thread trimmers, lightweight housing units, and wider areas for working than with a normal sewing machine from your nearest appliance store.
Top Rated Mid Arm Quilting Machines
---
Janome 1600P-QC Sewing Machine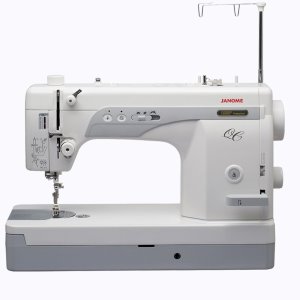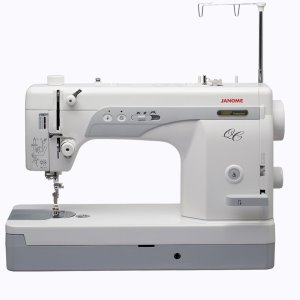 Here we have one of the better models. The Janome 1600P-QC Sewing Machine is a premium quilter that includes a darning foot with a plate, a ¼" seam foot, and a ditch quilting foot. While you can sew with this machine, it is designed nicely for making big fluffy quilts. It can sew through any fabric with ease and has the speed to get the job done quickly.
One of the Fastest
Most standard sewing machines offer up to about 1,000 stitches per minute. That is generally sufficient for most jobs you encounter when doing pants, shorts, and other hobby projects. However, the Janome 1600P-QC has 1,600 stitches per minute.
This is by far one of the fastest sewing machines on the market today. All of the speed works in your favor to professionally quilt in half the time you are used to. But don't be frightened by all that speed, it still sews like a dream. You don't get any pulling or tugging that could throw you off your game. Plus, the machine is still extremely quiet even though it outputs so much power.
Huge Work Area
Anyone who makes quilts knows that workspace is critical. There is nothing more annoying than having a sewing machine that does not give you enough space to run the fabric. You can forget all about those troubles with the Janome 1600P-QC.
On the right side of the needle, there is approximately 9" x 6" of free workspace. This is ideal for quilting. More room means easier sewing, which means you finished the project quicker and spend less time fighting with the material.
---
Singer 9985 Quantum Stylist Computerized Sewing Machine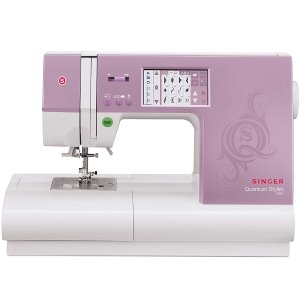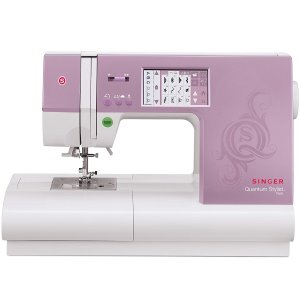 The Singer 9985 Quantum Stylist Computerized Sewing Machine is the cheapest quilter on the list, but it is in no way a "cheap" sewing machine. This is a computerized monster that has tons of useful features that will bring all of your creative visions to life.
You get a ton of selectable stitches, including decorative stitches that you can use for sewing fashions, quilts, and decorations around the house. It also comes with a lot of technological features, such as The LCD screen that is full color and full touchscreen.
One of the Best
When you purchase the Quantum Stylist, you get almost 1,000 built-in stitches, including 13 1-step buttonholes and an exclusive buttonhole underplate. Most machines simply can't offer that kind of integration. The machine is also incredibly fast, pumping 850 stitches per minute so that you can sew very quickly.
As a quilter, there is no better budget unit. The Singer Quantum Stylist has thousands of five-star reviews online of satisfied professionals who love to use the machine, quoting how easy and effective it is to make quilts. It has an automatic needle threader, mirror imaging, and even stitch elongation to provide maximum creativity to the user.
Accessories
Singer is famous for including tons of accessories with their sewing units. This is no different. You get over 12 different sewing feet, including a blind hem foot and a buttonhole foot, plus tons of other exclusive accessories that won't come with other units.
---
Juki TL-2010Q Portable Sewing Machine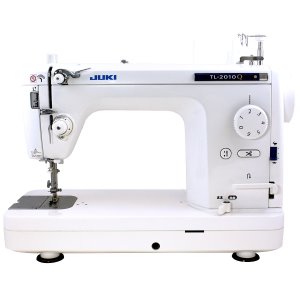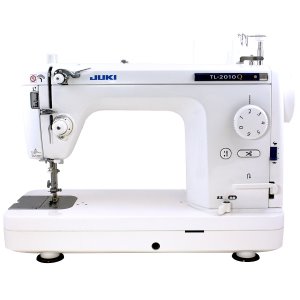 If you are looking for a lightweight sewing and quilting machine that is high performance and comes with dozens of advanced features, then you are definitely looking for the Juki TL-2010Q Portable Sewing Machine. This machine does everything, and it even has such revolutionary features as a sub-tension system and a control slider for variable speeds.
Maximum Convenience
Everything about this sewing machine is convenient. It has a massive work area that is up to 23 inches with the auxiliary table. You can do all the usual projects, plus oversized quilting. With the thread tension scale, the speed control mechanism, the automatic stop function, and the knee lifter level, making quilts has never been more convenient.
The bright LED lighting makes it easier than ever to work throughout the day without straining your eyes. The machine's excellent precision means fewer mistakes and less time reversing your stitches.
Everything Even
This sewing machine is known for its even threading. It sews very smoothly with stitches that are almost 100% even all of the time. The same can be said about winding the bobbins. They are simply perfect. All of this perfection is a little surprising considering how fast and fluid the machine is. It simply does not make mistakes.
And while the Juki does not come with tons of different accessories and it is not computerized, everything it comes with makes the process feel even. Everything feels just right, even the quality walking foot. It never feels like too little or too much.
---
Mid Arm Quilting Machine Reviews: A Complete Buying Guide
When it comes to purchasing the best mid-arm quilting machine, you really need to consider your options. There are a lot of them. In fact, the marketplace is flooded with sewing machines as sewing and quilting soar in popularity. But you need to make sure your new quilting machine comes with, not only the basics but with quality features.
Computerized or Not?
There has been a big debate recently over computerized sewing machines and normal sewing machines. I personally prefer computerized models because they feel more advanced and more modern. With computerized machines, you often get way more usable features than with other types.
I'm talking about touchscreen displays, which allow you to manipulate the machine's settings just like you would on your smartphone. Then you have the ability to upload your own designs into the machine if it's computerized. Plus, there are built-in designs, fronts, and stitching patterns that most computerized models offer. The automation can make life way easier for the quilter.
And finally, computerized sewing machines always give you an automatic needle threader, which takes the strain off your eyes and saves you time fussing with an ornery needle and thread.
Speed is Power
Speed is something I always talk about when comparing sewing machines and talking about which sewing machines are the best. If you are quilting, and you have a massive quilt that you want to be done quickly, speed is your friend.
Sewing machines come with speeds anywhere from 500 stitches per minute to almost 2,000 stitches per minute. Obviously, the more stitches you can make per minute, the closer you are to finishing the project with each minute that passes.
While this does not matter so much for casual hobbyists, seasoned quilters really appreciate a boost in speed. Always check the stitches per minute on any machine you are contemplating buying. Make sure the stitches per minute match your specific style of quilting.
Working Space
Working space is a fundamental necessity in any operation, including quilting. If you don't have enough space to do the job, how are you supposed to do your job right? Normal sewing machines might be acceptable for smaller jobs like crafting, making hats, fixing hems, and other miscellaneous activities.
However, if you are crafting a masterwork quilt, you need more room. When shopping around for the best quilting machine, you had better make sure there is enough room to accommodate your quilting project.
You will also want to check if the machine comes with an auxiliary table, which can mean the difference between a 10-hour struggle and five hours of fun. With the appropriate amount of workspace, you will save yourself considerable time and stress.
Related Articles:
Mid Arm Quilting Machine Reviews: Final Thoughts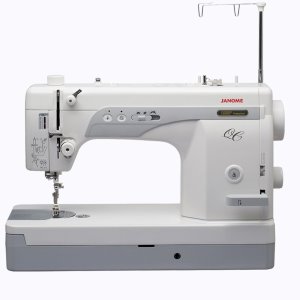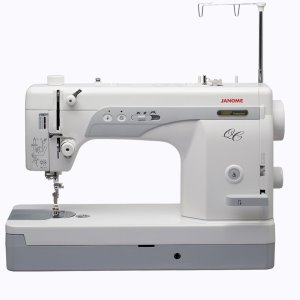 There is a lot to unpackage when reading these three reviews. In conclusion, I must say that the Janome 1600P-QC Is definitely the best mid-arm quilting machine around. Sure, the machine may be over your budget, but you get way more quality than with a typical sewing machine.
The Janome comes as a kit that includes lots of different feet and other handy accessories. It has one of the fastest sewing speeds in the world. And, you have a massive amount of space on the machine itself without needing an auxiliary attachment.
The Singer and the Juki are also fantastic sewing machines for quilts, with the Singer 9985 coming in at a close second place. I like the speed and automation of the Singer, and I really appreciate computerized sewing machines. But they just can't beat the overall quality of the Janome. Those 1,600 stitches per minute are really something that can't be matched.