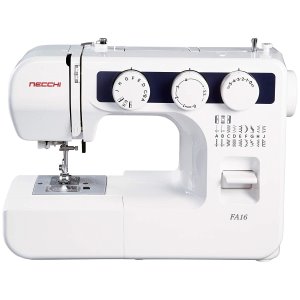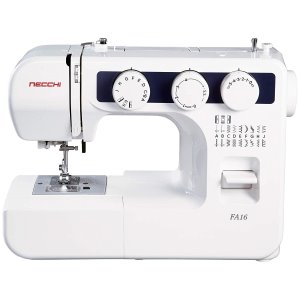 My Necchi FA16 Sewing Machine Review is here to tell you all about this great sewing unit and what it can do for you. This is basic sewing at its finest. The machine comes with all the best features for you to do everyday sewing either at home or on the go.
The machine comes with a special drop feed and an extra high presser foot lift that will accommodate even the fussiest quilter. The machine also offers a great buttonhole stitch and a usable free arm that sewers will appreciate.
Whether you want to sew light projects while at home or take the sewing machine to your sewing classes and sewing enthusiast meetings, you will have an excellent time with the Necchi. It is lightweight, easily portable, and it has everything you need to succeed.
Necchi Sewing Machine Review: Overview
What can I say about the Necchi FA16 Sewing Machine? It is the ideal unit for bringing with you on the go, it comes complete with a free arm and a unique drop feed, it comes included with 16 stitching patterns, and it is useful for tackling the most intense home projects.
The bare fact is that the features found with this sewing machine are great. I can't think of another word to describe it. The machine is clean, it looks fabulous, and it sews like a dream. The quality of the stitching is unmatched.
Let's go deep now and check out all the best features of this fantastic sewing machine.
Built-In Stitches
With 16 built-in stitches, you have a massive range of options to choose from for your next stitching project. Among the stitch variations are buttonhole stitches and other stitches that are great for decorative purposes and for creating fashions.
The machine may not be digital, but it is still easy to select your stitch using the selection dial. All of your stitching patterns are displayed visibly on the face of the machine so that there is no confusion.
On the Go Sewing
Here is a feature that you will not find on most sewing machines. The Necchi FA16 comes with a carrying handle. This is excellent for those who are looking for the best portable sewing machine. You don't even need to put this unit in a case. You can just pick it up by its carrying handle and take it with you.
The machine is so lightweight and so portable that you don't need to be a bodybuilder to take it with you. It is so lightweight! Anyone can pick up the carrying handle and go to their next sewing meeting. Plus, the carrying handle easily folds onto the top of the machine to become invisible. It will never get in your way while using the machine.
Basic Features
Let's take a minute to look at all the amazing features of the Necchi FA16. It has a full rotary hook bobbin that is top loading, it has a useful thread tension control dial, a built-in needle threader, drop feed capability, a carrying handle, a free arm, an LED work light, an automatic de-clutch bobbin winder. And that is only the begging. There are also easy selection dials and a reverse lever.
When considering all of these awesome features, it is hard to find a reason why you would not purchase the Necchi FA16 Sewing Machine, especially if you are in the market for a quality budget option. Even if you have a fairly demanding sewing schedule, this machine will meet your demands. It has all the features to be the best.
Lightweight
Nothing is worse than having a heavy and bulky sewing machine that you can't pick up or carry around because it weighs as much as an elephant. The good news is that Necchi's sewing machine is roughly 1/3 the weight of other standard machines.
Where most sewing machines weigh between 20 and 30 pounds, the FA16 only weighs 11 pounds in total. Combined with its carrying handle, the machine is extremely light and easy to carry with you anywhere you may go.
Simplicity in Motion
One of my favorite aspects of the Necchi FA16 is its simplicity. Who has time for a complex computerized sewing machine packed with gizmos and doodads that are simply unnecessary? When you buy the FA16, you will be pleased to see it is incredibly simplified and effortless to understand.
The front of the machine has three dials, one switch, and all your stitching patterns effectively labeled. There is nothing new to learn and no hidden secrets, which experienced sewers will be very happy about.
Related Articles:
Also, beginners will be pleased because the machine has a small learning curve. There is not much to master, and you won't be confused by all kinds of redundant features. There is nothing like having a traditional sewing machine that you can use to repair your own garments, make quilts, create interesting home decorations, and even try your hand at fashion design.
Necchi Sewing Machine Review: Final Thoughts
Sure, there are other machines from Necchi that may be more advanced, but for a standard sewing machine at a budget price, you can't do better than this one. It also helps that this machine is highly portable. One of the biggest issues with expensive machines is that they are too heavy and hard to transport. You will never have to worry about that with this unit. You can take it with you everywhere.
The design is simple, it comes included with a great free arm, it has a built-in needle threader, an easy carrying handle, and an LED light for nighttime sewing. This obviously is not an industrial-strength machine, but it is great for everyday sewing projects. Light fashions, quilting, and blankets can all be done excellently.
As a final thought, I just want to highly recommend this machine for anyone who does not want to spend a lot of money on a sewing unit. The Necchi FA16 is an affordable piece of equipment that will come in extremely handy.
Related Articles: