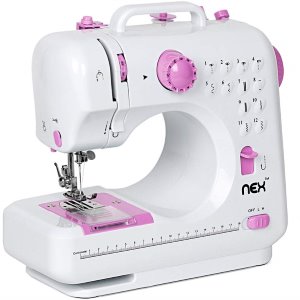 Welcome to my NEX Sewing Machine Review. Today we're going to look at how this powerful budget sewing machine can benefit you, what its main features are, and why it is such a smart purchase.
Perhaps the biggest draw of the NEX Sewing Machine is that many consider it to be the best sewing machine for children. It has many different speeds, great safety standards, and is excellent to be used by beginners. This machine is lightweight, portable, and has a light bulb for the ultimate illumination of your workspace.
As a sewing machine for children, this is small enough to put beside your main sewing machine so that you can sew side by side with your youngsters, teaching them how to operate a standard sewing machine with all of the functional buttons and dials. There are even 12 built-in stitches.
NEX Sewing Machine Review: Overview
There is not much that the NEX Sewing Machine can't do. It can seam, make buttonholes, hem, and auto wind. It comes included with a drawer, a sewing light, a thread cutter, a measuring tape built into the machine, a tension adjuster, and everything else you would expect from a standard unit.
The only difference with the NEX Sewing Machine is that it was designed as a beginner's tool to learn how to sew, which makes it excellent for young children who want to learn the ins and outs of using a sewing machine.
Daily Sewing
The NEX can handle all of your daily sewing activities. Because of its portable design, you can easily move it anywhere you need. It comes with a foot pedal, and it can even be battery powered. If you don't have room to plug it in, or you don't want the hassle of plugging it in, you can easily run the entire machine on battery power. Want to do some sewing in the yard or on the veranda? No problem!
Because of this, the machine obviously doesn't output a massive amount of power. But that makes it great for beginners since it is not dangerous at all. There are only two speeds of design for beginners, making learning how to sew extremely fun and stress-free.
And as the new seamstress or tailor begins to master the machine, enjoying the process of sewing clothing, home decor, small felt teddy bears, and all kinds of unique things, they can continue to use the NEX Sewing Machine for all their daily tasks.
Great Tutorials
Because this is kind of an instructional sewing machine, it comes with all of the available necessities to help you or your loved one learn how to sew. It comes included with an instruction guide that goes through every step in how to use the sewing machine and how to fix problems.
There is also a free tutorial video available that will make it easier to use the sewing machine. And there is free Technical Support 24/7. All you need to do is call or send an email and you will get a response back in a timely fashion.
It is also important to note that each machine goes through a quality inspection process before it is shipped. They absolutely must pass the quality inspection before being sent to consumers. You will see upon opening the box that the machine has already sewn a handful of stitches onto a piece of cloth. This is proof of the machine's effectiveness.
Massive Feature List
Unlike some basic sewing machines that promote themselves as "learner's tools" yet have no included features, the NEX Sewing Machine really is a learning tool that comes with all of the features needed for learning.
The speed switch allows you to change between either off, low mode, or high mode. You can adjust the needle distance, you can flip the machine into reverse using the little switch, you can control the tightness of the stitch, and you can wind the machine easily with its special winding function.
Related Articles:
You can double thread, overlock, and sew just about any kind of ordinary material. The machine is featured with a cutting knife and an LED light for nighttime work. It can be used with battery power and a foot pedal, or from a DC 6V outlet.
Even though this machine does not have an incredibly strong motor, it can still stitch through many layers of fabric. It can even sew through heavier fabrics that you would not expect it to, like denim. Whatever you do, don't underestimate the everyday power of the NEX Sewing Machine.
12 Built-In Stitches
Every modern sewing machine comes with built-in stitches. While expensive machines have anywhere upwards of 1,000 stitches built-in, the NEX Sewing Machine comes with 12, making it ideal for beginners so that they have a sufficient selection of stitch patterns.
These twelve patterns are great for home sewing projects like quilting, crafting, home decoration, and clothing creation.
NEX Sewing Machine Review: Final Thoughts
As a final thought, I think that the NEX Sewing Machine is definitely the best sewing machine for children. It is a multipurpose unit that comes with 12 built-in stitch patterns, it is super portable, it comes with free Technical Support, and it is ideal for teaching youngsters how to properly handle a sewing machine.
For a child to learn how to thread the machine, how to properly wind a bobbin, and how to sew some simple materials, this is the best machine for it. Coming in at a price that is significantly less than a standard sewing machine, you definitely will not be wasting your money here. Even if the child revolts and does not want to sew, at least you still have a small usable sewing machine.
The best part is that the machine comes with everything you would expect it to have. It has variable speed control, a reverse button, battery power, and a bunch of unique stitching patterns. This great beginner machine can overlock, it can sew sleeves, it can double thread, and it even has adjustable needle distance.
Related Articles: