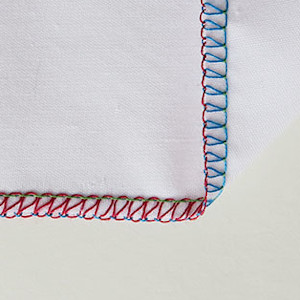 A stitch that adds strength and stretch to inner and outer fabric seams, smoothens rough edges, and helps in embellishing your garment is known as the serger stitch. It can get a little overwhelming to decide on the sewing project you plan to undertake and to finalize the type of fabric you have in hand. Don't fret! Be confident and stitch away!
It would be best if you relax and decide what sort of serger stitch you want to attempt and choose the stitches that would suit your project! There are several serger stitches you can choose from, depending on their varied uses. Another thing you need to understand is that serging stitches depends on the brand and model of your sewing machine, so it would be best if you do your homework before purchasing a new one.
Sergers are also known as an overlock machine.
Why Use A Serger?
Sergers give a smoother finish to the end product.
Sergers create professional-quality seams.
It tends to make the fabric seams durable and stretchy.
Sergers tend to help the sewer save much of their time (stitches up to 1500+ stitches, a minute).
Serger Stitches And Their Uses
If you are looking for that perfect stitch for your sewing project, it is prudent that you understand everything about the formation of serging stitches as it is very different as compared to an ordinary sewing machine stitch.
2-Thread Overlock Stitch
This type of stitch uses one looper and needle only.
This stitch does not use bobbin pins.
This stitch gives the best edge finishing.
This stitch is lightweight as it uses less thread, making the end product look easy and less bulky.
The stitch creates a stretchy seam that can stretch both length-wise, cross-wise and breadth-wise.
This type of stitch is unsuitable for woven fabric.
3-Thread Overlock Stitch
This stitch uses two loopers and a needle.
This overlock stitch is one of the most common stitches found in every serger.
The 3-thread overlock stitch is more durable and sturdier.
This seam is created for the best stretch.
This stitch is the best option for seams on ANY type of fabric when the widest stitch is used.
4-Thread Overlock Stitch
This stitch is made with two loopers and two needles.
This is a popular stitch, used as a safety stitch for the 3-thread overlock stitch.
This type of stitch is firm and durable.
This stitch is suitable for any fabric to get construction seams.
Pros: The 4-thread overlock is the best option as it is tougher than either of the stitches mentioned above. When one needle thread breaks with wear and the other needle thread hold the stitch together as a safety stitch.
Flatlock (2 or 3-thread)
Flatlock stitch is one of the standard stitches, used to obtain lightweight and highly stretchy fabrics, like the ones used in athletic wear or yoga pants.
It has a very distinct stitching pattern with loops on one side and horizontal ladders/lines on the other side.
This stitch creates a flat and thin stretch making the final product less bulky.
2-Thread Rolled Edge
This stitch is commonly known as the rolled hem, seen on the edges of tablecloths, napkins and types of narrow seams and sheer fabrics.
This stitch gives decorative and most pretty finish as compared to any of the stitches mentioned above.
4-Thread Safety Stitch
This is a two-part stitching method with a two-thread overlock stitch and chain stitch.
This stitch utilizes a looper and a needle for each of the chain and overlock stitches.
This double stitch makes for a much tougher and durable.
This stitch is commonly used in ready to wear garments.
Chainstitch
This stitch is a coverstitch performed using one needle.
The stitch creates a single line akin to the one formed using a sewing machine.
This stitch is by far the easiest stitch of the lot.
Picot Hem
A picot edge is technically similar to the rolled hem with a zigzag stitch sewn over it.
This type of stitch works on lightweight fabrics such as chiffon.
How To Pick The Right Serger Stitch
Decide if you want to use your serger instead of the regular sewing machine for your project.
Get a basic understanding of the types of serger stitches and their uses, along with their differences and advantages.
Consider the type of fabric you have (how is it going to be used, how often would you give it a wash, etc., etc.)
Will you be lining your garment, in this case, using a serger will be a waste of your time and energy as all the seams will already be enclosed.
Think about what kind of strength and flexibility you want in your final product.
Keep a manual handy to go back to it in case you get confused along the way.
Tips And Tricks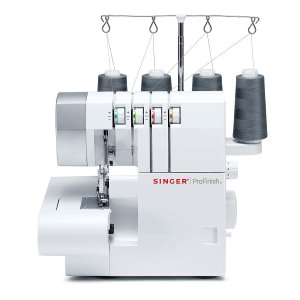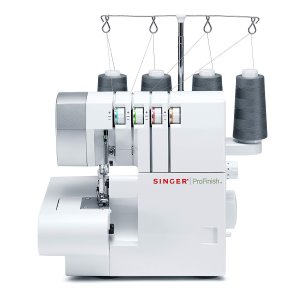 Tension adjustments need to be done for every different type of threads and fabrics for the best results of your stitch.
Note that thicker thread requires less tension.
Ensure that all tensions are adjusted if you skip any stitch.
Make sure the needle is inserted all the way through.
Always keep track and reposition everything thoroughly to ensure the 'perfect' stitch.
Choose the needle ideal for your fabric.
Understand the workings of your serger/overlocking machine.
Can A Serger Replace A Conventional Sewing Machine?
A serger can be used to complete sewing projects without using a sewing machine, but with that being said, a sewing machine is irreplaceable when it comes to all the essential, day-to-day sewing work. The serger will give your project a more durable and professional finish as compared to the regular sewing machines. Thus, I believe that a serger would be a great companion to your sewing machine if you are looking for a professional-looking garment.
Serger Stitches And Their Uses: Final Thoughts
If you have decided to pursue serging, go for it and do not worry! The motive behind sewing projects or any project is to stay engaged and focused. Keep in mind the basic types of serger stitches and their uses for the best results. Happy serging guys!