The serger and overlock sewing machines are the same in all practicality as they are both niche-based specialty sewing machines. While both these machines perform the function of attaching cloth pieces and giving the garment or fabric a more decorative finish, they are technically different. To understand this better, we will discuss the serging function in detail, after which we will examine the differences and similarities between serger vs. overlock sewing machines.
Serging is the term used when threads from different spools are looped around the edges of two fabrics to form a stitch known as the serge stitch. This stitch can be completed using sergers as well as overlock sewing machines. These machines are different in terms of their usage and certain features that are useful for different types of sewing projects.
Serger Sewing Machine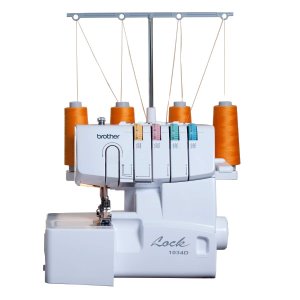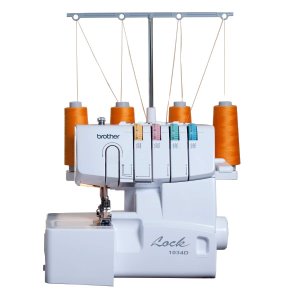 The serger sewing machine does the dual job of trimming and encasing the edges of the fabric in a single movement to produce smooth and perfect stitches. This trimming and encasing process is also known as a seam allowance. These machines, stitch, trim, serge, and finish the sewing process all in one go.
Sergers are of different types, and they perform stitches of varying width and density. They have several spools of thread (most expensive ones go up to about eight of them) and at least three or four pathways that hold the threading. The machine has at least two loopers that do the sewing or knitting. It also has a knife that is responsible for seam allowances as the sewer works on a particular sewing project.
Professional sewers and sewists use serger sewing machines as they required to work on the inner portion of garments. Sometimes, they also perform a stitch known as rolled hemming (for a more attractive and stylish finish).
Serger stitches are usually two-thread, three-thread, or four-thread (the most popular and strongest). This sewing machine produces stitches with a professional finish compared to stitches like the chain stitch, flat-locking stitch, and others made by other sewing machines.
Serger sewing machines come in several models based on the number of threads used, giving different results with each model.
P.S. There is a five-thread serger as well that is the most expensive of the lot but is by far the best serger sewing machine. This machine is usually used in an industrial setup.
Overlock Sewing Machine
An overlock sewing machine is an alternative device that performs serge stitches without the trimming like a serger sewing machine. An overlock uses lesser spools of thread as opposed to serger machines.
These sewing machines are used to sew garments with a professional and decorative finish. It is also an excellent choice for fixing hems, attaching lace and other decorative items.
The overlock sewing machine has a more straightforward design as compared to the serger. This machine has up to three needles making narrow to wide hemmings. There is no knife for seam allowances and there is one looper.
This device is popular among sewists for the cover stitch it produces. The stitch holds well on garments of all types, particularly stretchy ones that often have hemming related problems. An overlock can also be used to add decorative attachments like embellishments, lace or elastic much easier than with a regular sewing machine.
Serger Vs Overlock
The key difference between a serger vs. overlock sewing machine is the serge stitch functionality and ability to perform cover stitches. An overlock device does not have the trimming and additional spool capacity like that of a serger, yet it can deliver a satisfactory serge stitch and cover stitch.
A serger sewing machine and the overlock sewing machine has two needles, needle plate, and a lengthy foot. The overlock is more user-friendly as opposed to the serger as it has a simple and straightforward design. The sewist can use the overlock right away without worrying about changing any setting.
But a serger sewing machine a bit more elaborates with spaces for colorful spools, knife, and looper. It has different patterns, styles, spooks, needles, and much more. A serger also needs to be set appropriately depending on the function, type of fabric, and stitches.
The serger sewing machine has multiple sewing options and the ability to perform various tasks at a time. The ability to multitask is uncommon in an overlock machine as it has limited spools of thread.
Another difference is in the stitch width and eccentrics by the two machines. Sergers sewing machines perform more stitches per inch compared to overlock machines; therefore, the strength of the stitches made by the serger is more than that of stitches produced by the overlock machine.
Overlock sewing machines are a little cheaper than serger sewing machines as overlock devices have fewer functions than the serger sewing machine. The knife and additional spools in sergers in this machine are the reason it is rated as one of the best specialty sewing machines.
Combination Sewing Machines
While the debate and the confusion between serger vs. overlock continue, several combination sewing machines are available in the market that does the work of a serger and an overlock sewing machine allowing you to create cover stitches with a good serge stitch. But these machines are difficult to configure and is not very user friendly.
Transitioning between cover stitch and serge function is very difficult in these sewing machines. Another disadvantage is the lack of a free arm that you have in regular sewing machines. Also, the quality of stitches in these machines is a bit off, if you compare the neat stitches made by the individual serger and overlock machines.
Serger Vs Overlock: Final Thoughts
Are you still debating between serger vs. overlock sewing machines? Alright! Consider the differences and the merits in both the devices before concluding and try and figure out what it is that you need. If you are looking for a simple and easy-to-use machine, the overlock sewing machine is the best choice. But if you are a serious sewer and crave perfect stitches each time you sew, the serger is the best bet.