For everyday sewing needs, a personalized package can do wonders. You do not have to search for the essentials at the time of need. For beginners in this field, a sewing kit can be convenient. It shall allow having a fantastic experience with the first project if all the materials required are available within reach. But while preparing a kit, the most critical phase it getting started and also the process. For experienced workers too, sewing kit essentials will make things easier while indulging in an intricate project.
Sewing Kit Essentials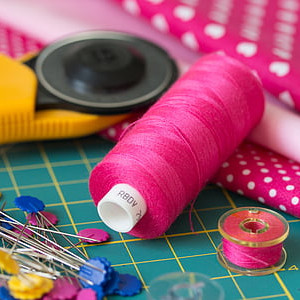 As a dressmaker or fashion designer, following supplies in the various categories can be your checklist for organizing and assembling the sewing kit essentials:
Blades and Cutters
Under this category, all the items required for cutting and slicing are as follows. For a perfect cut on the fabric, it is advisable that that one must carry the required cutter with him or her wherever they visit. It can either be your studio or a shared space where other fellow designers work together. Having a smooth and sharp blade will prove to be an advantage while cutting a piece of fabric. If any of the blades become blunt, do not forget to sharpen it. For such instances also make sure that you either have a piece of sandpaper or aluminum foil to serve the purpose.
A good pair of regular scissors that can cut through all kinds of natural fabrics is essential.
Include an embroidery scissor for cutting the sewing thread or any other hanging embroidery thread on the fabric.
The pinking shears have teeth like blades along the edges. They help to minimize the length of fraying fibers while cutting cloth with uneven edges.
Also, include a rotary cutter in the kit. They help to achieve accuracy while cutting curves for various designs in an outfit. They can cut through thick and layered fabrics efficiently.
Measuring Tools
Every project, be it small or big like a pillow cover, a dress or a quilt requires accuracy in measurement and fabric sizes. A measuring device falls in sewing kit essentials as well.
A regular measuring tape is an essential supply for every sewer. Be it a beginner or a professional. One cannot achieve a perfect result without proper measurements. If required, for an accurate size measure twice.
A quilter ruler is an essential item for those who are into quilting. As distinct grids and different angles are printed on it, the tasks of measuring the patches and resulting in a perfect fit while quilting becomes easy. But, one must know the basic rules of using a quilting ruler.
Needles
Another necessity in a sewing kit is the needles. You, of course, cannot work under any circumstances if you do not have a needle as per the required size. Various needles of shapes, sizes, length, and width are available, and they also serve a different purpose. For general sewing, needles of medium length can come handy. Also, keep a universal needle that can fit in any sewing machine for most of the fabrics. During special projects, remember to include the exact one. Instead of a single piece, always include multiple needles in the sewing kit to be on a safer side. You never know what conditions may arise.
Threads
For individuals who need to carry a sewing kit for work or travel, they must have the primary threads with them. The necessary color threads like white, black, and red are useful at any point. Cotton threads work excellently in most fabrics. For embroidery purposes, carry the basic shades of embroidery floss in the sewing kit. Also, check that they do not get tangled with one another. Cardboard bobbins are great organizers for embroidery floss and also do not take up much space.
Marker
For marking the points of measurements for accurate size and cut, it is advisable to pinpoint them. For this, either a temporary or washable marker and a tailor's chalk is quite useful. They are also a part of sewing kit essentials. Water-soluble pencils are great alternatives as they do not leave behind any stain on the fabric.
Sharpening Tools
Along with other items, the inclusion of sharpening tools is also necessary. Continuous work on the machine may lead to dull and blunt tips on sewing tools like scissors and needles. Appropriate materials like sandpaper, aluminum foil, emery sheet, or a manual sharpener can give an instant sharpness on cutters and needles.
Pins
For proper placement of fabrics in the required position, there is a need for pins. The kit must contain at least ten to fifteen numbers of either plastic or glass head ones.
Buttons
The kit should also contain a few buttons of various sizes and shapes. They add an enhancing touch on any outfit and are a must in some projects like shirts, pants, or bags.
Zippers
Also include zippers in your sewing kit. These fasteners are a compulsion in many garments, jackets, pillow and cushion covers, etc. You never know what kind of stitching project might come your way. So, carrying some necessary zippers are a great idea.
Cutting Mat
You may also store a medium size cutting mat in the kit if necessary. It shall prevent damaging the furniture while slicing the material and also provide an even surface for perfection.
Other Sewing Kit Essentials
Along with these sewing kit essentials, also store a small diary and a pen to write down minute but important details about a particular work. When multiple projects are going around simultaneously, noting it down in a book or diary is a must to avoid mistakes later.
To store these sewing kit essentials, use a bag or an organizer. A portable one will be convenient to carry to another location. Keep a regular check if any items need replacement or addition. Clean up the kit once a week to discard any unnecessary items and cut out scraps. A well-organized sewing kit with all the essentials, as mentioned in this article shall make the task easy. Simultaneously, a methodized sewing kit will also provide a fantastic experience throughout the project.