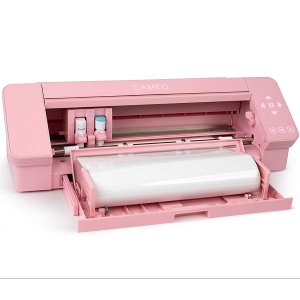 Today we have my Silhouette Cameo 4 Review. This is one of the best desktop cutters on the market today. It comes with Bluetooth integrated, with a 12" x 12" cutting matt, 100 unique designs, and the impressive Silhouette Studio Software.
If you are looking for a slim, highly portable cutter that happens to be a revolution in your desktop cutting, you need the Cameo 4. This machine has a compact drawer with a built-in roll feeder that can quickly cut vinyl and can even heat transfer different material directly from a role.
For use at home in your office, I cannot think of a better home cutter. The cameo even has a dual carriage that allows for the best tool-type detection. The machine system is incredibly smart and uses upgraded tools sensor technology to detect exactly which tool you are using. The machine then uses its internal software to adjust the settings of your cut automatically.
Let's take a deeper look at all the amazing features of this digital home printer.
Silhouette Cameo 4 Review: Overview
Let me properly introduce you to the Cameo 4. This is an impressive 12-inch desktop cutting unit that you can use to make expert cuts with cardstock, fabric, vinyl, and so much more. It is extremely affordable, it is built with smart technology, and it will work for years to come.
Additional Blades
One of my favorite things about the Cameo 4 is that it has a huge selection of optional tools that you can purchase separately from the machine itself. You can purchase a Rotary Blade, a Kraft Blade, an AutoBlade, or a Punch Tool.
The Rotary Blade works by rolling across your material, therefore enabling you to cut all kinds of different specialty materials like cotton, leather, felt, and even wool. You don't need any special stabilizer backing to use the Rotary Blade, and it even comes built from tungsten carbide.
Related Articles:
The Kraft Blade is 3mm and lets you cut special craft materials like craft foam, burlap, acetate, and leather. This blade gives you increased clearance so that you can cut the thickest materials ever.
The AutoBlade is exclusive for the Cameo 4. It makes it so that you don't ever need to adjust your blade manually. Your machine will do all of the work for you thanks to the integrated Silhouette Studio Software. Your machine will automatically know how to cut a specific material just from you uploading your design to the Cameo 4.
Finally, the Punch Tool allows you to create weeding points when working with vinyl and other heat transfer projects. You can easily weed the negative space or positive space. This tool will ensure that when you weed vinyl or heat transfer, the process is much quicker and much easier.
Roll Feeder
With this machine's new built-in roll feeder, you now have an easy way to hold rolled material while it is fed into the cutting unit, therefore allowing you to tackle longer cutting jobs while still being able to properly align your material so that it is always perfectly straight as it gets fed into the machine.
You get a maximum width setting of 9" x 12", a maximum roll diameter of 4.5", and a maximum material core size of 3".
Powerful Software
There is no disputing how powerful the software inside of the Cameo 4 is. The Silhouette Studio Software is undoubtedly the most powerful and most robust design software that has ever been developed for any cutting system to date.
The software is innovative, it comes juiced with unique features that are normally reserved for premium illustrating software, it is easy to learn, easy to use, and comes 100% free to people who use the Cameo 4.
You can even design and cut directly from programs such as Corel Draw and Adobe Illustrator. There is almost no end to the functionality of the software found inside the Cameo 4.
Endless Designs
While there are plenty of designs that come with the machine, by having unlimited access to the Silhouette Design Store, you have unlimited access to over 100,000 downloadable designs and ready-made shapes that you can use in conjunction with your Silhouette cutter, most of which come from extremely talented artists.
You are able to purchase designs that you can then use for your lifetime, and you can purchase as many as you want, building a personal digital library of designs for use however you see fit. When using the Silhouette Design Store, you don't have to pay for anything you don't want. You only buy the selections that you really want.
Tool Type Detection
One of the other great features of the Cameo 4 is that it has a unique dual carriage that allows for excellent tool-type detection. The machine is able to detect what tool you are using and then adjust the settings automatically so that everything is cut according to specifications.
Silhouette Cameo 4 Review: Final Thoughts
As a final thought, I would just like to say that the Silhouette Cameo 4 is an all-star desktop cutting machine. This thing does it all. It comes with a built-in roll feeder, a built-in cross cutter, extremely powerful software, tool type detection, and availability of over 100,000 designs. If you want a machine with ultimate options, this is your best choice.
The Cameo 4 is super lightweight, built to be exceptionally strong, and it is very slim and fits nicely on your home desk. It comes at a wildly affordable price, in a heap of different colors, including black, blue, pink, and white. It is simple to operate and offers more features than you will ever know what to do with.
If you have never had a desktop cutter before, I highly recommend this unit as your first one. It sets up in minutes, it connects directly using a USB, it has modern Bluetooth power, and it looks great. You will definitely notice a difference in the quality of your work when you buy the Cameo 4.
Related Articles: