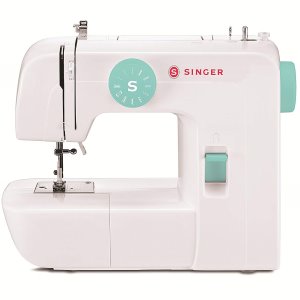 If you're looking for a portable sewing machine to sew on the go, or simply another to add to your collection, then be sure to feast your eyes on the Singer Start 1234. Whilst it may have been designed primarily for those needing a portable machine, this model offers both the style and functionality you'd expect from any standard Singer sewing machine, pleasing both new and advanced users alike.
Offering an automatic bobbin winding mechanism, a quick and easy threading system, and enough stitches to carry out most basic tasks, the Singer Start is a fantastic piece of kit that would suit just about anyone. It's light enough to use on the move yet still packs enough power to run up to 750 stitches per minute.
So, let's see what else the Singer Start 1234 has to offer.
---
Singer 1234 Sewing Machine Review: Overview
Learning to sew on a standard-sized sewing machine can be daunting with all the various knobs and dials, the vast amount of stitches options to choose from. For some people, just the sheer of the machine puts them off and therefore would be better off learning on something a little smaller, i.e. a portable machine.
One of the good things about the Singer Start 1234 is there are only 6 built-in stitches to choose from, all of which have been pre-set with standard stitch width and length. All you need to do is select one of them using the dial on the front of the machine and start to sew. And when it's time to change thread, simply follow the helpful threading diagram printed on the top of the machine and you'll be ready to go again in no time.
Being so easy to use makes it the perfect machine for beginners. Everything on the machine is well designed and well labeled. The instructions provided are clear, and most of the features and functions that aren't automated are pretty easy to use.
---
Cute and Compact but Still Highly Efficient
Just because it's small, doesn't mean it's inefficient. Measuring in at just 13" x 7" x 11.5", and weighing just 7 pounds, there's no denying the Singer 1234 is tiny. But it still works well in your hour of need and is ideal for completing all those smaller to medium projects.
Another great feature this compact machine has to offer is the removable extension table. Simply slide this off to expose the free arm for help in completing smaller, more intricate projects such as hemming trousers or sleeves. And, it's capable of completing a staggering 750 stitches per minute, which is mighty fast for any machine, especially a portable one.
In terms of looks, the Singer Start 1234 has to be one of the sweetest looking machines I've ever seen. With its pastel colors and cute little owl emblem, it's a very friendly and inviting machine. This makes it ideal for those younger users or anyone just starting to learn as definitely appears less daunting than a standard-sized machine.
---
Small in Size, Big in Functionality
Not all machines are portable. Some are designed to be set up and stay put. Contrary to popular belief, that doesn't mean to say these are all more functional than portable machines, as that's not always the case. The Singer Start 1234 has more functionality than some non-portable machines. With 6 built-in sewing stitches to choose from, this portable machine is the perfect tool to use on the go or when you just need to complete a simple task quickly and don't want to have to get out the bigger machine.
If you want to do buttonholes, that's fine. The Singer Start 1234 has a built-in 4-step buttonhole function that will help you do just that. Sure, it may not be quite as efficient as the 1-step process you see on some of the bigger machines, but there's only so much you can expect from a compact machine. Another neat feature is the dual spool pins which make twin needle sewing fast and simple.
As you can see, just because it's small, doesn't mean to say it doesn't have much to offer.
---
Automatic Features to Take Away
For obvious reasons, there are some functions you get on a standard-sized machine that you just won't find on a portable one. However, those that are found on the Singer Start 1234 are pretty darn good. For example, it has an automatic bobbin winding mechanism that stops turning when filled, and it even has a 4-step buttonhole function which is pretty impressive for such a small machine.
Related Articles:
And even though it's a portable machine, there are still a good number of accessories included. There are three different presser feet in which to use for competing various tasks including one for zippers, and one for buttonholes. Also included with this machine are all the various tools you're likely to need while sewing, such as bobbins, a seam ripper/lint brush, a darning plate, and a spool pin felt. You also get a quick start guide which most beginners will need, and a tote bag project sheet in which to help get you started off on the right foot.
---
Singer 1234 Sewing Machine Review: Final Thoughts
Because of its cute appearance, it's a machine that appeals largely to both the younger generation and those new to the world of sewing. Being a portable machine, it does lack some of the features and functions you may have come to rely on with your standard-sized machine. For starters, there are only 6 stitches to choose from. But, for a quick and easy fix me upper, or simple machine to start your sewing journey, it works well.
It's small enough to be carried around as necessary, but big enough to carry out most small to medium-sized tasks. And the price is pretty good too, considering all that comes with it. All-in-all, the Singer Start 1234 is a great choice for anyone looking for a lightweight and portable machine. More primarily suited at beginners, but will work well as a second machine, also.
Related Articles: