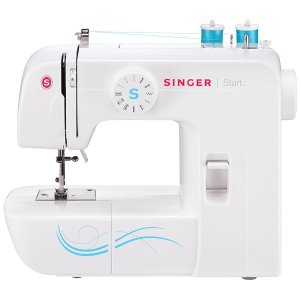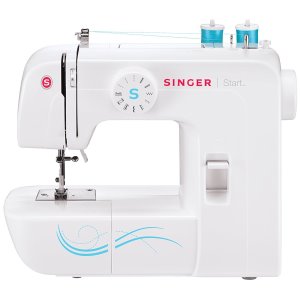 If you're new to the world of sewing, or it's been a while since you've done any, it can be quite daunting looking at all the different machines on offer today. There are machines that are specifically for quilting, others that are better for general sewing, and others that are really only useful for commercial purposes. And with some of the high-tech models out there, it's not just a case of learning to sew, you have to learn how to work the fancy on-board computer as well.
With the Singer 1304, you don't need to worry about any of that. It's a compact machine that's easy to use and has enough features and functions to complete the most basic tasks. There's no complicated computer to fret about and, it won't break the bank either. You don't need to be a professional to work this machine as everything is well laid out and ready to use at the press of a button.
So, if you are ready to embark on the beautiful world of sewing, then this machine could be for you.
---
Singer 1304 Review: Overview
It may not have all the bells and whistles that some of the bigger machines have, but the Singer 1304 still performs well enough to complete most non-commercial sewing tasks. The 6 built-in stitches are those most commonly used across the board and include a straight stitch, a zig-zag stitch, and a blind hemstitch. There's a very efficient LED light in which to illuminate your work, and an automatic bobbin winding system in which to save you time when threading.
Included with the machine itself are a number of different presser feet, including an all-purpose foot, a buttonhole foot, and a zipper foot. You also get bobbins, spools, a pack of needles, pin felts, a screwdriver, a seam ripper/lint brush, and pin felts.
All of these added extras will enable you to carry out a variety of creative sewing projects as opposed to just repairs and alterations.
---
Simple Sewing at the Turn of a Dial
Sewing to a professional standard isn't as easy as it seems (not to start with anyway). However, thanks to machines like this, it's becoming a pastime that's becoming more popular as many people are taking it up (excuse the pun) because of how easy and fulfilling it is.
Right away, from the first glance, you can see how basic this machine is. There are very few parts really and therefore not too scary to someone new to sewing. It's not too big that it looks like something out of Transformers, but not too small, that you can't do anything on it. There's also an extension table to increase your workspace.
With the Singer Start 1304, everything is right there at your fingertips, ready to use. There's no messing around with a computer screen. Just load in your thread using the easy threading system and off you go. Both the stitch length and width are preset on all the stitches found on the Singer 1304. Buttonholes can be done using the easy 4-step process, and the dual spool pins enable and make easy the art of twin needle spinning.
---
Solid Machinery
It may be a simplistic design on the outside, but underneath, she's a beast. Capable of sewing at a speed of 750 stitches per minute, this machine is more than quick enough for a beginner, and probably enough to satisfy an advanced user too (at least in the short term).
Weighing in at less than 12 pounds, the Singer 1304 might not weigh much, but don't let that fool you into thinking it's a flimsy piece of machinery, as it's not. Featuring both a heavy-duty metal frame and a stainless-steel bedplate, this machine is rigid while in use, meaning the chance of skipping is almost non-existent. Even the removable free arm is robust.
Related Articles:
The other good thing about using such a robust machine is that they are often a lot quieter than some of the big, old, heavy machines. And being compact certainly helps too as the less moving parts there are, the less noise it should make.
---
Easy Maintenance
One of the best things about starter machines, in my opinion, is the fact that because they're basic, they tend to have fewer parts. And with fewer parts, there's less to maintain. Other than the tiniest drop of oil every now and then, there isn't really anything to be concerned about in way of cleaning the Singer 1304. As a precautionary measure, it's always worth brushing down your machine after each use, just to ensure no stray pieces of fabric are stuck anywhere.
While there is a 25-year warranty on manufacturer's defects, it's highly unlikely that you'll ever need to use it. If you've never owned a Singer sewing machine before, then you may not know how strong and reliable these workhorses are. You also get 5-year warranty on electrical components and a 1-year warranty on all other parts such as belts, bulbs or adjustments.
---
Singer 1304 Review: Final Thoughts
The Singer 1304 is a nice and simple machine that would suit anyone new to sewing. Everything on the machine is well laid out and within easy reach. It's all labeled clearly, and there is no complicated on-board computer to deal with. There are quite a few different functions and features integrated into this machine which are very helpful when learning, including the preset stitch length and width, and the automatic bobbin winding system. And, pumping out a staggering 750 stitches per minute, it can sew pretty quickly too.
However, it may not be the best machine for those more experienced users due to the lack of stitch options and the lack of some more advanced features such as auto tying, or a programmable needle.
That being said, if you just need a portable sewing machine that's reliable, efficient, and ready to go within seconds, then you may have found your next purchase.
Related Articles: