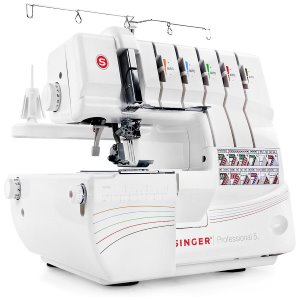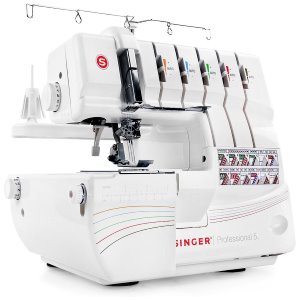 Singer is an American brand name that's been around in the sewing industry since the mid-1800s, so to say they know what they're doing when it comes to sewing machines would be an understatement. The Singer 14T968DC is a professional sewing machine designed for those with a little more than basic knowledge of stitching. It's packed full of features such as a differential feed system, an automatic tensioner, and more stitch selections then you're ever likely to use.
Of course, being a professional sewing machine, it's not cheap. But opposed to it being simply another fruitless purchase, it's an investment. It's a solid piece of machinery packed full of features that will put to shame even the toughest of its competitors.
And, there's even a very generous 25-year warranty, which is not something you get with many items these days.
---
Singer 14T968DC Review: Overview
There should be no worrying about quality when it comes to the purchasing of the Singer 14T968DC as this machine was built to last. With its heavy-duty metal frame, stainless steel bedplate, and lightweight plastic cover you get the best of both worlds. You get greater stability while still maintaining a good level of flexibility. So, not only is it great for completing quick and easy tasks like taking up some trousers or sewing on a button, but it's also the perfect tool for tackling bigger jobs such as the hemming of thick curtains.
Every decent sewing machine has somewhere to catch the excess fabric and cloth, and the Singer 14T968DC is no different. It has an attachable 'clean pocket' that tidies up for you as you go along, leaving your workspace less cluttered and more organized.
Another great quality it has to offer is its color-coded, easy-to-read threading diagram. This is something that a lot of people find extremely helpful as the threading set-up on this machine can be a little tricky, to begin with.
---
12 built-in stitch selections
The Singer 14T968DC has amazing capability when it comes to stitching. Designed with the more advanced user in mind, this sewing machine is the perfect tool for carrying out a range of sewing tasks. It has a 5-4-3-2 stitch configuration with a whole range of stitch styles to choose from. With no less than 12 built-in stitch selections, including 3 variations of cover stitch and 4 rolled hemstitches, there really isn't much you can't do with this machine. However, everything has a limit. And while sewing 2-3 layers of denim shouldn't cause you too many issues with this machine, anything more and you may struggle.
One of the biggest selling points for this machine is probably the fact that it has both an overlock and cover stitch function, which is not something all machines offer. And, it supports 5 threads, which again, is quite rare in a machine in this price range.
---
Advanced Functionality
As mentioned before, this sewing machine is not for the faint-hearted for many reasons. Firstly, it has a top sewing speed of 1300 stitches per minute, which is pretty quick to work at even for the fastest of seamstresses. But, if you are that capable, why not make the most of it and complete those projects in lighting speed!
Another really neat feature on this machine is the automatic self-adjusting tensioning function. With this innovative system, the tensioning is automatically adjusted to ensure your stitching remains even. There's also a differential feed system meaning you can control the amount of fabric that passes between the feed dogs and the presser foot. This enables you to achieve a much better stitch quality on a whole range of fabrics. And, with a number of extra presser feet included, you can be sure to achieve the right look each and every time.
Related Articles:
While all these advanced functions may seem a little daunting to a beginner, they're actually relatively easy to use in comparison to some other machines out there. At the end of the day, experience comes with practice. So, the more you use the Singer 14T968DC, the easier it will be and the better skills you'll develop. And don't worry if you do get stuck as it also comes with a pretty comprehensive workbook just in case you do get stuck with anything.
---
More, More, More Accessories  
With most new sewing machines today, you get a few accessories thrown in to make the purchase seem even more worthwhile. Well, if you like extras, then you'll love this. Here are just some of the accessories included with the Singer 14T968DC:
Needle set
Spool caps
Tweezers
Screwdrivers
Serging knife
Anti-spill net
Spreader
6 x feet (1 x piping foot, 1 x gathering foot, 1 x guide foot, 1 x elastic foot, 1 x pearl foot, 1 x blind hem foot)
As you can see, that's quite an extensive list, and that's only a portion of the freebies included.
---
 Singer 14T968DC Review: Final Thoughts
If you're looking to upgrade your existing machine and need something that's fast and efficient and won't break after being used a handful of times, then the Singer 14T968DC is definitely an option worth exploring. It's easy to use, has great functionality, looks great, and comes with more added extras than you can ever imagine. This is a machine that would please even the most advanced sewing professionals.
For someone who's new to the world of sewing owning this machine would be somewhat of a learning curve, but within a few months, you'll be sewing like a pro! There's a great workbook included to guide you through, and tutorials are never far away thanks to the world wide web worst-case scenario. Weighing in at just under 24 lbs., it's light enough to be moved if necessary so can be used at home, at work, or wherever the need takes you. And lastly, with a 25-year warranty, what more could you as for?
Related Articles: