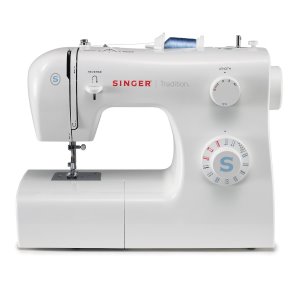 There are many advantages to knowing how to sew. Not only can you mend things such as a hole in your favorite pair of jeans or a button missing from your favorite shirt, but you can also create a whole variety of things such as cushions, curtains, pet beds, and even your own range of clothing. And it's relatively easy to learn, but on what machine?
A step up from a portable machine, but still in the entry-level class, the Singer Tradition 2259 is quite a popular choice for those just learning to sew. It features the same great quality and some of the same basic functionality you'd expect from a traditional Singer sewing machine, just made a little simpler.
It's a classic style machine that's equipped with enough bells and whistles to get anyone started off on the right foot.
---
Singer Tradition 2259 Review: Overview
Basic and budget – but no compromise. Still the same great quality and efficiency of any Singer sewing machine I've ever come across. So, let's go through some of what it has to offer. Firstly, there are a total of 19 built-in stitches in which to choose from, plus one buttonhole stitch, so you should have enough to complete most basic and some more advanced sewing tasks. Just turn the dial located on the front of the machine to your desired stitch and away you go.
In terms of speed, the Singer Tradition 2259 can sew a maximum of 750 stitches per minute, which is more than enough for a beginner. Another great thing for learners is that it's relatively small and not quite as daunting as some of the bigger models out there. And weighing just 13 pounds, it's also a pretty lightweight machine. So, if you do need to move it for any reason, you won't struggle too much.
Some machines have a feature that automatically selects the optimal stitch width and length. Unfortunately, this is lacking on the Singer Tradition 2259 and therefore this must be done manually using the control dial on the front of the machine. While this isn't too much of a disadvantage, it's just one more thing to think about.
---
Simple Set-up
For anyone who's learning to sew, the last thing you want is to have to spend hours setting up the machine. Thankfully, with the Singer Tradition 2259 most of this is done for you. There's no complicated computer to set up or navigate your way through. And to make things even easier, many of the features are at least semi-automated.
To help take the pain away from trying to thread your needle, the automatic threading system does all that for you. Simply pull down the lever and the machine will guide the thread through the needle. While the actual threading of the machine isn't automated, there are clear markings on the machine itself telling you how to do it, so there's no reason you should get stuck during this process.
---
Sew and Learn Simultaneously
Being quite a basic machine, it gives users the chance to really get to grips with all that's involved in the world of sewing. This machine is quite capable of sewing multiple layers at once, provided the fabric isn't too thick. Try sewing several layers of denim and it may struggle. Pretty much any project can be completed using these stitches and the wide variety ensures you get plenty of practice with different styles.
Related Articles:
Another thing that makes this machine good for those just starting out is with just 19 stitches to choose from, you're not overwhelmed. In addition to those stitches is one, 4-step buttonhole stitch. While this may not be as good as a 1-step buttonhole stitch, it's still a very helpful feature to have. If you want to reinforce your stitches, simply pull down the reverse stitch lever and watch as your thread is secured at the end of your stitch.
There's no denying that the Singer Tradition 2259 is capable of sewing at warp speeds, but that doesn't mean you have to. The speed is fully adjustable to suit the user and can be increased incrementally as you hoe your skills.
---
Anything Else?
There are four snap-on presser feet included with the machine. They are a general-purpose presser foot, a buttonhole foot, a button sewing foot, and a zipper foot. You also get all the usual accessories thrown in such as thread spool caps, bobbins, a seam ripper, and a neat little sewing edge.
The free arm makes sewing things like cuffs and hems a breeze. On top of that, it doubles up as a storage cabinet that's large enough to hold all the accessories that come with the machine. And if you do get stuck along the way there's also a very comprehensive instruction manual and machine intro DVD included.
For anyone needing to use their machine on the go, the Singer Tradition 2259 is equipped with its own carry handle. No longer do you need to struggle with your arms full. Simple pick it up in one hand and go.  And if all that's not enough, you also get a neat little carry bag in which to protect your machine while not in use.
---
Singer 2259 Review: Final Thoughts
Sometimes, it's the basic things in life that deserve the most praise, and the Singer Tradition 2259 falls into that category. There may not be a huge selection of stitches to choose from, and you won't find any high-tech functions on the machine. However, for someone new to the world of sewing, it's a fantastic machine to start off on.
Being a manual machine, there's no fancy computer to configure and save all your sewing settings, but it also means you learn more about the machine you're using and how they work in general. It has a heavy-duty frame to ensure it remains solid when sewing, there are no confusing controls to contend with and it can be in action within minutes of unpacking it. What more could you want from a starter machine?
Related Articles: