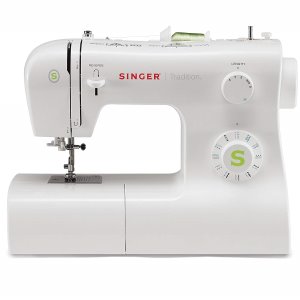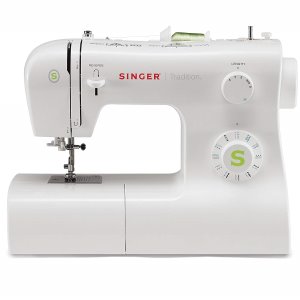 Sewing is a skill that takes a lot of time and effort to master. But without the right machine to help, it will take a whole lot longer. Thankfully, with companies such as Singer on the case, you needn't worry.
Here we have another starter model on offer by Singer – the 2277 Tradition. More suited to the beginner machinist due to its ease of use and limited functionality, the Singer 2277 has a great number of features and functions that will enable the user to carry out a wide range of sewing projects.
It's very similar to the Singer 2259 Tradition. They share the same great look. They're both pretty compact machines. And, they both share similar attributes such as the automatic needle threader, an LED light, and the reverse stitch control function.
But, the Singer 2277 is a slightly later Tradition model, so what else does it have to offer?
---
Singer 2277 Review: Overview
While there are a very reasonable 19 built-in stitches integrated into the 2259, with the 2277 Tradition, you get an extra 4, giving you a total of 23. These consist of 9 decorative stitches, 7 stretch stitches, 6 essential stitches, and 1 buttonhole stitch which should give you enough coverage to complete most projects.
Another slight upgrade from that of the 2259 is with this model you get a choice of 3 different needle settings opposed to just 2, and the buttonhole process is a speedy 1-step, as opposed to 4-step. To use this function simply set the location of the buttonholes, load in your material, and sew, sew, sew. This on its own is a huge time-saver that makes an otherwise awkward process quite simple for beginners.
In terms of noise, it's also quieter than its sister model.
The only real downsides I can see so far in comparison to the Singer 2257 is that there are slightly fewer stitches to choose from, and for some reason, there's no thread cutter on the Singer 2277. But if those things aren't massively important….
---
Strong as an Ox
If you're looking for a machine that's ready to take on a whole range of heavy fabrics, then this is it. Like pretty much any Singer sewing machine I've ever seen, this model is as strong as an ox, both inside and out. Its heavy-duty metal frame ensures all your fabric remains in place while sewing reducing the risk of bunching or skipping.
You can sew a range of different fabrics with this machine, including thicker materials such as denim or corduroy. However, just ensure you're using the correct needle for the thickness of the material you're sewing. Some heavier fabrics require special needles and even special presser feet in which to sew. If you attempt to sew a thicker material without using the correct needle, you risk damaging both the needle and the machine.
Measuring in at 15" x 6.2" x 12", the Singer 2277 Tradition is considered a full-size sewing machine. It's capable of tackling bigger projects than those expected of a portable machine but requires less space than some of its rivals. You can easily sit this machine on a little desk and still have room to spare. And weighing just over 16 pounds, it's not the end of the world if you decide you want to move it.
---
Efficient Functionality
Whether sewing for profit or sewing for fun, time is money. So, when it comes to buying a quality machine, any features that can save you time are definitely a bonus. On the Singer 2277 Tradition, there are a few of these timesaving features most people will appreciate. The first is the automatic needle threader. With this helpful function never again will you have to spend unnecessary time trying to thread a needle.
Adjusting the length and width of your stitch is another simple and carefree process. Simply turn the dial located on the front of the machine to your required setting, and you're good to go. You select your stitch type in the same way just using the bigger dial underneath. The free arm on the machine is ideal when working with hard to reach pieces of fabric such as cuffs or collars. To gain access to it, simply detach the area below the needle. Then when finished using the free arm, simply snap it back on.
Related Articles:
To sew with this machine, you need to use the standard foot pedal that comes with it. Some people find this feature a little hard to get used to, but once you've mastered it, you won't regret it. You'll then experience what all the benefits of hands-free sewing really are.
In terms of price, you definitely get your money's worth with this machine. It may only have a fraction of the added extras featured on some of the top-spec models do, but then, it's a fraction of the price.
---
Singer 2277 Tradition Review: Final Thoughts
The Singer 2277 is a great machine for keen learners. It has slightly more to offer than some of the most basic models out there but is still a beginner machine, none-the-less. The features that this machine does have to offer are pretty good, especially considering the price tag. The automatic needle threader is efficient, all the dials are easily accessible and well labeled, and its fully foot pedal controllable.
But, that's not all. It's got a 1-step buttonhole function that any level machinist will appreciate, the LED light works well at keeping your workspace well lit, and it's got all the stitches and presser feet you need to complete most projects. Phew!
When comparing against its sister model, the Singer 2259, it's pretty obvious that the Singer 2277 Tradition is slightly better. For a start, you have a wider range of stitches to choose from, and the 1-step buttonhole process is a marvel. It's also capable of a faster maximum sewing speed. But of course, you will pay more for the upgrade.
Related Articles: