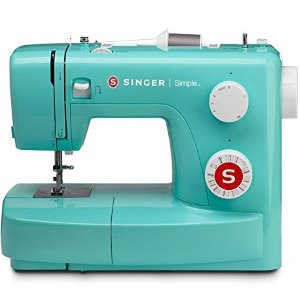 If you're new to the world of sewing and are looking for a quality machine for you to hone your skills, then be sure to check out this fantastic little machine on offer from Singer.
Simple by name, simple by nature. The Singer 3223 was designed with novice sewers in mind. Packed full of a number of helpful features, this machine ensures that newcomers not only learn the essential skills needed to succeed in the world of sewing but that they enjoy it too.
It's definitely what I would consider to be a user-friendly machine. There are no overly complicated parts to be concerned with, and all the dials are clearly marked. Set up is easy and it looks fantastic. Keep reading to find out more about what's on offer from the Singer 3223.
---
Singer 3223 Review: Overview
While a lot of people enjoy the look and feel of a more traditional machine, others like to see something a little different, and that's exactly what you get with the Singer 3223.
One of the first things you'll probably notice when you see this machine is its striking aqua color. It's a bold move made by Singer but one that I feel works well, particularly for the younger sewers out there. There's no hiding in the corner with this machine. It will literally light up the room.
Underneath the machine's bright and bold exterior, is the same old reliability that you'll always find present in a Singer sewing machine. It's capable of a maximum sewing speed of 750 stitches per minute. Now that may not be that fast for the more experienced machinists out there, but for a learner, it's plenty fast enough.
If you're worried about noise, then don't be. This is one of the quieter Singer machines out there and is another good reason why it's suitable for newbies.
---
Fine Functionality at Your Fingertips
There are 23 built-in stitches that can be found on the Singer 3223, including 6 essential stitches, 7 stretch stitches, 9 decorative stitches, and an automatic 4-step buttonhole. These can be easily selected using the clearly marked dial on the front of the machine. Another great feature this machine has to offer is the high presser foot. So, if you need to sew through several layers of thick or heavy fabric simply raise the presser foot to a higher position.
Related Articles:
Included with the machine are 4 snap-on presser feet: an all-purpose foot which is suitable for most projects; a zipper foot that enables you to add zippers and cording, etc; a buttonhole foot for adding buttonholes; and a button sewing foot for sewing on buttons. So, as you can see, the Singer 3223 is pretty adequate in this department. There's also a free arm in which to sew all your hard to reach areas such as cuffs and collars. And underneath the free arm, you'll find an on-board storage area where you can place all your vital sewing accessories.
What's also nice about this machine is the quality of the stitches that are produced. Some beginner machines are great for learning the initial skills needed to sew competently, but when it comes to making the stitch, it looks like a 2-year old could have done better. Thankfully, the Singer 3223 is not one of those machines. It's very well-made with the highest quality parts, enabling to produce high-class stitching, always.
---
Hassle-free Sewing
Sewing needn't be stressful. Provided you have the right machine to assist you, sewing can be a great way to spend some free time. It can also save you a heap of money in having to buy new clothes simply because you need a new zipper or button. There are several features on the Singer 3223 that will make your sewing projects a lot easier to complete.
The first is an automatic bobbin winding system. This takes all the stress away from winding a bobbin as the machine automatically does it all for you. All you need to do is follow the clearly labeled number diagram that's printed on the top of the machine to wind it in the first instance. It will then stop turning automatically once filled. There's an adjustable tension system that ensures stability in your stitching, while the four-segment feed dog system ensures even feeding of your fabric.
---
Super Simple Setup
Once you've bought the machine, there's very little to do in the way of setting it up, which is why it's such a good machine for beginners. And weighing just 12.2 pounds, it's also lightweight and portable. Again, another quality that's suitable for learners, particularly if traveling with their machine to a sewing class.
The Singer 3223 is essentially ready to go as soon as it's threaded. Unfortunately, there's no automatic threader included, so it may take a little longer the very first time you do it. However, with a little practice, you'll soon be threading it with your eyes closed.
---
Singer 3223 Review: Final Thoughts
There's no denying that the Singer 3223 sewing machine is primarily a machine for learners. It's colorful, easy to operate, and has enough functionality to complete a range of different sewing tasks.
The two things I would have liked to have seen on it that's not is a 1-step buttonhole process and an automatic needle threader. But these are personal preferences and are just there to make the job a little easier to do. This machine is still quite capable of carrying out those tasks, you just need to do a little more work. If these functions are important to you, there's always the Singer 3323 to consider.
With a lack of advanced featured and a moderate sewing speed of just 750 stitches per minute, this model might not be the best option for those more seasoned sewers. However, it's still a fantastic machine that performs well, looks fabulous, and is priced very fair indeed. So, whether you want a sewing machine to start you off, or you're looking for a spare, then the Singer 3223 is a great choice.
Related Articles: