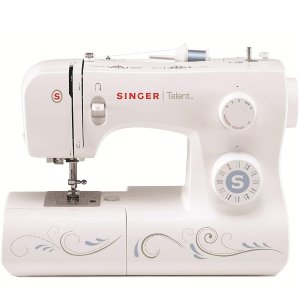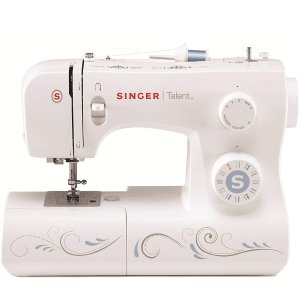 Where would the sewing industry be without Singer? A name that we've all come to know and trust, Singer offers some of the best sewing machines available on the market today, with a model to suit pretty much everyone and every purpose.
The Singer 3323 is a portable sewing machine that features a number of great qualities you'd expect to see in a standard-sized model. There is a total of 23 built-in stitches in which to choose from enabling you to complete most basic and some advanced sewing tasks. It has an automatic needle threader in which to help lighten your load, and enough functionality to replace your standard machine temporarily if need be.
Because of its ease of use, it's a machine that's attractive to newcomers. Yet due to its efficient capabilities, it appeals to those more advanced users also.
---
Singer 3323 Review: Overview
For a lot of people, the majority of their sewing is completed at home or work on a fixed, standard-sized machine. However, there may be times when you need to transport your machine to another location, or you may literally need to sew on the go. Whatever your reason for wanting a portable machine, the Singer 3323 is almost certain to meet those needs.
Firstly, weighing less than 15 pounds you should have no problem moving this machine around wherever it needs to go. And secondly, measuring in at just 18" x 8.8" x 14", you need very little room to use it. Simply place it on a desk or worktop to sew, then tuck it neatly into a corner or under a bed when done.
As well as being compact, it's also a pretty versatile machine that's capable of completing a wide range of sewing projects including dressmaking, embroidery, and quilting.
---
Same Great Look, Same Great Quality
Don't let the fact that it's portable fool you as the Singer 3323 Talent is a still a top-quality machine, capable of producing professional stitching in an instant.
Hosting the same pristine, professional look as many standard Singer machines, there's nothing to be embarrassed about when using this machine. Quite the opposite in fact. With its subtle colors and swirly pattern, it's a machine that users will feel proud to show off.
However, underneath that smooth, soft exterior lies a heavy-duty metal frame that ensures adequate support remains in place while you sew, even at maximum speeds.
---
Easy to Use
As well as looking the part, it also functions really well without too much effort.
The top-loading drop-in bobbin system ensures little time is spent threading your machine. While the transparent bobbin cover allows you to keep an eye on just how much thread you have left. Selecting a stitch is done by simply by turning the clearly marked dial on the front of the machine. And if you want to adjust your stitch length and width, it's done in the same way but using the dial located just above.
Related Articles:
Included with the Singer 3323 are 4 different presser feet in which to help you complete a variety of projects. There's a general-purpose pressure foot; a zipper foot; a button foot, and a buttonhole foot. All of which are well-made and feel durable when in use and all are easy enough to change. To do this, remove the foot that's currently in place. Then select your required foot and simply snap it into place via the machine's easy locking system.
For anything you are unsure of when using your machine for the first time simply refer to the instruction manual that's included. As far as guides go, it's not bad. However, if that doesn't help you there's plenty of online support available in the way of free video tutorials. Simply head on over to the Singer website and al the information you'll ever need about how to work your machine is at your fingertips.
---
Fantastic Features
Singer has always been known for producing high-quality machines with strong motors, and this model is no different. Capable of running at a maximum sewing speed of 1100 stitches per minute, this is a beast of a machine even for the most advanced user. And even though it's a portable machine, thanks to its adjustable presser foot pressure the Singer 3323 can still take on some bigger projects. It's even capable of sewing some heavyweight fabrics (to a degree – I wouldn't try sewing multiple layers of leather, for example).
Another feature it has to offer is the reverse stitch function. With this in place, you can prevent your stitches from unraveling by reinforcing them at the seams, giving them a much more professional finish.
In addition to all the amazing features and functions that have been mentioned already, the Singer 3323 still has a few more tricks up its sleeve. One that I find particularly enticing is the automatic 1-step buttonhole function. While most machines do have some form of automatic buttonhole function, very few do it in 1 smooth move like this one does. And of course, let's not forget, the automatic needle threader.
It's almost as if you're using a full-size sewing machine.
---
Singer 3323 Review: Final Thoughts
For such a little machine, it's surprising just how many features the Singer 3323 has and just how capable it really is. Being able to sew at a rapid 1100 stitches per minute is impressive for a full-sized machine, let alone a portable one. And with features such as a reverse stitch function, automatic needle threader, and 1-step buttonhole process, what's not to like? It's robust inside and out and support is there both online and in person when you need it most.
The thing I like most about this machine is while it offers some great features and functions that pretty much any sewer would find useful, it's still very easy to use. And even though it's not advertised as a beginner's machine, it is a model that both learners and advanced sewers can enjoy.
Related Articles: