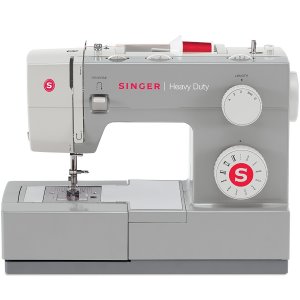 Whatever your reasons, for wanting to invest in a new sewing machine, you can be sure there's one name you'll come across when looking, and that's Singer. This company has been around for more than 150 years and know all there is to know about the industry. If you're looking for a model that's packed full of fabulous features, doesn't need a degree to operate, and was built to last, then be sure to feast your eyes on the Singer 4411 Heavy Duty Sewing Machine.
With a total of 11 built-in stitches, made up of 6 basic, 4 decorative, and 1 built-in buttonhole, there's very little you couldn't sew with this machine. It also has an adjustable needle position making it much easier to add zippers or carry out more decorative tasks such as cording or topstitching. And thanks to the machine's top bobbin loading, the thread is much easier to load, unload, and monitor.
---
Singer 4411 Review: Overview
One of the first things you'll notice when looking at the Singer 4411 sewing machine is that's it's printed in relatively large white lettering right on the front that it's heavy-duty, and that's no lie.
The frame itself is heavy-duty, adding a great deal of stability when in use. While the stainless-steel bedplate will allow your fabric to move freely across the machine's arm. The machine's free-arm allows you to achieve professional results in a heartbeat by enabling you access to all those hard to reach areas.
It also has an impressive motor on it, which is around 60% stronger than most other sewing machines out there. With such power under its cover, not only is it capable of pumping out a staggering 1100 stitches per minute, but it also allows you to stitch more heavyweight fabrics, such as jeans or leather.
One of the good things about this machine is that once you've bought it and set it up, there's very little you need to do in order to maintain it. A drop of oil every so often is more than enough.
---
Adjust and Customize with Ease
Being able to customize the length of a stitch is a great way to make your work stand out. So, whether you want short spacing or larger gaps between your stitches, with the Singer 4411 Heavy Duty Sewing Machine that can be easily achieved. Turn the dial and select the appropriate length up to a maximum length of 4mm and a maximum width of 6mm.
Some machines can be so heavily packed with features and functions that they become overly difficult to use. But, with the Singer 4411 Heavy Duty Sewing Machine, there's no complicated setup – it's user-friendly from the get-go. One of the highlights for beginners is that it features a drop-in bobbin system as opposed to some over-complicated front-loading ensemble. There's also a clear plastic top covering the bobbin area which allows you to see how much thread's left on your spool.
---
Options, Options, Options
Integrated into this Singer sewing machine is a whole host of extra features designed to make your life easier. There's a built-in reverse function for securing seams; an option to change the stitch length; there's even an automatic buttonhole maker which could save you a great deal of time and effort.
If quilting's your thing, then you'll love this machine as it has a detachable quilting guide that connects to the presser foot. With this guide quilting becomes a whole lot easier and a whole lot faster. There's a handy little thread cutter located conveniently on the sewing head, and it's equipped with a 15-watt LED light in which to help you see more clearly what you're sewing.
Related Articles:
As with every good sewing machine, you get a range of accessories with your purchase, including a seam ripper/lint brush duo tool; bobbins; sewing machine needles; additional spool pins; a screwdriver; a dust cover; an instruction manual; a pedal; and a power cord.
---
Protect and Learn
Working with fabrics there are many different tools that are used at any one time. And without having somewhere safe to store them could cause serious issues. Thankfully, Singer has that covered on the 4411 as the integrated accessory tray is big enough to hold all of these and more. One essential piece of kit that comes already included in the tray is a dust cover, which is vital for keeping your machine clean and free from any dust or any other foreign objects. Also, in the way of protection, is Singer's standard 25-year warranty, giving you even more peace of mind that you're buying a quality piece of machinery.
If you're new to the world of sewing, then the Singer 4411 Heavy Duty Sewing Machine is a good place to start. It's pretty solid, so there's not much chance of damaging it, allowing you plenty of time to get practicing all those different styles and techniques. And if you do get stuck at all, not only is there a comprehensive instruction manual for you to peruse, but you can also download the 'Singer Sewing Assistant App' that's packed full of great tips and tutorials to help you learn to sew like a pro.
---
Singer 4411 Review: Final Thoughts
It may be one of the lower-priced models Singer has to offer, but don't let that deter you as unlike many items you find these days, this buy is actually great value for money. The Singer 4411 Heavy Duty Sewing Machine is a well-designed workhorse that's more than capable of handling pretty much any task you can imagine involving fabric.
In terms of toughness, it could easily be classed as a commercial sewing machine. But, considering how easy it is to use, even those with very little experience in the sewing world should get along just fine with it. And the fact that it has some hidden talents under its hood such as the built-in reverse option and automatic buttonhole maker should keep the more advanced users happy too.
Related Articles: