Nothing gets the job done quite like using one of Singer's heavy-duty sewing machines. But they have so many! Which one is the best? Well, I'm here to find out. It's the Singer 4411 vs 4423.
Both these machines are kings in the industry. If you need a robust sewing machine with a powerful motor and a high rate of stitches per minute, you want a Singer. Both the Singer 4411 and the Singer 4423 come with built-in stitches, a sturdy metal frame, and a strong stainless-steel bedplate. They both work to save you time while sewing, and they both hold up against time and wear.
But which is better? They are both high-grade workhorses. They both have familiar settings for experts while being a little chaotic for beginners. Each machine tackles industrial-strength manufacturing jobs using denim or canvas with ease. To understand the dilemma of Singer 4411 vs 4423 a little clearer, let's look at the pros and cons.
Singer 4411 Vs 4423: Comparison
Singer 4411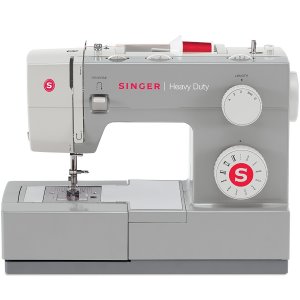 PROS
Strong Metal Frame
Easily Makes Buttonholes
Adjustable Foot Pressure
CONS
No Automatic Needle Threader
Only 11 Built-In Stitches
---
Singer 4411 Heavy-duty Sewing Machine Review
If you want a machine with brawn, the Singer 4411 Heavy Duty Sewing Machine is the right pick for you. This puppy does everything. And it does it well. The 4411 comes in a neat, compact unit, it barely makes any noise, it has an incredible sewing speed, and it is more affordable than the competition.
Good Quality at a Low Price
The 4411 is cheaper than the 4423, but it still packs a punch in the sewing world. It comes with 11 built-in stitches. It has four decorative, six basic, and one buttonhole, which makes it an excellent choice for any arts and crafts hobbyist.
Just like the other Singer heavy-duty sewing machines, this unit has a tough metal frame that makes it ideal for frequent users. If there is a malfunction, chances are you're doing something wrong. The powerful motor outputs up to 1,100 stitches per minute. Of course, you can control the speed.
Easy Breezy
The machine is easy to use. Even if you are a newbie and a little overwhelmed by the options, there are not as many settings as with other units in the same price range. It comes with just enough accessories to get you by, and the instruction manual will explain anything you don't understand.
Although there is no automatic threader, threading is still easy. Plus, the bobbins are simple to fill. And the lack of complex or computerized parts means that you don't need to scratch your head if something goes awry. Everything is simple to fix.
---
Singer 4423 Heavy Duty Sewing Machine Review
The Singer 4423 Heavy Duty Sewing Machine is the bigger, tougher, and stronger version of the 4411. It comes with an automatic needle threader, 23 built-in stitches, and a motor that is 60% stronger.
Built to Last
The Singer 4423 is a simple machine encased inside a strong metal housing with internal components that are built to last. This is not a children's toy. In fact, the 4423 is right at home in a fabrication shop being used daily. It holds up to the toughest sewing tasks imaginable.
For use at home, you can't get a tougher unit for such a moderate price. It is just not going to happen. Want a single sewing machine to last forever? Buy the Singer 4423.
Incredible Power
Not only is the Singer 4423 insanely strong, but it has power too. Its motor is massive, giving you unmatched piercing capabilities with your needle, which is critical when working on thick seams.
One of the big pros of using the Singer 4423 is that you don't need to use discretion when sewing. You can sew through just about anything. You don't need to worry about jams, about malfunctions, or about the needle not punching through the fabric. The 4423 will always work.
---
Singer 4411 VS 4423: The Main Differences
The biggest differences between the Singer 4411 and the Singer 4423 are the features. One has a longer list of features than the other. I'm talking about the 4423 Heavy Duty Sewing Machine. It has more built-in stitches, a stronger motor, and an automatic needle threader. Other than that, these Singer units are practically identical.
Nearly Identical Units
These two sewing machines do the exact same thing, the 4423 just does it a bit better. To look at them side by side, you would not be able to tell the difference. They are both grey, sleek, equipped with two main dials on the front. They are practically twins.
The 4423 costs more, and that can mean the world to someone on a budget. If you have the extra cash, it is a good idea to fork out more money for the better unit. Also, the 4423 is higher rated online with thousands of more ratings. It is a stronger machine.
More Stitches, Stronger Motor
The main feature difference is in the stitches. The 4411 comes with 11 integrated stitches. The 4423 has 23. That means more choices for more projects, which equals superior versatility. Home décor, fixing clothing, getting into fashion. You have more opportunities with the 4423.
The 4423 also has a larger motor, which allows it to penetrate thicker fabrics with ease. Denim, canvas, seams, and multiple layers are all a breeze to sew with the 4423's mega motor. And even though both units can output up to 1,100 stitches a minute, a stronger motor means fewer chances of having to stop or change the needle.
Singer 4411 VS 4423: Final Thoughts
The best overall unit is without a doubt the Singer 4423 Heavy Duty Sewing Machine. It is not even really a competition. The 4423 has a stronger motor, it comes with all the accessories you could ask for, it is built from tough materials to last a lifetime, and it has more built-in stitches than the competition.
That said, the Singer 4411 Heavy Duty Sewing Machine is a fantastic unit for at home, especially for someone who wants a smaller, quieter, and more compact unit. 11 built-in stitches are enough for most applications. The motor is perfectly capable of punching the needle through just about every fabric. Plus, the 4411 can still sew at the mind-boggling speed of 1,100 stitches a minute.
For a reliable, well-built sewing machine to use at home or in a factory setting, both units are great options. You would be wise to choose either one of them. For myself, I will always choose the machine with the most power and the most features. But that's my personal preference. In the end, the decision comes down to your own sewing needs.