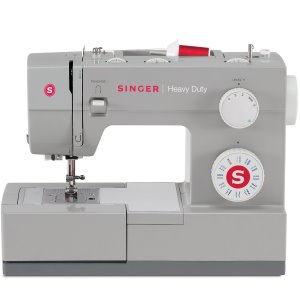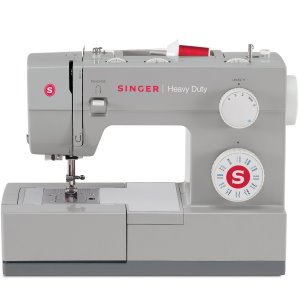 Whether your old sewing machine just died a sudden death or you're just looking for an upgrade to that hand-me-down grandma gave you all those years ago, you can be certain Singer has a model for you. And if it's an all-round workhorse you need, that's packed full of great features and won't cost you the Earth, then maybe the Singer 4423 Heavy Duty Sewing Machine is the one for you.
It may be classed as one of their middle-of-the-range models, but don't let deter you in any way as this machine is more than capable of carrying a wide range of sewing tasks thanks to its many functions and features. There's a top drop-in bobbin for easy loading of your thread and a built-in needle threader for faster threading. All the usual accessories including a variety of feet, a seam ripper/lint brush and all the needles and bobbins you need to tailor a number of different items.
And like pretty much any Singer sewing machine that's ever been made, the Singer 4423 was built to last. Not only does it offer stability while in use but it gives that added peace of mind that it won't need to be replaced for a very long time.
---
Singer 4423 Review: Overview
Thanks to the Singer 4423's hefty, heavy-duty outer frame there's no need to be concerned about material going askew while mid-stitch, even with the mighty motor going full steam. It also has a metal internal frame for extra rigidity and a stainless-steel bedplate. Thanks to its stability there's no skipping of stitches while in use.
Surprisingly, considering how robust this machine is, the Singer 4423 weighs just 14.5 lbs. So, if you do ever need to take it anywhere you won't struggle too much.
While the machine itself is pretty solid, just be careful with some of the other parts such as the presser foot pedal and the take-up lever. These are made of plastic and are a little on the flimsy side. So just take care while using these.  But overall, this is one tough piece of machinery.
---
Great for Beginners
Everyone has to start somewhere, and so why not do it with a machine that's easy to use and won't put you off within 10 minutes of trying it out. Unlike some models out there, the Singer 4423 comes fully assembled and ready to use right out of the box. Even the needle is in place. Another couple of features that are ideal for those just starting out are the top-in bobbin and automatic needle threader. While you still have to weave the thread through the machine, at the end there's a part that automatically threads it through the eye of the needle.
Related Articles:
The presser feet are easy to change and simply snap on and off. Choose between four types included in the package: an all-purpose foot; a zipper foot; a buttonhole foot; and a button sewing foot. There are additional feet that can be purchased if you're looking to do something a little more advanced including feet for cording, overcasting, quilting, and gathering.
You also get a comprehensive manual to guide you in the right direction if you get stuck. If you're someone who prefers visual tutorials, then YouTube has plenty.
---
Mid-Price, Big Power
While it might be considered a mid-range model, there's nothing standard about the power of this machine. It's called heavy-duty for a reason and is more than capable of sewing up to eight layers of denim at once. And, with the ability to sew 1,100 stitches per minute, the Singer 4423 can give even the top-spec models a run for their money.
Just be aware that it is a manual machine, so not all functions are easy to carry out. Where some machines offer an automatic buttonhole function, this one does not.
Included as part of the package is a selection of needles with varying thicknesses. So not only can you sew delicate fabrics such as silk or Lycra with the help of this machine, but you can also sew thicker materials such as denim, leather, or corduroy.
---
Some Advanced Functionality
Similar to that of its sister model the 4411, the Singer 4423 is another heavy-duty machine on offer from Singer. But with this model you get a whopping 23 built-in stitches to choose from, opposed to just 11. These consist of 6 basic stitches, 12 decorative stitches, 4 stretch stitches, and 1 auto buttonhole, which is more than enough for any beginner to be getting on with. You can also adjust the length of the stitch with just a simple turn of the dial.
Another upgrade you see with this Singer machine is it has an LED guide light to help ensure you make the right stitch every time. You also have the option of adjusting the feed dogs via a slider to enable you to do free-motion sewing projects such as quilting.
But, while these are some pretty good features, whether they're enough to keep those more advanced machinists content, is questionable.
Singer 4423 Review: Final Thoughts
There are many good reasons as to why this would make a good purchase. It's simple to set up and easy to use. There's no messing around when it arrives. Just pull it out of the box, load your thread, and away you go. It feels super solid when in use. There's no wobbling or swaying, meaning you get quality stitching each and every time. And as with most Singer sewing machines, it has an engine that pulls like a workhorse.
That being said, it does have its limitations. And with a lack of some of the more advanced features and only a selection of tools the Singer 4423 Heavy Duty Sewing Machine may be more suited to beginners opposed to those using it for professional purposes.
All-in-all, it's a mid-range machine that can be picked up and used by just about anyone. But, if you're looking for something with a little more to wet your whistle, then be sure to check out the Singer 4432.
Related Articles: