If you're looking for a decent sewing machine that you can rely on to get the job done to an exceptionally high standard, then a good place to start, is with Singer. Founded back in 1851 in New York City, the Singer Corporation is one of the most well-known and well-loved manufacturers of consumer sewing machines. They offer a wide range of machines that are fit for pretty much any sewing, quilting, and embroidery purpose. There are machines to suit all skill levels and all budgets.
But don't worry. I'm not going to go through all the machines the company has to offer, as that would take a lifetime. Instead I'm going to go through two of the more popular heavy-duty machines available today – the 4423 and the 4432. While both feature many of the same great attributes, they also have a few key differences too, which I'll go through towards the end of this review.
So, without further ado, I introduce to you the Singer 4423 and the Singer 4432.
Singer 4423 Vs 4432: Comparison
Singer 4423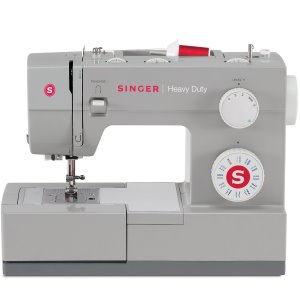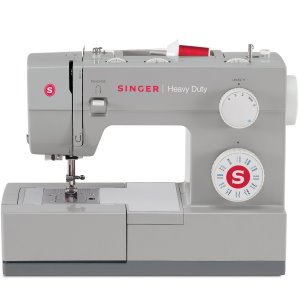 PROS
Extra high presser foot lifter
Easy to use bobbin system
Built-in handle for easy carrying
CONS
Bobbin casing made of plastic
Sewing speed can be hard to control
---
Singer 4423 Review
The Singer 4423 is a heavy-duty, mechanical sewing machine. While it's not about to win any beauty contests, it's a true workhorse that's capable of sewing through pretty much anything. Thanks to its super powerful motor, this machine can sew at a very speedy 1,100 stitches per minute. And, it's strong enough to sew through those thicker fabrics such as denim or canvas.
Versatile
You get 23 built-in stitches to work with, as well as a variety of different presser feet, allowing you to complete a range of sewing projects. There's an all-purpose foot in which to use for most everyday sewing tasks; a zipper foot for adding zippers, cording, or piping; a button sewing foot for adding buttons; and a buttonhole foot for adding buttonholes.
Easy to Use
Whether you're young, old, new to sewing or a seasoned pro, the Singer 4423 is a pretty easy machine to use. It features a top drop-in bobbin to make for easy loading and the bobbin case is clear, so you'll never run short of thread. All the controls move smoothly and are within easy reach, while the integrated needle threader saves you from getting eye strain.
---
Singer 4432 Review
The Singer 4432 is another of the brand's finest heavy-duty sewing machines. Not only does it host a tough metal interior frame, but this machine also features a stainless-steel bedplate so sewing through heavyweight fabrics is no problem at all. And, as with the 4423, it's capable of achieving a maximum sewing speed of 1,100 stitches per minute.
Weighing just over 17 pounds, it's quite a heavy machine, so probably not ideal for those looking to sew on the go. But if you're looking for a stable workhorse to power through all your overdue swing tasks, this is the machine for you.
Ample Functionality
There are 32 built-in stitches to work with on the Singer 4432. These consist of a mixture of utility, stretch, and decorative stitches in which to help you complete a wide variety of sewing tasks. You also get a zipper foot, a buttonhole foot, a button sewing foot, and an all-purpose foot to assist with various things.
To help make your life that little bit easier, it also features a top-loading drop-in bobbin and a built-in needle threader. On top of that, it also comes with a whole bunch of useful accessories including extra needles and bobbins, a spool pin and spool pin felt, and various tools in which to help you clean and maintain your machine.
---
Singer 4423 Vs 4432: Main Differences
As you can see, there are quite a few similarities between the machines. They're both heavy-duty and both offer a maximum sewing speed of 1,100. Both machines look very similar and both offer the same flawless result. But there are also a few differences to note:
Stitch options: While both models offer a decent range of stitch options, the 4432 has an extra 9 to play around with. While the number of basic stitches is the same, you get 3 extra stretch stitches and 6 extra decorative stitches with this machine.
Appearance: Another difference between the models is the color of the machine. While the Singer 4423 is a light grey, the 4432 is a much darker shade.
Price: To be honest, there's very little difference between them when it comes to price, but the Singer 4432 is slightly more expensive, so I thought worth mentioning.
And, that's it! These two Singer models are pretty much identical in every way. Apart from the shade, they both feature the same grey color, and both are exactly the same in terms of design. Both machines are well-made and durable, and both offer the same level of versatility.
Singer 4423 vs 4432: Final Thoughts
Both the Singer 4423 and the Singer 4432 sewing machines are fit for any kind of user. So, whether you've only just started sewing or you've been sewing for 20 years, there's something for everyone here. Because they're both pretty basic functioning machines, there's very little learning curve involved for either of them, even for those who've never sewn before. Sure, neither of them will win any contests when it comes to their appearance, but if you're after a solid machine that's capable of producing a professional finish each and every time then either machine will suffice.
However, with very little difference in the price, but with a few extra stitch options thrown in, it seems only logical to opt for the 4432. For the small amount extra you'll pay, you'll gain a lot more value for money with the additional 9 stitches as you'll be able to create a wider range of projects.