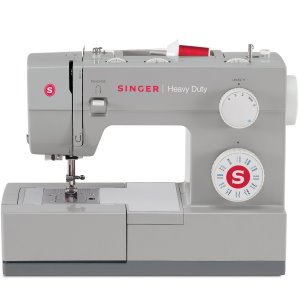 1,100 Stitches Per Minute
Durable & Robust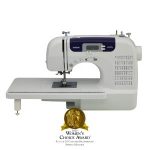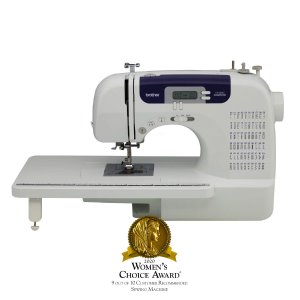 850 Stitches Per Minute
60 Built-in Stitches
Whether you're in need of a new sewing machine for work or hobby purposes, or you simply want some help in mending all those old clothes, you can be sure there's a model out there for you. Since the rise of the industrial revolution, the world has been inundated with numerous companies developing and selling sewing machines for home use. And while many of these come and go like the wind, there are a handful of companies that have been around since the beginning. Not only are these now some of the biggest brands in the industry, but they've also set the standards for others to follow. Singer and Brother are two of these brands.
In this review, I'm going to share with you the ins and outs of two of these brands' most popular models for the home user. Both the Singer 4423 and the Brother CS6000i are fantastic machines, sharing many similar features. However, they also have some key differences to note and in this review, I'm going to get to the bottom of what those are.
---
Singer 4423 Review
The Singer 4423 is a heavy-duty sewing machine that's fit for both beginners and professional users alike.
Durable
It's heavy-duty by name, and heavy-duty by nature. It has a solid frame that's robust and sturdy when in use. While all the components are made from the highest quality materials and likely to last a very long time. Thanks to these two things, and the 60% stronger motor, the Singer 4423 is capable of sewing at a maximum speed of 1,100 stitches per minute. And, with an adjustable high presser foot pressure to work with sewing tougher fabrics such as denim and canvas is no problem at all.
Easy to Use
There are 23 unique stitches to work with built into this machine. And while that's not a huge selection in comparison to some other modern machines available today it has just the right mix of basic, stretch, decorative, and buttonhole stitches to enable you to carry out most everyday sewing tasks.
To help save you time in threading the needle, there's an automatic needle threader function that's simple to use, and it features a top drop-in bobbin system which will also save you time in getting started.
---
Brother CS6000i Review
The Brother CS6000i is a versatile and stylish machine that's people of all skill levels will enjoy.
Versatile
The first thing to note about the Brother CS6000i is how versatile a machine it is. In addition to offering a wide range of sewing capabilities, it's also an excellent machine for anyone who enjoys quilting. There are 60 built-in stitches featured on this machine, made up of a mixture of sewing and decorative stitches. It also has 7 different auto-style buttonholes to work with.
Automated Features A'Plenty
Everyone loves a little help now and then, especially if it's going to save you time. Integrated into the CS6000i, you'll find a few of these time-saving features. There's an automatic needle threader that threads your needle in the blink of an eye, and a drop-in top bobbin system that's quick and pain-free to use.
Responsive Computer
The on-board computer and LCD screen are two more fantastic features this machine has to offer. All your stitch selections can be made with ease using the easy navigation buttons located next to the screen. Once you've made your choices, they're displayed on the screen in front of you as a handy reminder.
---
Main Differences Between the Singer 4423 and Brother CS6000i
As you probably noticed from reading the above, there are quite a few similarities to note between these two machines. Now, it's time to point out where they differ:
Stitch selection: While both models offer quite a basic range of stitches, the Brother CS6000i has the upper hand. It has a total of 60 in-built stitches to work with including 7 auto-buttonholes. Compared to the Singer 4423's 23 stitches and one auto-buttonhole, that's quite a difference.
Width and Length: The maximum stitch width available on the Singer 4423 is 6mm, whereas on the Brother CS6000i it's 5mm. The maximum stitch length available is 4mm for the Singer 4423 and 5mm for the Brother CS6000i.
Sewing Machine Type: One of the most obvious differences between these models is their type. The Singer 4423 is a heavy-duty mechanical machine, while the Brother CS6000i is a more modern-looking computerized machine.
Stitch speed: It's not all about the speed, but if you sew for a living, then it's definitely a factor to note. The maximum sewing speed on the Singer 4423 is a pretty impressive 1,100 stitches per minute. In comparison, the Brother CS6000i is a little slower, capable of running at a maximum sewing speed of just 860 stitches per minute.
Adjustability: Both machines are easy enough to adjust, but there is a key difference here when it comes to the presser foot pressure adjustment. On the Singer 4423, this is manual, allowing you to decide the optimum level, whereas on the Brother CS6000i it's done automatically for you.
Extension table: The final key difference to note is the Brother CS6000i comes with an extension table in which to help when working on larger projects, whereas the Singer 4423 does not.
Singer 4423 vs Brother CS6000i: Final Thoughts
While both machines offer a good amount of basic functionality and both are reasonably priced, the one that does it for me is the Singer 4423. It may have slightly fewer stitch options, and it might be lacking a fancy computer. But in terms of stitch quality, it's second-to-none. And in terms of speed, it's lightning-fast, which is just what you want if sew for a living. I also love the fact that it's so robust and will handle pretty much just about anything you put in front of it.
If you just want a good quality sewing machine that offers an ample selection of stitches that will enable you to complete most everyday sewing tasks, then take a closer look at the Brother CS6000i. It's easy to use, provides a good amount of features and functions, and will enable you to work on those larger projects more easily.