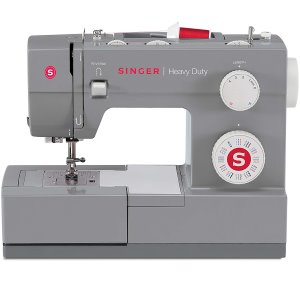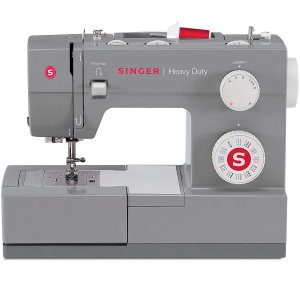 Whether it's to be used as a handy fix-me-upper or its need for more professional uses, the Singer 4432 Heavy Duty Sewing Machine is an investment. It's a solid piece of equipment that if treated nicely will keep you serviced for many years to come. Having been around more than 150 years, Singer has had time to perfect the design and functionality of their machines, and this model is no different.
There are four different feet to choose from depending on the task that needs doing. The one that will probably be used the most often is the all-purpose foot as it's suitable for a wide range of projects. However, there's also a buttonhole foot, a zipper foot, and a button sewing foot should you need them.
And, with no less than 32 built-in stitches, a one-step buttonhole function, and an integrated reverse stitch function you'll be completing a variety of sewing tasks in no time.
---
Singer 4432 Review: Overview
Even if you don't need to lug your sewing machine around with you on a daily basis, the chances are that you will need to move it at some point, even if it's just from one part of the room to the other. But don't worry as with the Singer 4432 that can be done with ease. This sewing machine is pretty compact, and weighing in at just over 14lbs, makes moving it very light work.
But just because it's lightweight doesn't mean to say it's not a good, solid machine. Like pretty much any Singer sewing machine out there, this tool was built to last. Its solid metal frame keeps your fabric secure while being sewed, enabling you to produce quality stitching every time. And the stainless-steel bedplate isn't moving in a hurry either.
After using it just a few times, you'll soon discover why Singer is so confident about providing a 25-year guarantee with it. Albeit not quite classed as an industrial sewing machine, it could certainly give one a run for its money as this workhorse will just keep going and going.
---
Ready to Go at the Touch of Button
Very little experience is needed to operate this Singer 4432 machine. It may look complicated if you've never used a mechanical sewing machine before, but once you read through the instruction manual and have a go, you'll be pleasantly surprised at what you can achieve in a short space of time.
It's kitted out with a very powerful motor that's capable of producing up to 1100 stitches per minute. And it can sew through multiple layers with ease. Simply load in your bobbin via the easy-loading drop-in system, wind your thread then set the automatic needle threader to work. With the help of this machine, you'll be sewing beautiful pieces of fabric in no time at all.
Another great feature reverse stitch function which consists of a built-in reverse lever lets you sew in reverse to reinforce your stitching. It's something that's not found on all machines, but in my eyes, it makes the world of difference.
---
Accessories and Upgrades
With every Singer sewing machine purchase, one thing you can be sure of is that you'll get a whole load of accessories included. As well as all the usual accessories like a lint brush, seam ripper, needles, and bobbins, with this model, you also get a few added extras. As well as getting a standard dust cover in which to keep your machine free of dust while indoors and not in use, you also get a hard-back carrying case which is perfect for those of you needing to transport it often.
Another upgrade from that of the 4423 is that you have 32 stitches to choose from, opposed to just 23. Included with the Singer 4432 are 18 decorative stitches; 7 stretch stitches; 6 utility stitches; and 1 buttonhole. So, whether you're looking to carry out alterations or repairs or make your own clothes from scratch you can be sure there's a suitable stitch to help you do it.
Related Articles:
I think one of the biggest selling points for the Singer 4432 is the quality of the stitching it produces. Having 32 stitches to choose from enables users to get the right stitch every time, whether working with delicate fabrics like silk or satin or heavier material such as denim or leather. The powerful motor allows the machine to move at a speed that's strong enough to sew pretty much whatever fabric you place in front of it, and it will do it with ease.
---
Versatility
Because of its design qualities and well-thought-out features this machine is suitable for carrying an unimaginable number of tasks. With the help of this tool, you can take on small projects such as sewing on buttons or making clothes. Or, if you want to get a little more creative you can make things like dog beds, horse blankets, or even seat covers and boat sails! Whether it's a small, large, light or heavy piece of fabric you're dealing with, the Singer 4432 is made to help. And with a handy free arm ready to assist, the possibilities are endless.
Singer 4432 Review: Final Thoughts
A step up from its sister model the 4423, the Singer 4432 is not a bad buy if you're looking for something fast, efficient, and ready to go from day one. The extra stitches available make it more enticing than some others in its range, and its reverse stitch function is a nice added touch. And while there may not be a whole load of bells and whistles integrated into this machine, those that are on offer, aren't too shabby at all.
It may not be the top of the line when it comes to sewing machines, but overall, it's pretty good value for money and would suit both keen beginners and professionals alike. There's very little to do to get up and running once you've unpacked the machine, and it's likely to keep going for a very long time. What more do you need?
Related Articles: