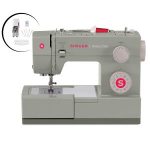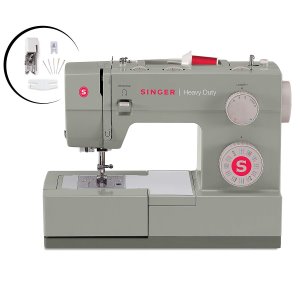 1,100 Stitches Per Minute
More Accessories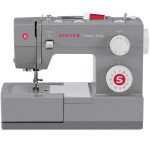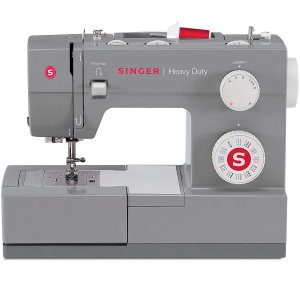 1,100 Stitches Per Minute
110 Stitch Applications
Singer has been one of the leading brands in the sewing industry for several decades. Founded in New York City back in 1851, the Singer Corporation was the first company ever to produce a sewing machine suitable for domestic use. By 1876, the company was claiming to have sold more than 2 million machines. The company continues to grow as it adapts to the ever-changing market, producing quality machines that everybody wants.
The Singer range of sewing machines is extensive, with models that are fit for pretty much any sewing, quilting, or embroidery need. And you don't need to be a professional seamstress either as they cater for people of all skill levels and love nothing more than enticing newcomers to the trade.
In this review, I'm going to take a closer look at two of the company's hot sellers – the Singer 4432 and the Singer  4452. I'll look at what these two beasts have in similar as well as where they differ from one another to help you decide which is the better option to suit your requirements.
---
Singer 4432 Review
The Singer 4432 is a heavy-duty sewing machine that's strong enough to tackle most fabrics, yet simple enough for even a beginner to use.
Precise Stitching   
The maximum sewing speed on the Singer 4432 is 1,100 stitches per minute, which should please the more advanced users out there. And even when moving at these super-fast speeds, thanks to the machine's solid metal frame, the accuracy of the stitching produced is nothing short of perfect.
User-Friendly
While you do get a professional finish using this machine, you don't need to be an expert to use it. Both the top drop-in bobbin system and built-in needle threader are fantastic features to help those new to sewing get up and running quicker.
Good Level of Functionality
Because it's one of Singer's heavy-duty machines, it's a model that focuses more on functionality than looks, so don't be put off by the dull, grey exterior. Underneath this cover, lie 32 built-in stitches to work with including 18 decorative, 7 stretch, and 6 utility stitches. You also get 4 different presser feet to use to help make your life a whole lot easier. These are all easy to change and will enable you to carry out tasks such as adding zippers, buttons, or buttonholes to your designs.
---
Singer 4452 Review
The 4452 is another heavy-duty sewing machine on offer by Singer that offers quality stitching in an instant.
Stitch Options
This machine is one solid workhorse that's capable of many great things. Firstly, it has a maximum sewing speed of 1,110 stitches per minute, which is plenty fast enough for most home users. Secondly, it has 18 decorative, 7 stretch, and 6 utility stitches to use for sewing all kinds of clothing, crafts, and home décor projects. Another benefit it has to offer is that it comes equipped with an automatic needle threader to save you the frustration.
Added Extras
There are a number of great accessories included with the Singer 4452 in which to help enhance your sewing experience. In addition to the various presser feet, you also get extra needles, a seam ripper/lint brush, bobbins, a screwdriver, and a quilting guide.
Skip-Free Sewing
Thanks to the machine's solid frame, there's no vibrating when in use, even when sewing at its top speed. In addition to this being good for the noise level, it also means you'll experience less bunching of fabric, and skipping of stitches will also become a thing of the past.
---
Main Differences Between the Singer 4432 and the 4452
As you can see from the above, there are quite a few similarities to be found in these two machines. They both offer the same number of stitch options, they have the same maximum stitch speed, and both are the exact same size and weight too. Both have the same features, and both are very durable models.
So where do they differ?
Well, to be honest, there's very little that sets these two Singer machines apart. The two main things I discovered are:
The color: While it's only really a subtle change, it is a difference none-the-less. The Singer 4432 is a slightly darker shade of grey than that of the Singer 4452.
The accessories: The only other difference to be found between these two models is in the accessories pack that comes with both. In addition to all the usual presser feet, you also get a walking foot and a non-stick foot with the 4452. It also comes with a clearance plate and extra heavy-duty sewing needles.
Singer 4432 vs 4452: Final Thoughts
Released nearly three years later than the Singer 4432, you would have thought there would be more than just a slight color change and a few added accessories, but, it seems, that is all that's happened here. The stitch speed, stitch options, and even the featured are exactly the same on both models. Both are equipped with LED lighting, and both feature a range of enclosed snap-on presser feet to allow you to work on various projects. They both produce accurate and professional stitching too.
So, if you are on the lookout for a decent sewing machine and are stuck between these two, then I think it's a no-brainer that you should opt for the Singer 4452. While both are very durable machines that will easily get the job done in rapid time, for the difference in price, it's really not worth shelling out the extra just for a couple of extra accessories you may never even use.