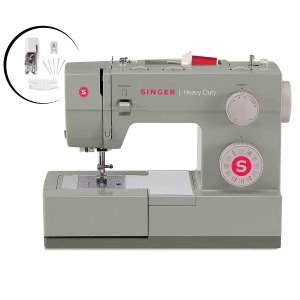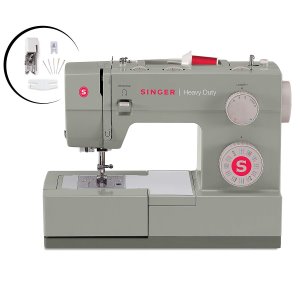 Need a replacement machine that's fast, efficient, and easy to use from the word get-go? Featuring the same robust motor that's equipped on many of the Singer sewing machines, the Singer 4452 is more than capable of tackling projects involving heavier fabrics such as denim or corduroy.
There's an automatic needle threader in which to lighten your load, there's a wide range of stitching to choose from, and for all you keen quilters out there, it has the ability to cater for free-motion sewing. It may not be the most advanced functioning machine out there, but what it does have on offer is more than enough to complete most sewing and embroidery projects to a high standard. Another bonus is that with the exception of the threading, it's ready to use right out of the box.
---
Singer 4452 Review: Overview
For those of you just starting out in the world of sewing, this machine is a good match. It's not too big and clunky and there aren't too many confusing features and functions to get your head around, making it one of the easiest out there to learn on. There's a total of 32 built-in stitches in which to work with, all of which can be selected with ease using the machine's bottom rotary dial.
Another nice touch for beginners is the easy loading bobbin system. Simply drop it in and away you go. To help you monitor your thread supply, the Singer 4452 features a transparent bobbin plate. This allows you to ensure your thread won't run out at a crucial moment. There's also an automatic needle threader, an automatic reverse function for reinforcing your stitches, and a conveniently located thread cutter attached to the left of the machine.
---
Mechanical Power Rules
When it comes to sewing, there's one big debate that's likely to keep going until the end of time, and that's whether a mechanical sewing machine is better than a computerized one. Both have their pros and cons, but personally I like the mechanical ones as you have more control. And that's exactly the case with the Singer 4452.
To adjust the settings on this machine, there's no fancy LED screen or complicated computer to deal with. Everything you need to operate it is right there in front of you. Although the rotary dials are made of plastic, they feel pretty sturdy and are clearly labeled. Simply turn the dials to your required stitch and stitch length, and away you go. If you want to access the free-arm simply remove a portion of the base. This will enable you to sew hard to reach areas such as cuffs and collars.
Related Articles:
It may be built like an old school machine, but when it doesn't feel aged and outdated like some similar models. With a mighty motor kicking out a maximum of 1100 stitches per minute, how could it? And the other huge advantage to it being mechanical is that there's less maintenance involved.
---
Heavy-Duty by Name, Heavy-Duty by Nature
Having been around a very long time, Singer has had a while to get their design right, and no one can say that they haven't as each and every one of their machines is a solid work of craftsmanship, including the Singer 4452. It has a solid frame, a well-thought-out design, and feels secure when being used. And if for any strange reason anything does break down or starts to work incorrectly then there's the added peace of mind that you have a 90-day warranty backing your purchase.
It may not be the prettiest of machines out there, but it's a darn good workhorse. So, what would you prefer? An elegant looking machine that matches the decor but breaks down every five minutes or a pretty basic looking machine that will work like a dog and have the reliability of one too.
---
Same Old Style, Same Great Quality
There's not much to report in terms of a change of looks in comparison to the Singer sewing machines in this range. It's got the same simplistic design as the 4432 and features much of the same functionality. The main difference being there are a few more goodies thrown in when you buy with this machine.
With the Singer 4452 being towards the higher end of the sewing machine models, you get a few added extras that you wouldn't normally see in lower-spec models. In addition to the usual needles, bobbins, and other accessories there's also an even feed/walking foot for sewing multiple layers of fabric, a non-stick foot for when working with fabrics such as leather or vinyl, a clearance plate, and 5 x Size 16 needles which are always useful.
Another great feature this machine has to offer is the adjustable presser foot. This is something that's not offered on many machines and is a fantastic selling point. As well as being adjustable, the presser foot is also extra high in order to accommodate even the bulkiest of fabrics.
---
Singer 4452 Review: Final Thoughts
While this machine is capable of producing up to 1100 stitches per minute, if you do this for an extended period of time, you are likely to break your needle. At the end of the day, it's not a commercial sewing machine. That being said, if you are a beginner, it's unlikely you'll be able to keep up that pace for too long anyway. In terms of the quality of stitching it produces, there are no complaints. There's a good selection of stitches to choose from, the accessories included are better than most, and it's very easy to use.
It may not be computerized, and it may not have all the bells and whistles of some of the top models out there, but all-in-all, the Singer 4452 Heavy Duty Sewing Machine is great value for money, suitable for most tasks and all skill levels including beginners, hobbyists, and professionals alike.
Related Articles: