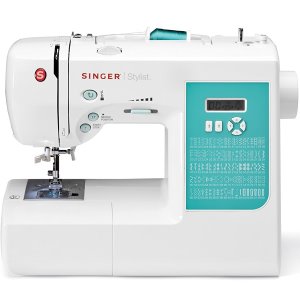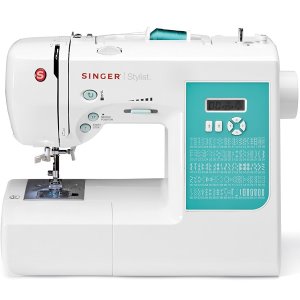 Not everyone needs the toughest, fastest machine known to man in which to carry out all their essential sewing tasks. Some people prefer a more gentle, intricate machine. And that's what springs to mind when talking about the Singer 7258 Stylist Sewing Machine.
Sewing isn't just about stitching together a few pieces of fabric or simply fixing on a button. There are so many creative things that can be done when it comes to sewing, as long as you have the right machine to help. With the Singer 7258, you get all the basic functions you'd expect to see in a good sewing machine, including fully customizable stitching, a built-in needle threader, a long-lasting LED light, and an easy to load drop-in bobbin system. Plus, you get all the added extras that feature in a computerized machine.
Now, there's a big debate as to which is better – mechanical or computerized. Both have their pros and cons, so really, it comes down to personal preference. But let me tell you, once you've experienced the ease of control you have with this machine's on-board computer, you may never look back. And here's why.
---
Singer 7258 Review: Overview
Same trusted brand, same great quality. If you've owned a mechanical Singer sewing machine in the past, then you'll know how solid and robust they are. Well, this computerized model follows in those same great footsteps. The Singer 7258 simply oozes quality. It features a robust frame, a heavy-duty motor that can churn out a maximum of 750 stitches per minute, and it has an easily accessible free arm that's also solid as a rock.
Being computerized means you get to work with the fantastic little computer and LCD display. Don't worry if computers aren't usually your thing as this control is so well designed and easy to use. You literally have all the controls you need right at your fingertips.
One of the best things about having an LCD screen is the ability to preview a stitch width and length before committing to it. There are also button selections for enabling the auto tie-off tacking stitch or automatic reverse functions.
---
Great Functionality
With just a simple press of a button you instantly have 100 different stitches to choose from including 76 decorative, 9 basic, 8 stretch, and 7 buttonholes, allowing you to create a style that's perfect for every occasion. There's also a selection of feet to choose from including an all-purpose foot, a zipper foot, a satin stitch foot, and a rolled hem foot. The desired length and width of the stitch required are both easy to set through the computer too.
There's no need to adjust the tensioner on this machine as it works automatically, adjusting itself when in use to the optimum setting.
However, one of the best features, in my opinion, is the programable needle. With this function, you can choose whether to have the needle stop in an up or down position when the machine stops. This is something that's not always seen but is very useful, particularly when quilting or pivoting fabric.
---
Simplistic Sewing
Whether you've been sewing for a lifetime or are just starting out, the Singer 7258 has something for everyone.
For beginners, there's an easy to use top drop-in bobbin system that sits underneath a clear cover. Having this type of system in place not only makes it nice and simple to load, but it also makes monitoring your thread level much easier also. Another plus here is that the bobbin will automatically stop when it's full, so you've got no chance of ever overfilling it.
Related Articles:
Another helpful function for newbies is the easy threading feature. With this clever system, the entire machine can be threaded in seconds. Combine that with the electronic autopilot function which allows you to sew at varying speeds without the need for a pedal and you'll find there's very little you actually need to do.
Also included with the package is a very detailed and useful instruction guide. It shows very detailed pictures on how to set everything up and gives explanations as to what some of the many built-in stitches are good for.
---
Modern Feel
The first thing that springs to mind when you see the Singer 7258 is that it looks modern. While much of that's down to the LCD screen, it's not everything. Another high-tech feature that can be seen on this machine is its 'Stay Bright LED Light'. The lights are located on either side of the needle. They're very bright and are known for lasting a long time. With the help of these lights, you'll be able to see much more clearly even in the darkest conditions.
Going back to the LCD screen, this is another big part of what makes the Singer 7258 feel more modern than its mechanical friends. While it is pretty small, it's still clear enough to read and easy enough to operate. And is a great help for those new to sewing. If you do need a little further help when accessing all the functions on the screen just refer to the DVD that's included. After watching this, not only will you have a much deeper understanding of how it works and how to set it up, but you'll also learn more about the individual components that make up the machine.
---
 Singer 7258 Review: Final Thoughts
If you're looking for an upgrade from your old machine and want to try out a computerized one, then I think you'll appreciate the Singer 7258. It has all the functionality of a mechanical machine, plus a whole load of advanced features to make your life easier.
It's well-built, is fast enough for most, and won't break the bank. If you're just starting out in the world of sewing and this is to be your first machine, then I think this would also suit as it's efficient but not overly powerful, it has some very helpful functions such as the automatic threader and the easy threading system.
Related Articles: