Computerized sewing machines are a new spin on the classic, and today we will look at two of the best: Singer 7258 vs Brother CS6000i, to see which computerized sewing machine stands out from the rest.
If you have been out of the sewing game for a while and are looking to get back into it, or if you are a long-time seamstress or tailor looking to upgrade, you may be interested in a computerized sewing machine. Both of these models offer a ton of features and full accessibility.
You will get LCD displays, loads of stitching options, settings for length, width, and tension, automatic threading, and heaps of other useful features. And while both sewing machines are extremely high quality and very similar in pricing, one is definitely better than the other. Let's take a quick look at the pros and cons of each.
Singer 7258 Vs Brother CS6000i: Comparison
Singer 7258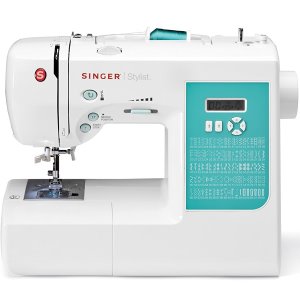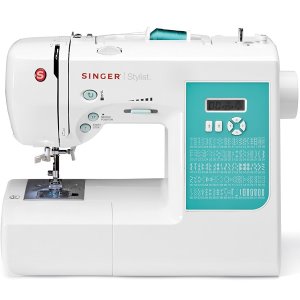 PROS
Easy to Master
Bonus Accessories
76 Decorative Stitches
CONS
Cord for Foot Pedal is Short
Limited Functions for Pros
---
Singer 7258 Computerized Sewing Machine Review
The Singer 7258 Computerized Sewing Machine is a seriously impressive piece of home machinery. If you are ready for countless hours of tinkering and creating with a new sewing machine, this is the one for you. It literally comes packed with amazing features, like the push-button selections, the programmable needle, and the automatic needle threader.
Workspace is Key
The most important thing when working is the workspace. For people who sew often, their workspace is the sewing machine. With the 7258, you get a very simple and uncluttered work area thanks to the machine's easy use, bright LED light, and simplistic design.
You will enjoy all of your time sitting in front of this machine. The LED light lasts over 100,000 hours and stays cool while you operate the machine, while the drop-in bobbin system with its clear cover means you don't even need to get up or look especially hard when conveniently changing the bobbin thread.
All the Stitches
Even if you are a pro, it is still nice to have built-in stitches. With the Singer 7258, there are 100 stitches built directly into the machine that you can use from the first time you turn on the power. If you are a decorator, you'll be happy to know that 76 of the stitches are decorative.
---
Brother CS6000i Computerized Sewing Machine Review
The Brother CS6000i Computerized Sewing Machine comes highly recommended, not only from me but from almost 10,000 positive online ratings. This is one of the most popular computerized sewing machines in North America and even the world.
A Sizable Unit
Even though the CS6000i only has 60 built-in stitches, it is still a supercharged machine made for maximum performance. It comes included with nine unique sewing feet to always match your current project, a two-inch LCD display that clearly shows your current settings, and an extra-wide table for even more space.
One of my favorite things about the CS6000I is its durability and strong construction. This unit is even backed by a 25-year limited warranty. Now that is some serious backing by the manufacturer.
Computerized Convenience
Not only is this sewing machine extremely robust and durable, but it is very convenient to use. All of the unique stitches, including specialized stitches for quilting and making heirlooms, are displayed visibly on the front of the machine. No more searching for stitching patterns.
Plus, all the other buttons and controls, including the control for variable speed, are located conveniently so that you can change settings with one easy push of a button, or flick of a switch.
---
Singer 7258 vs Brother CS6000i: Main Product Differences
We have two champion sewing machines here, each very similar to the other in both features and price. Both are extremely well-made thanks to their respective companies, both of which are extremely reputable and trustworthy. So, what are the big differences between these two products?
The Stitches
I know, this is a very trivial difference, but a difference nonetheless. The Singer 7258 comes with 100 built-in stitches inside of its internal computer, the Brother CS6000i only comes with 60. But the kicker is that 76 of the stitches on the Singer are for decorative purposes. That makes the Singer more of a decorative sewing machine, whereas the Brother is much more all-purpose.
The menus are even pretty similar, with the different stitching patterns printed on the face of each machine near the digital display. The orientation of the start/stop button and some other configurations are also similar. The only difference is that the CS6000i comes with a hard case to protect its buttons and components from dust.
The Size
Yes, the Singer 7258 is a smaller sewing machine than the CS600i. Not by much, but by enough that it is plainly visible. This may not matter if the sewing machine will remain stationary for the duration of its life, but if you want a portable machine, the Singer is lighter.
On the other side, the Brother sewing machine has a larger table and more surface area for working. This difference completely comes down to personal taste. I don't think one is particularly better than the other.
Singer 7258 vs Brother CS6000i: Final Thoughts
We have arrived at the verdict. This is a tough one, especially because both units are just so similar. Each sewing machine is computerized, each one has simple push-button selections, each comes with loads of settings for length and width, and each machine is supremely fun to use.
For me, I would pick the Brother CS6000i because it feels like better quality. A few extra built-in stitches are not going to sway my decision. Brother always makes fantastic sewing machines (Singer does too) and I have yet to be let down by one of the company's products.
I like the extra workspace with the CS6000i, I like the way it looks, I like how durable it is, and I like all of the included accessories. I like the Singer 7258 as well, it has great features, but I would give my hard-earned cash to Brother.