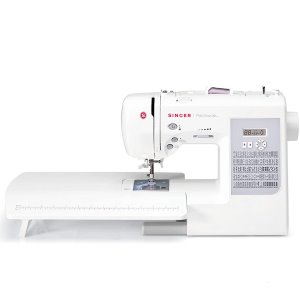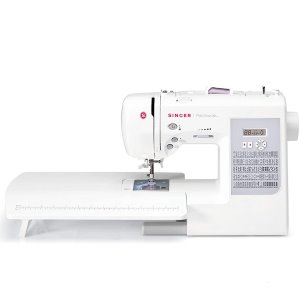 Looking for a replacement machine that produces high-quality stitching for those larger projects and won't let you down? Not for the faint-hearted, the Singer 7285Q is a quilting and sewing machine all rolled into one.
So, whether you're looking to make curtains, quilts, or next winter's wardrobe, this machine can help you do it in style. As well as looking good on the outside, this machine is also highly functional offering advanced capabilities in a few simple steps.
So, with features like varying speed control at the touch of a button and a simple one-step buttonhole process quality pieces can be made in no time at all.
---
Singer 7285Q Review: Overview
Some machines look big and clunky and you'd rather just hide them away so that no one sees them. But with the Singer 7285Q, it's the exact opposite. Being a Singer machine, you can already see from the get-go that's it's a well-made machine that's not likely to break anytime soon. But going beyond that, there's so much more to unveil.
Underneath its sleek exterior, you'll find a well-oiled, well thought out motor that's capable of producing quality stitching whether working on something as big and heavy as a quilt or something as delicate and dainty as a satin tablecloth. It's capable of producing up to 750 stitches per minute, and with a choice of 100 different stitches to choose from, you can be sure there's something suitable for each and every project.
Another great feature this machine has to offer is an automatic stitch length and width function. With this helpful feature, there's no need to keep stopping to alter the settings as it's done automatically for you.
---
Fantastic Functionality
Not only does it look like one smooth operator, but it also functions like one too. With its main purpose primarily for quilting, included with the Singer 7285Q you get 4 bonus quilting presser feet to add to the 7 standard feet used for sewing. It also features a top drop-in bobbin system and clear cover so you can monitor thread supply more closely to ensure you never run short.
As with many machines these days, you also get the pleasure of having an automatic threader in which to lighten your load and save you time trying to thread a needle that doesn't want to go in. While some advanced users feel they don't need to use an automatic needle threader, my argument is, if it's there to make your life easier, then why not use it?
Another really cool feature this machine has to offer is that you can have the best of both worlds in that it can be used with or without a pedal. If you'd rather not use a pedal, simply use the electronic speed control and push start/stop button instead.
And finally, it has a more than adequate optional extension table which makes easy work when dealing with larger pieces of fabric such as quilts or curtains.
---
Advanced Features
As well as having great basic functionality there are also a few really good added extras thrown in with this model, one of which is the programmable up/down needle function. With this in operation, you can choose whether to have the needle stop up or down in between stitching. One tip: Removing fabric from the machine is much easier if the up position is selected but if you're quilting you may prefer to have the needle stop in the down position.
Another of my favorite features included with the Singer 7285Q is the fully automatic, 1-step buttonhole function. Most machines enable you to do buttonholes, but very few are as simple as this one and require you to do much more. Using this function will save you a great deal of time over the year.
Related Articles:
The center zigzag taper is an extra function that's not seen in most average machines. This ensures that when tapering using the zigzag stitch, it tapers to the center as opposed to either side giving your work a much more professional finish.  There's an automatic reverse function that's enabled at the push of a button, and, you also have varying speed control options so that you can adjust your maximum sewing speed up to a maximum of 750 stitches per minute.
---
Anything Else?
If all of the above-mentioned features and functions still aren't enough for you then take a moment to consider what else you get for your money when buying this machine.
Also included with the Singer 7285Q, is a canvas cover with extension table pocket to ensure your machine stays dirt and lint-free, a conveniently located accessory tray that's large enough to keep all your necessities within close reach; a free-arm to aid when sewing all those hard to reach areas; and it comes with Singer's standard but generous 25-year limited warranty, including 5-years for electronic components, and 1-year for adjustments.
Singer 7285Q Review: Final Thoughts
There is so much packed into this one little machine that it's impossible not too like the Singer 7285Q. With features such as automatic threading, a programmable needle, and 100 built-in stitches to choose from, sewing and quilting has never been so easy. Simply load in your thread, select your stitch, and away you go. It comes with an extendable table to increase your workspace area and is solid when in use. Functionality is logical and if you're an experienced machinist, you'll have no problems at all getting on with this model.
If you are new to this world, give yourself a little time to get to grips with it. Truthfully, this is a more advanced machine than many out there, but that doesn't mean to say it's impossible to start on. So, if you do fancy a challenge, then why not? At the end of the day, it does come with an instruction manual and DVD. And, there are plenty of tutorials online too if you do get stuck.
Related Articles: