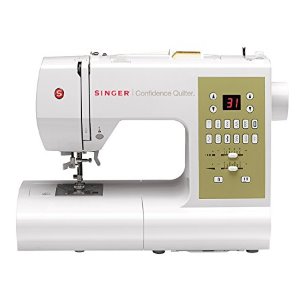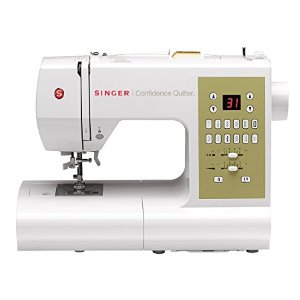 Quilting is a pastime enjoyed by many people across the globe. And while it is something that can be done by hand, it's a very tiresome and lengthy process. However, with a machine such as the Singer 7469Q to assist, you'll be churning out beautiful pieces with ease and in no time at all.
As the name suggests, the Singer 7469Q Confidence Quilter is a solid machine capable of producing quality quilting with every stitch. With a range of different automatic features such as the programmable needle up/down feature, an automatic needle threader, and a drop feed, quilting on this machine is easier than ever before.
It also comes with a variety of presser fit in which to do a range of different projects. In addition to all your standard sewing feet, you also get a walking foot, a darning/embroidery foot, a ¼ inch foot, and an open toe foot thrown in. And thanks to the machine's rigid frame, you can enjoy skip-free sewing, enabling you to produce that perfect piece. Like most Singer machines, it also feels as strong as an ox and works like one too.
---
Singer 7469Q Review: Overview
Even in you've never done any sewing before in your life, provided you have the time to sit down and practice, pretty much anyone can learn using the Singer 7469Q. Then, there's no stopping you. With this quilter, you can easily sew a wide range of fabrics including natural fibers, synthetics, knits, and upholstery. It's pretty good at handling multiple layers too. What it's not very good for is sewing fabrics such as fur, leather, and suede.
Whether you want to use it for quilting or sewing, one of the many great features of this machine is that it takes very little to get it up and running just how you want it. To change the presser foot, you simply push the footer release button while the needle is in the up position and lift off the old foot. Then, attach the one you need by simply placing it onto the needle plate and lowering the presser foot lifter until the new foot snaps into place.
Thanks to helpful functions such as the automatic threader and easy drop-in bobbin system, everything else you need to get started is a piece of cake.
---
Ergonomic Design
One of the things I like most about the Singer 7469Q is its ergonomic design. Everything you need is labeled clearly and within easy reach. There's no fumbling around looking for the function buttons as they're right where you can see them. Another great thing about this machine is that it has a large extended bed. This is particularly helpful when quilting as it provides you with extra workspace.
The other great thing about the machine's design is that even with the extended bed in tow, it's still a relatively compact piece of kit. Measuring in at just 17" x 8" x 12.5", and weighing less than 25lbs., it's not too hard to transport around should the need arise.
Related Articles:
High Quality, Low Maintenance
There's nothing worse than trying to work with a machine that's constantly rocking and wobbling. But with the Singer 7469Q, there's none of that. Thanks to the machine's solid internal frame and sturdy exterior this piece of kit stays put when dealing with even the heaviest of fabrics. So, there's no bunching or skipping to be concerned with. Once your thread is loaded and the bobbin's in place, you're ready to create some top-quality stitching
As long as you look after it, the machine will look after you and your work. That's another great benefit of this machine. It requires very little maintenance to keep performing at its best. As with any machine, it's always worth cleaning the race hook and feed dogs after each use, just to ensure no stray debris gets stuck. It should also be serviced by a professional once approximately once a year. And finally, wipe the head as and when needed. Other than that, there's nothing to keeping your Singer 7469Q in tip-top condition.
---
Top-Notch Features
A machine to suit quilters of all skill sets, the Singer 7469Q has some fantastic features that aren't too hard to find or operate. The first thing I want to mention about this quilter is that it has a pull-out reference guide to help you decide which type of stitch to go for out of the 98 there are on offer. This is very useful when you just want something to refer to quickly.
Included with the machine are a whole bunch of accessories to aid you along the way. Standard accessories you get include all your usual needles, bobbins, thread spool caps, etc. However, there are a few bonus items included too, such as additional quilting feet, and a quilter's extension table.
Another helpful tool that's featured on this machine is the LED light. With these lights shining bright either side of the needle, the area you're sewing is illuminated to help ensure you don't go off course.
---
Singer 7469Q Review: Final Thoughts
The Singer 7469Q Quilter Sewing Machine is a fantastic machine that will easily run trouble-free for hours on end. It has a very classy look and feel to it, yet the machine feels perfectly secure while in use. With the help of the extension table, quilting can be done in a very small space without compromising on quality. You get all the benefits of an easy to set up and easy to use machine, but all the functionality of a professional piece of equipment.
While some of the functions have been automated for you, there are still quite a few advanced capabilities that need an experienced user to operate efficiently. And for that reason alone, I would suggest that it's a model that's more suited to those with a little experience.
Related Articles: