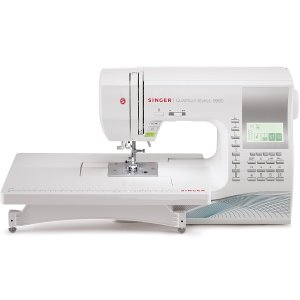 Totally computerized and totally cool, the Singer 9960 is a sewing machine that will rival most top-spec models out there. Made by a name you can trust, this machine oozes quality. On the exterior, you see a smooth, sleek sewing machine that looks big enough to carry out a number of different sewing tasks yet small enough to store away when finished.
Built with a solid aluminum frame ensures the machine stays stable enough while working, preventing any skipping from occurring. It also features an extra-wide extension table which comes in very handy when working with larger pieces of fabrics. And, thanks to the direct-drive system, the needle bar is powered straight from the motor, making it more powerful and more rigid than most rival machines.
Inside the box are a number of different accessories in which to help you with your creations including 18 different presser feet, a clearance plate, and a quilting bar. And, it's equipped with a closed lid on-board storage area in which to store them all.
Interested so far? Why not take a closer look as I go through some more of what the Singer 9960 has to offer.
---
Singer 9960 Review: Overview
One of the things that stands out most about this sewing machine, other than its exceptional quality is that there is a total of 600 built-in stitches in which to work with including 450 lettering and character stitches and more than 100 sewing stitches. All of these are easily accessed through the machine's database using the very efficient and clear LCD screen. There's a wide range of basic stitches, decorative stitches, and stretch stitches to choose from as well as a selection of fonts in which to really customize your projects. All of these stitches are easily accessed via the buttons on the machine's front panel.
As well as the large selection of stitches to choose from, you also have a choice of 5 different alphabets to use when customizing: Italic, Gothic, Outline, Russian, and Script.
On top of that, you also get a total of 18 presser feet when you buy the Singer 9960 which is rather impressive compared to most other machines on the market. These can be found packed securely in the free arm and are there to aid you in completing a variety of different sewing tasks.
---
Clear LCD Display
If this is the first computerized sewing machine you've ever owned then you may be a little nervous to begin with, but you needn't be. The Singer 9960's onboard display screen is one of the better ones out there, in my opinion. The five buttons which control it are easy to press, and everything is labeled nicely including the eight most commonly used stitches which each have their own button for quick access. It might not be in color, but it is backlit so it is still visible even under poor lighting conditions.
Having an LCD screen simply saves you time having to scroll through a manual or sit through several tutorials as everything you need is there in front of you. As well as displaying stitches on the screen it also gives you tips and other pieces of information to help complete your project. It will even display error messages to let you know if something's not working right.
---
Enhanced Features
Most Singer sewing machines are kitted out with a huge number of features in which to enhance your sewing experience, but the Singer 9960 takes this to a whole new level. Not only does it offer 13 built-in 1-step buttonholes, but it also comes equipped with an exclusive buttonhole underplate.
Stitch elongation is another fancy feature that this machine has to offer. With this function enabled you can elongate stitches up to five times longer. You can also change the width and length of all of the basic stitches as well as some of the decorative ones.
Related Articles:
Another pretty advanced feature that can be found on the Singer 9960 is the electronic twin needle setting. This allows you to attach a twin needle to the machine in order to create uniform hemlines.
---
Easy to Use
While it's pretty clear the Singer 9960 is more of an advanced user machine than a beginner one, packed full of more functions and features than the latest smartphone, it's still quite an easy piece of kit to work with. It's got an automatic threader to save you having to chase the eye of the needle, an easy to load top drop-in bobbin system with a transparent cover for efficient monitoring of your thread level, an automatic thread cutter that cuts your bobbin and needle threads in seconds, and the stop/start and speed button functions which enable you to sew without the need to use a pedal.
One feature that a lot of people really like is the automatic tensioner. With this enabled, you don't need to worry about your fabric puckering as the machine will adjust the tension accordingly ensuring you get a smooth stitch every time.
---
Singer 9960 Review: Final Thoughts
If you're looking for a sewing machine that's modern, easy on the eye, and easy to use, the Singer 9960 is a good place to start. With a top maximum speed of 850 stitches per minute, it may not be the fastest machine out there, but in terms of quality, it's phenomenal. Each and every stitch has a professional finish and can be done with ease.
It has enough automatic features integrated to help make your life that little bit easier, and enough advanced capabilities to ensure even you won't be let down in your hour of need. Sure, it may be a little on the pricey side, but when you take into consideration just how many fabulous features are packed into this one little machine, I'm sure you'll agree that the Singer 9960 is actually pretty good value for money.
Related Articles: