It is no secret that Singer makes the best sewing machines around. But what about the Singer 9970 vs 9960? Which one is the best? Both these sewing machines come with extraordinary features that will make your time sewing an absolute breeze.
With built-in stitches, editing capabilities for your stitch patterns, easy-to-use drop-in bobbin systems, automatic needle threaders, and even electronic auto pilot, you are never short of handy features when using a Singer sewing machine. These machines are designed to be the ultimate tool for people sewing and quilting.
Whether you are a sewing newbie or a professional seamstress or tailor, you will find both the Singer 9970 and the Singer 9960 are very usable and offer a lot that will decrease your sewing times and increase your fun. Each machine has a little something for everyone.
First, let's take a look at the pros and cons of each product, then decide which is best for you.
Singer 9970 Vs 9960: Comparison
Singer 9970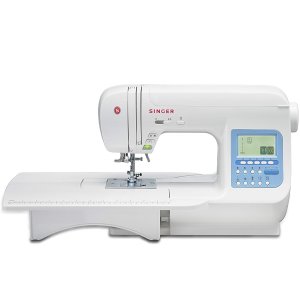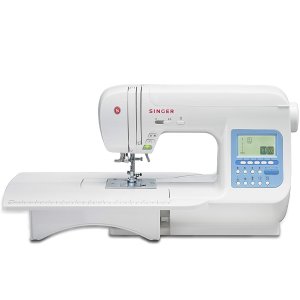 PROS
Automatic Needle Threader + Drop-In Bobbin System
Maximum Speed Control
Stitch Editing
CONS
Slow Reverse Speed
No bonus Accessories Included
---
Singer 9970 Computerized Sewing Machine Review
The Singer 9970 Computerized Sewing Machine is one of the best. If you want a modern sewing machine with dozens of specialized features, an interface that is easy enough for a monkey to use, an automatic thread cutter, an automatic pilot mode for quick sewing, and the trusted Singer brand name, you are in luck. This machine does it all.
Stitch Editing
How cool is it to be able to edit your stitches directly on the sewing machine? I think it is a pretty nifty feature. You now have complete creative control over your stitch pattern, by using the small screen on the sewing machine to edit via elongation and mirror imaging. This allows you to control the precise way your stitch pattern will turn out on the fabric.
This is great considering you have 600 built-in stitches to play with. It is a lot of customizability! With the automatic buttonholes and the different fonts, you can edit and create all kinds of interesting patterns.
One-Touch Easy
All of your settings with the Singer 9970 are one touch. This machine is extremely simple to use, thanks to the clear display screen and the one-touch buttons. No more fussing with the settings or getting confused by vague buttons and dials. Everything with the 9970 is perfectly easy to figure out.
---
Singer 9960 Quantum Stylist Computerized Sewing Machine Review
If you want the newest and best in sewing technology, you probably want the Singer 9960 Quantum Stylist Computerized Sewing Machine. The Quantum Series is one of the best series of sewing machines that singer has ever created. Tons of features, lots of usabilities, and infinite sewing joy.
Speedy Sewing
The speed of this machine is unbelievable. The 9960 comes with a maximum speed of 850 stitches each minute. This will allow you to complete larger projects in a shorter time span. No more dallying with turtle-slow stitching. 850 stitches a minute is borderline revolutionary in a home sewing unit.
With the incredible amount of included presser feet, you never need to slow down when sewing. You can quickly and effortlessly switch from one project to the next without even standing up. Now that is convenient!
Automatic Needle Threading
This has become a pretty standard feature in new sewing machines. The automatic needle threader allows you to stop wasting time threading your needle, straining your eyes, and fiddling in frustration. With all the automatic features of the 9960 Sewing Machine, you can have the entire unit threaded in mere seconds. Preparation has never been easier, giving you more time to keep sewing.
---
Singer 9970 vs 9960: Main Product Differences
Obviously, these two machines are extremely similar. Both are manufactured from Singer, both have a generous work area, both have automatic features like the needle threader and the special bobbin systems, and both have at least 600 built-in stitches that you can customize using the simple one-touch interface.
Still, there are a few major differences we can talk about.
More Accessories, More Options
The Singer 9960 comes with more options than its cousin, the 9970. With the 9960, you get different package options when ordering the machine. You can order with a special accessory kit, as the solo machine, or with the limited addition scissor set for those who love collectibles. You do not get any of these options with the Singer 9970.
The same can be said about accessories. The Singer 9970 comes with almost nothing, whereas the 9960 comes with over a dozen specialized presser feet and so much more. It really feels like an all-inclusive package when you purchase the Singer 9960.
Promised Quality
The Singer 9970 does almost everything that the 9960 does, and it even comes with a hard plastic cover to protect the internal components from damage and from being infested by dust. However, the 9960 is part of the Quantum Series of sewing machines, and so you know the attention to detail is supreme.
The Quantum Series has a significantly higher quality than with other ordinary machines. You get a heavy-duty metal frame, tons of built-in features, electronic twin needle settings, and an included extension table. Even if the 9970 has some of these features, it is not part of the Quantum Series.
Singer 9970 vs 9960: Final Thoughts
Okay, now I am a longtime fan of the Singer sewing machines, so this is a tough decision for me. I don't want to slander one machine while praising another machine. They are both great. That said, when it comes down to the best of the best, I have to give it to the Singer Quantum Stylist 9960.
The 9960 comes with 600 unique built-in stitches, 13 built-in buttonholes, mirror imaging, and stitch elongation to provide you with maximum creative customization, and a super-high-speed motor that offers 850 stitches a minute. This machine is fast, effective, and it works like a dream.
However, the 9960 is a little on the pricey side. If you wanted to go with a more basic unit that is still awesome for sewing, I do recommend the Singer 9970. But if you want the most robust sewing machine, I must insist on the Quantum Stylist.