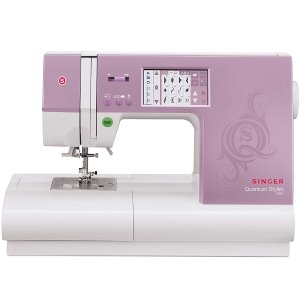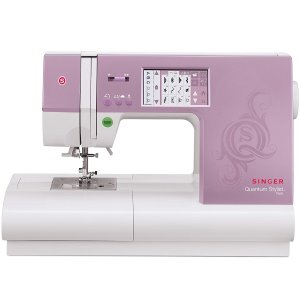 Singer, a name that's been around in the sewing industry for many years, and a name that most people have come to love. Much of this reputation has grown simply from offering quality products at fair prices, and the Singer 9985 is no different.
With a heavy-duty metal frame offering skip-free sewing, and with more than 960 different stitches to choose from, this machine is a marvel. It has all the usual features you'd expect to see in a high caliber machine including an automatic needle threader and reverse stitch functions, as well as added extras such as mirror imaging and stitch elongation to seal the deal and make it even better.
And in terms of usability, those who already have some experience in sewing machines should take to it like a duck to water. Everything is well-labeled and easy to navigate around. For those who are less experienced, just read through the manual before you begin, and you'll be sewing beautiful arts, crafts, clothes and more in no time at all.
---
Singer 9985 Review: Overview
It may be computerized, but unlike some other electronic machines out there, the Singer 9985 is super easy to operate. In just a few simple clicks, you can choose the type of stitch you'd like to sew as well as the length and width of the stitch. At this point, you may also want to adjust the tension, which is also done quite easily at the touch of a button.
The LCD screen is quite a decent size, with all the on-screen options appearing clear and well organized. It displays things such as the number and image of the selected stitch, the length and width settings, and which presser foot would be best to use based on those settings.
A large collection of stitches is available (960 to be exact) at your fingertips including some for fashion sewing, some for quilting, and some for crafting. There's also a good selection of fonts to choose from when customizing your pieces. Just refer to the stitch reference chart to see what's most suitable for your project.
If you're new to sewing, there is a lot of features and functions to get your head around when first using the Singer 9985. However, if you read through the instruction booklet and take your time to really get to know the machine, you will sharpen your skills pretty quickly.
---
Stylish to the Core
And, what a great color! A lot of Singer sewing machines designed these days are made in white. And while white does give the 9985 machine a more professional look, the purple used on this machine is so much more pretty. Even the touch screen is superior. Often with a computerized sewing machine, the LCD screen is a very dated looking dot matrix screen with no color in which to help make the options stand out. But with the Singer 9985, you get a beautiful bright color screen where you can see your stitch specifications in real-time.
Using the touchscreen display you can select all the refinement options you'll ever need including stitch type, length, width, and thread tension. It will even recommend the best presser foot for the job. All-in-all, it's definitely one of the better screens I've seen on a sewing machine.
---
Ready to Use in Seconds
Having to spend hours in end setting up a new sewing machine to work how you want it is no fun, let me tell you. Thankfully, with the Singer 9985, setup is so easy. Using the threading instructions on the side of the machine to guide you, threading can be done in just six seconds. And using the built-in assistance program you can get instant audio and visual help for bobbin winding, changing the presser feet, and more.
Related Articles:
Time-Saving Features
When it comes to functioning, this machine is both efficient and easy to use. Firstly, it's capable of producing up to 850 stitches per minute, so unless you're some kind of machine yourself, that should be plenty fast enough. As well as enabling you to stitch fast, the Singer 9985 also carries out some pretty cool functions itself. Like many modern sewing machines, this model features an automatic needle threader and an easy threading system which is printed quite clearly on the side of the machine for convenience. This will save you a great deal of time and sanity over the years.
If you're advanced machinist, then one feature the Singer 9985 has which might have interested you, is the mirror imaging function. With this you can produce stitches that are mirror-imaged, making them appear either as a border or just heavier in general. As well as being to create mirror-imaged stitches, using this machine you can also lengthen your stitches by up to five times using the stitch elongation button. Another great time-saving feature is the 1-step buttonhole function. While most machines enable you to do buttonholes these days, not all are simple as this one to use. In just 1-step you can sew perfectly finished buttonholes.
---
Singer 9985 Review: Final Thoughts
If you're looking for a sewing machine that looks fantastic and produces professional stitching at the touch of a button, then the Singer 9985 is definitely a model you should consider. Right out of the box, it's easy to use and offers a range of fantastic functions for both the beginner and advanced machinist. There's an automatic needle threader, a thread cutter, and a computer that's easier to use than a 10-year old smartphone.
And being made by a name like Singer, you know you're in good hands. This machine is robust and sturdy while in use, even at maximum speed. There are no worries about skipping or bunching, enabling you to produce quality stitching each and every time.
While there are a lot of advanced functions integrated into this machine, it's really easy to use, even for someone with very little experience. So, whether you're a seasoned pro or just starting out the Singer 9985 will keep you in one piece.
Related Articles: