If you are in need of a high-quality sewing machine with computerized features, you may be thinking to yourself: which is better, the Singer 9985 vs 9960? Each one offers great portability, easy features, and a large number of built-in stitches. These are two of the best machines Singer has to offer.
Everyone wants a Singer sewing machine at home. By purchasing one of these great machines, you are adding a whole new level of versatility to your sewing equipment. Machines like the Singer 9985 and the Singer 9960 are designed to outperform the competition every step of the way and to make sure you have fun while sewing.
Sewing Machines from Singer are dependable, tough, backed by the company, and highly rated online. You get a hefty stitch-per-minute count, loads of automatic features to make life easier, and serious equipment designed to do fashion sewing, home decoration sewing, and quilting.
Singer 9985 Vs 9960: Comparison
Singer 9985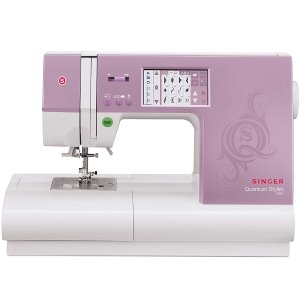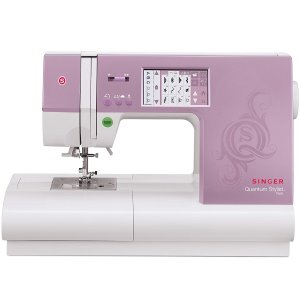 PROS
960 Built-In Stitches
Automatic Needle Threader
850 Stitches Per Minute
CONS
Weighs a Full 20 Pounds
Not a Big Jump From the 9960
---
Singer 9985 Quantum Stylist Sewing Machine Review
The Singer 9985 Quantum Stylist Sewing Machine is a revolution in stitching technology. This machine was designed for you to do everything with the same unit. The 9985 Sewing Machine is going to be your best friend for all your sewing projects. It comes with unique integrated assistance, colorful touchscreen display, nearly 1,000 built-in stitches, and so much more.
960 Stitches
Talk about a wide range of stitching options. The 9985 takes the Quantum Stylist series to a whole new level with its 960 built-in stitches. It comes with 13 buttonholes, 919 unique decorative stitches, 10 essential stitches, 21 stretch style stitches, and six different alphabets and numerals.
I know that is a lot! You may be wondering how you could keep track. But it is easier than ever with the handy chart on the upper part of the machine and the touchscreen selections.
Quality Sewing
If you have had old, poor-quality machines in the past that produce loose or untrustworthy stitches, put that trauma behind you. The 9985 produces quality stitching without fail. No matter how heavy of a material you use, this machine will make quick work of it, with quality stitches that never give up.
---
Singer 9960 Quantum Stylist Sewing Machine Review
The Singer 9960 Quantum Stylist Sewing Machine is an original masterpiece in the sewing world. It comes with a simplified stitch selection, 600 built-in options for stitches, electronic twin needle settings, and it is incredibly easy to use. This is one of my favorite starter sewing machines because of its robust features and ease of access.
Heavy Duty
The 9960 Quantum Stylist is known for how heavy-duty and tough it is. This unit has an internal skeleton constructed entirely of super-strong metal. Because of its rigid support frame, all the mechanisms are kept perfectly aligned for the entire life of the machine. It is hard to find a sewing machine that has better overall durability.
Dealer Quality
There is a lot of argument over how many built-in stitches are enough. I would have to say that 600 is a perfectly sensible number. With this unit, you have more than you could ever ask for. What are you going to do with a machine that has 2000 built-in stitches? You would never be able to use them all!
I personally find that everything the 9960 has, it has just enough of. The extension table is large enough for extra-big jobs, the drop-in bobbin system is convenient and easy to monitor, and the twin needle settings are very handy. This machine is dealer quality and has everything to keep you sewing.
---
Singer 9985 vs 9960: Main Product Differences
As you have probably already guessed, the 9960 is the older version of the 9985. And so of course, the Singer 9985 is the newer and better unit. It comes with more features, it is easier to use, it has more built-in stitches, and it has a few extra bonuses not found with the Singer 9960.
However, you should keep in mind that both these machines are designed by Singer, and they are both part of the Quantum Stylist series. They are both extraordinary pieces of sewing machinery that will add an extra boost of performance wherever you need it.
Touchscreen
One of the big bonuses with the 9985 is that it comes with a color touchscreen. Rather than having to fuss with a bunch of annoying buttons, like with the 9960, you can easily make your selection with the touchscreen. It is the same as upgrading from an old brick phone to a brand-new smartphone.
More Stitches
The 9985 has more stitches. It is the newer model, and so, of course, it comes jammed with more computerized technology. There is no beating around the bush here. The 9985 offers more than its predecessor. It even comes with 13 presser feet inside the package. Plus, you can do mirror imaging and stitch elongation for better customization of your creative projects.
Most everything else is the same. Both units have LED illumination, 25 needle positions, an automatic needle threader, and they work at 850 stitches per minute.
Singer 9985 vs 9960: Final Thoughts
When it comes to Quantum Stylist machines, it's hard to beat the Singer 9985. The Singer 9960 is still an exceptional unit with tons of features and a great user interface, easy to use for beginners, or for pros. But when you buy the 9985, you are getting a quality machine at an incredible cost.
You can sew straight and consistent stitches using the Singer 9985. It comes with almost 1000 built-in stitches and a unique reference chart that shows you all of your options so that you can make a quick selection. The LCD screen is touch-activated, plus the threading system has never been easier than it is now with its automatic threader.
The Singer 9985 is a great sewing machine for making fashion, for DIY projects around the house, for quilting, and for every other type of stitching you can think of. This is an all-around versatile machine that will make an excellent addition to your home. I highly recommend the 9985 Quantum Stylist.