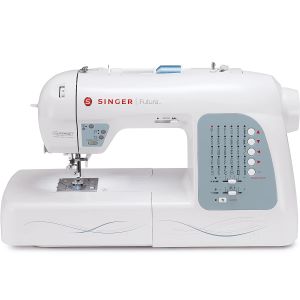 Sewing isn't something that's always planned. Sometimes accidents can happen, meaning you need to sew on the fly. Or perhaps, you're on the move and need a machine to take with you. In either scenario, a portable sewing machine is an ideal solution. And who better to turn to than good, old Singer to find a model that meets your needs.
The Singer Futura XL400 is a portable sewing and embroidery machine all rolled into one, with 30 built-in sewing stitches and 125 built-in embroidery designs to work with. It has an LED light making it possible to sew in even the darkest of conditions, and an automatic needle threader in which to get you started fast. In terms of functionality, it offers all the usual bells and whistles you'd expect from a Singer machine and more. It's easy to set up, simple to use, and it doesn't look all that bad either.
---
Singer Futura XL400 Review: Overview
Measuring in at 22" x 9.5" x 13", and weighing just 23 pounds, the Singer Futura XL400 is such a handy little machine, you can literally take it anywhere without too much trouble. Don't let the fact that it's a portable machine put you off as this thing can do pretty much anything a normal-sized sewing machine can do, just on a slightly.
That being said you should have no problem using the Singer Futura XL400 for embroidering larger items such as bedspreads and tablecloths. Featuring a 10" x 6" embroidery hoop option and a multi-hooping capability, any design up to a size of a 12" x 20" can easily be created. And, at 8 ¼", the arm length is more than adequate to cope. If you want to do free-motion sewing, that's no problem either. Simply drop the feed dogs using the drop feed lever, and away you go.
And, just because it's a portable machine, doesn't mean to say it's lacking in performance either as the Singer Futura XL400 produces just as high-quality stitching as that you'd expect to see from a commercial machine.
---
Computerized Embroidery System
With technology these days, everything is easily connectable, and the Singer Futura is no different. Simply plug in the USB cable that comes with the machine to connect to your PC. Once you've downloaded the enclosed Singer software, instantly you get access to a whole heap of online tutorials to help hone your skills. Then, once you've got to grips with the controls of the machine and the online software, you can create your own embroidery designs right on your screen. Finally, at the touch of a button, set to work making it come alive on the machine.
Some people find it hard to get used to this function as they're used to seeing everything direct on the machine, as opposed to a computer screen. And while everything is much clearer in my opinion, it's not always feasible to hook up your machine to a screen when you're on the go.
---
Easy Peasy
Any feature or function the Singer Futura XL400 has to offer has been made with simplicity in mind. Being a portable machine, the last thing you want is to be fiddling around with some complicated setup. But with this machine, there's none of that. Straight out of the box, with just a few moves, you and your machine will be ready to sew some quality threads.
The automatic needle threader and the easy drop-in bobbin system will both save you time on set up, as will the one-step buttonhole function. Another feature that's there to make your life easier are the six StayBright LED lights. And boy are they bright!  Having these in place, ensure you always have enough light to see, eliminating the risk of eye strain. If you want to reinforce your stitching simply initiate the reverse stitch function. This will help prevent unraveling at the seams.
Related Articles:
Another thing that's good about this machine is you get to choose whether or not to use the foot control. Many people like using a pedal to control their speed, as it leaves their hands free. But, it's not for everyone, and if you're new to sewing it's sometimes better to start without it. In which case, simply use the start/stop button located on the front of the machine instead.
---
Added Extras
While you don't need much in the way of extras when using any sewing machine, a few added extras thrown in never hurt anyone. Included in the package, along with the machine you get a number of different presser feet to use for different occasions, including a zipper foot, and embroidery foot, and a blind hem foot.
You also get extra working space with this machine, which is surprising considering its compact size. With the Singer Futura XL400 you get more than eight inches of "C" space. For those of you who are new to sewing, this refers to how much space there is on the am between the needle and the edge of the machine, and if working on bigger projects such as quilts, the more the merrier.
---
Singer Futura XL400 Review: Final Thoughts
Designed to be used as a temporary measure opposed to a permanent fixture, the Singer Futura XL400 would make a great starter machine for anyone who's new to the world of sewing and/or embroidery or a great back up machine for those working in the industry. The stitching options offered are good and the quality of the stitches get no complaints either. I also believe the LED lights are some of the best I've seen on any machine.
The fact that it's so compact and lightweight is also a big bonus as it makes it so easy to move around. My only problem with this machine is the fact that to benefit wholly from the machine it needs to be hooked up to a PC, which kind of takes away the portability option. But, if you're able to get around that and don't need to move your machine around too much, then it's definitely a model that's worth a look.
Related Articles: