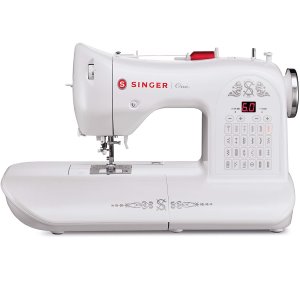 Singer has worked hard to get to where it is today, being known as one of the world's largest and most trusted sewing brands. And having been around for so long, it's had time to develop a wide range of quality, user-friendly sewing machines that give rivals such as Brother and Janome a run for their money.
The Singer One is a vintage-style machine, that's been modeled largely on those the company produced when it first began all those years ago. For any sewing novices, this is a great machine to start with for many reasons. Firstly, it's got enough automatic functions to help get you going quite quickly. The automatic needle threader will ensure you spend less time on set up, leaving more time to sew, while the automatic 1-step buttonhole function will ensure you don't get tied up in knots when trying to complete these for the first time.
But, is it enough to live up to the more advanced machinist's expectations? Keep reading to find out more about just what this machine has to offer.
---
Singer One Review: Overview
As mentioned above, there are some things on the Singer One sewing machine that are done automatically for you to help save you time and hassle, and one of those is the automatic needle threader. Using the guide that's printed on the right-hand side of the machine, simply weave your thread through the machine until you get to this part. Then, let the automatic threader do the rest.
Thanks to the machine's integrated computer, there's a direct stitch selection function available that sets your stitch settings automatically for you. This ensures you get the best stitch for each individual project.
It also features a drop and sew bobbin system which is super handy for beginners. On some older style machines, this process could be a right pain, having to raise the bobbin thread before you could sew. But with the Singer One sewing machine simply drop on the bobbin and away you go.
---
Beautiful on the Outside, Robust on the Inside
Featuring the same pristine white frame with an elegant swirling pattern adorned upon it, the Singer One is a beautiful machine. It's not too bright and in your face, yet it's not too boring that you want to hide it away when not using it. This machine could literally double up as a centerpiece in your living room.
Boasting a heavy-duty metal frame and a sturdy plastic exterior, the Singer One is a solid machine that was built to last and stays rigid while in use. It's made from top quality parts and put together perfectly to enable precise and accurate sewing all the time. Using this machine, users can quite easily sew several layers of material at once and is great for those who enjoy quilting.
One material you may want to steer clear of when using this machine is leather. While it is pretty tough, inside and out, every machine has a limit. If you do ever experience any problems with your Singer One machine, you'll be pleased to know it comes with a 25-year warranty. Of course, there are limitations, but it's at least a little added protection.
---
Great Functionality
There are 24 built-in stitches to be found on the Singer One machine including some basic, some decorative, and some stretch. While this doesn't sound like a lot in comparison to some other machines out there, if you're just starting out, it's unlikely you'll need to use more than that anyway. Even some of the most advanced machinists only use a handful of stitches to sew, so don't be too disheartened.
Another great extra this model has to offer is that it has not just one, but two 1-step automatic buttonhole stitches. It also features a high presser foot lifter which allows you to sew several pieces of fabric at once – the perfect aide when quilting.  Another feature you may find helpful when working on larger pieces of fabric is the feed dog control which is adjustable at the simple turn of a knob.
Related Articles:
One of the other great functions this machine has to offer is the automatic reverse function. This enables you to reinforce your stitching to prevent fraying.
---
Compact Machine But With Lots of Space
While the Singer One sewing machine isn't necessarily advertised as a portable machine, measuring in at just 23" x 10" x 13", and weighing just 23.9 pounds, it's an ideal machine to use if you ever do need to transport it around. And don't worry too much about it getting damaged, as this is one tough cookie.
But even if it is a little smaller in size than you're what you're used to, you'll be pleased to know that what space it does have is very cleverly used. For example, there's an extra-large sewing space (3.74" x 14.7") on this machine which is ideal for using when working on those slightly larger projects.
---
Singer One Review: Final Thoughts
As one of Singer's signature machines, you can see from the off that a lot of time and effort was put into creating this product. And as a result, there are a lot of fantastic features and functions to be found on the Singer One machine. It's a great machine for anyone just starting out in the world of sewing. It's easy to set up, and even easier to use.
More experienced users will also appreciate it as it offers a lot of modern features while still hanging on to that vintage look. Ok, it may not have hundreds of stitches to choose from, but it has those most commonly used, which is good enough for most people. In terms of looks, it's a machine that will appeal to people of all ages and skill levels.
Overall, I think it's a good example of how "old meets new" and is one hybrid machine that definitely warrants a look in.
Related Articles: