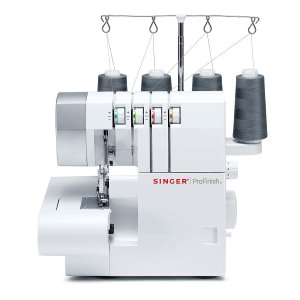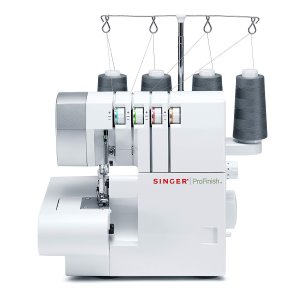 Taking a step away from the traditional run-of-the-mill Singer sewing machine that's often seen in many family homes across the nation, the Singer ProFinish Serger is a little something extra to satisfy even the keenest of sewers out there. With a 2-3-4 thread capability, 6 different stitch types, and a range of different accessories to help make your life easier, this machine is quite something. It even offers some more advanced features such as a differential feed system and an automatic trimming function.
It has a stronger motor than many others in its range too, capable of kicking out a more than ample 1,300 stitches per minute. And with its compact little frame, and cool, sleek exterior, it doesn't look too bad either. So, whether you just need a machine to carry out a few minor alterations or repairs or you're looking to create your own new clothing line, the Singer ProFinish Serger may be just the machine to help you do it.
---
Singer ProFinish Serger Review: Overview
One of the great things about Singer is they understand their customer's time is precious and therefore help out by ensuring everything is as ready as it can be for you from the start. So, as soon as you unpack this machine, it's ready to go. There's no complex configuring to do. It's even loaded with the thread!
The Singer ProFinish machine offers 6 different stitch types. While that may not seem many in comparison to some of Singers other machines, it should be adequate to complete most projects.
You can adjust both the stitch length and width by a gentle turn of the knobs located on the side of the machine. Adjusting the tension is just as easy and is done via the color-coded dials on the front.  There's also a color-coded threading system printed on the side of the machine to guide you with that also.
---
Advanced Capabilities
As well as being able to stitch faster than the speed of light, there are many other advanced features the Singer ProFinish Serger has to offer. There's an adjustable tensioner system which is essential when working with different fabrics; an automatic trimming feature for making your life easier and giving your fabric that finishing touch; and, it has a differential feed that ensures you achieve the perfect seem each and every time. So there's no puckering or bunching of fabric when using this machine.
Another great function this machine has to offer is it's capable of producing rolled hemming and has a total of 4 built-in rolled hems in which to assist you. To access this function, simply pull the lever to move the stitch into the rolled hemming position and away you go.
Related Articles:
Lastly, it may not be classed as an advanced feature, but it's one that I can't live without, and that's the free arm. The free arm is there to help you when sewing things like sleeves or cuffs, and the one on the Singer ProFinish Serger is pretty unique. To access it on this machine you need to first remove the accessories storage compartment. Then, the whole of the left side converts into a free arm. How cool is that?
---
Even More Speed
Singer sewing machines and sergers, in general, are known for being workhorses, and the ProFinish is no different. However, what makes this model stand out from the crowd is that it's fitted with a tougher motor than a lot of machines have. A lot of home machines have a maximum stitch speed of around 1,100, but the Singer ProFinish Serger tops that. Capable of producing a whopping 1,300 stitches per minute this machine is not for the faint-hearted.
Even though this overlock serger is capable of going at supped speeds, it doesn't mean it has to. At the end of the day, it's controlled by a foot pedal, that's controlled by you. So, if you're still relatively new to the world of sewing and are looking for a machine to help enhance your skills, then this is a great place to start as you can start slow and work your way up to those faster speeds.
---
Use on the Move
Even though it has a motor that's as strong as an ox, the machine itself is actually pretty light and compact. It weighs just 13.5lbs. and measures in at 14" x 11" x 11.5", so you shouldn't have too many problems if you do need to transport it at all. It's even fitted with a carry handle to help lighten the load.
The other benefit of this machine if needing to use it when away from home is that it's pretty easy to set up overall. The threading of the lower looper may take some time to get used to, but that's a common problem seen in a lot of overlocker machines.
You also get a standard set of accessories included with your purchase to help enhance your sewing experience including all the usual things needle set, tweezers, screwdriver and more.
---
 Singer ProFinish Serger Review: Final Thoughts
I have to say, for the money you pay, the Singer ProFinish serger is quite an impressive machine, with plenty on offer to please even the most advanced machinists. There's the adjustable tensioner function, the automatic trimming, and the fact that there are 4 rolled hem options is a nice touch too. It may not be the toughest machine I've seen but will still sew through a few layers of denim should it need to. And, for those of you who like a little speed, you got it with this baby.
Overall, it's a decent machine that's capable of handling a wide variety of fabrics. It's easy enough to use for those starting out and has enough functionality to please those more advanced. Sure, there are more sophisticated models out there, but the Singer ProFinish Serger is more than adequate to complete most small, medium, and even some larger projects. So, why pay more for something if you don't need to?
Related Articles: