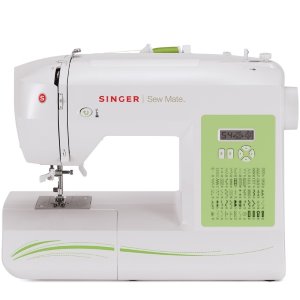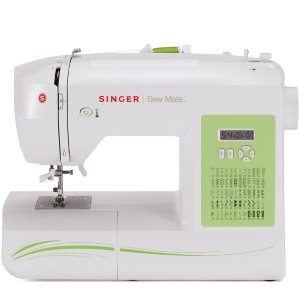 If you're looking for an upgrade to your old, run-of-the-mill sewing machine, then the Singer Sew Mate 5400 may be just the tool for you.
With 60 in-built stitches to choose from, 3 kinds of presser foot, and a needle that can be set to sit in 13 different positions, there is very little in the way of sewing that this machine can't do. Whether its clothes, quilts, or dolls you sew, this machine can help you achieve your goals faster and more efficiently. And thanks to the machine's easy to use on-board computer, all your stitch selections are made at the touch of a button. Never before have adjustments been so easy.
With a maximum sewing speed of 750 stitches per minute and several automatic features, this machine is going to save you a great deal of time in the long run. It's got just as much functionality as most mechanical machines (if not more) and it looks great too, making it one tough contender in the world of sewing.
Keep reading to see what else the Singer Sew Mate 5400 has to offer.
---
Singer Sew Mate 5400 Review: Overview
Technically the Singer Sew Mate 5400 is considered to be an entry-level machine. However, when you look at the fantastic features it has to offer, you may disagree.
With a total of 60 built-in stitches to choose from, there isn't much in terms of sewing that can't be done with this machine. There are 40 decorative stitches, 8 stretch stitches, 8 essential stitches, and 4 fully automatic 1-step buttonholes. You also get 3 presser feet included with your machine: an all-purpose foot; a zipper foot; and a buttonhole foot. Now, while this may seem a little stingy, at least the ones that are included will get most jobs done.
---
No Beating Around the Bush
If you're in a hurry and need to get something sewn at warp speed, then the Singer Sew Mate 5400 is just the machine to employ. Capable of a maximum sewing speed of 750 stitches per minute, and with a number of automatic functions integrated into it, using this machine will save you no end of time over the year.
As with most machines today, it has an automatic needle threader function in which to ease your eye strain. It also has an automatic tensioner that ensures your stitching remains balanced. Another automatic feature that many people rave about is the 1-step buttonhole process offering 4 different stitches. For a so-called entry-level machine, that's pretty impressive.
Related Articles:
Another automatic function this machine has to offer involves the setting of both the stitch length and width to the most optimal place for the project you're working on. However, this feature is optional and can be turned off if you prefer to set your own.  When working with different thickness fabrics there's no need to adjust the pressure foot pressure either, as this is done automatically for you as well. Even the reverse function is automated on this machine. Simply push the automatic reverse button and immediately you can sew in reverse to reinforce your stitch and stop any fraying.
Finally, there's also an automatic bobbin winding clutch that makes this process both faster and safer.
---
Capable Computer – Easy to Use
Some people who've been sewing for a while may have been bought up using a non-computerized machine, and the very thought of switching to a more modern, computerized machine leaves them quaking in their boots. However, as mentioned previously, the Singer Sew Mate 5400 is an entry-level machine, meaning that pretty much all the features and functions on it have been simplified. This is to make them easier and more fun to learn.
And the on-board computer is exactly the same. While it may look a little daunting to those who are used to the old-style mechanical machines, it's really not. And once you've had a little play, you're likely to feel a lot more comfortable about using it in the future.
Via the 6 push-button controls, you can easily select your stitch type, length, and width and view it right there on the LCD screen. It's not the most sophisticated computer out there and with only a few buttons to be concerned with it's very easy to learn how to use, even for those technophobes out there.
---
Durable and Reliable
The Singer Sew Mate 5400 is a machine that's been crafted some of the highest quality materials. It's sturdy in all the right places, and supple in all the rest, giving you the best of both worlds. While the solid metal frame keeps the machine securely in place while in mid-sew, the flexible plastic allows room for movement when needed.
Another great quality of this machine is that it's a super reliable workhorse. It can sew through layers of fabric at speed and keep going until you tell it to stop. Even the accessories are of decent quality. And with a 25-year limited warranty, it's pretty clear that Singer is confident in its product also. So, if you do ever have any issues just get in touch with the company and they'll be glad to help.
---
Singer Sew Mate 5400 Review: Final Thoughts
With easy enough controls for a beginner to use, but enough advanced functions to keep a more experienced machinist happy, the Singer Sew Mate 5400 is an all-round quality machine suitable for both professionals and hobbyists alike. You get the same fantastic durability you see in any Singer sewing machine and it's reasonably priced.
While it is considered to be a computerized machine, it's actually quite limited in this department and the display is pretty small. That being said, it's modern, it's sexy, and it offers more functionality than many other sewing machines in the same class. So, if you are looking for a replacement machine that's reliable, efficient, and won't cost a fortune, then the Singer Sew Mate 5400 is definitely an option worth considering.
Related Articles: