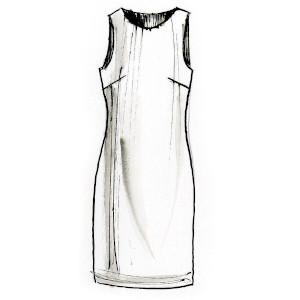 Starting to sew can feel like starting up a mountain from the very bottom with no idea how to get to the top, or where the top even is. What I want to say is that sewing can feel daunting to a beginner. To get you on the right path and to make sewing feel a little less imposing, I have put together a list of the best beginner sewing patterns.
But what is a sewing pattern? Well, a sewing pattern is a blueprint for whatever you are about to sew. It is a guide on how to sew a particular garment at a particular size. The pattern will come included with special diagrams so that you know how to cut and sew the garment. The pattern will also generally come included with instructions on how to assemble the different pieces together.
Make sense? A good example is this:
The pattern for a T-shirt comes with four pieces, the front, the back, the neckband, and the sleeve. The pattern will show you these pieces and explain to you how to cut and fold them so that you make a full T-shirt. It also gives you the proper steps on how to run through the entire pattern, from cutting to stitching.
The Best Sewing Patterns for Beginners
The following patterns are all super easy to make with any kind of sewing machine. You do not need a big fancy unit or a lot of expertise to make any of these patterns. These are excellent for beginners to start practicing their skills. The patterns are simple yet fun and you will have a blast putting them together.
The Scout Tee
The scout tee is a classic pattern that is incredibly easy to make. This might be one of the easiest garments ever for a beginner. The instructions for the pattern are incredibly easy to follow and you can wear your comfortable new t-shirt every day.
The scout tee is a woven t-shirt that has capped sleeves, a nice fit at the shoulders, and a generous scoop neck. Practicing this pattern will give you a chance to sew simple seams, to set sleeves, and to do some basic hemming. This is my top recommendation for a beginner who wants to start with fashion.
The Kimono Crop Top
Everyone likes a crop top, and this year is all about the kimono crop top. This pattern uses only two pieces that must be cut out and then stitched together. The garment construction is incredibly simple with the kimono crop top, and it is an absolutely adorable piece of clothing.
I highly recommend making your kimono top in a cotton print so that you get a nice crisp feel. If you want more of a draped look, you can try using crepe or viscos. If you don't enjoy the reveal of the cropped length, you can definitely make the top longer to suit your preferred style. It's a good practice in custom tweaking a pattern.
The Victory Skirt
This is the perfect pattern for anyone who wants to start dressmaking. The victory skirt comes with a gathered waist and looks absolutely amazing. With this simple skirt pattern, you will get a feel for a bunch of different kinds of actions with your sewing machine. Plus, you will learn how to handle fabric, how to insert a zip, how to adapt the length of the design, and how to choose the proper style of pocket.
Coco Dress & Top
This one is a great combination. The Coco Dress & Top pattern allows you to combine sewing with knits and dressmaking. This is a great beginner pattern because of its immense variations. You can go with a Breton top or a knit dress, or anything in between.
Best of all, the dress & top is super easy to fit and to sew. It does not come with any buttons or zips, and there is nothing for you to fuss with. This is a simple dressmaking exercise that will enhance your sewing skills.
Sorbetto Top
This pattern is one for the fashion lovers out there. The sorbetto top is a great practice to really hone your garment-making skills. In order to pull this one off, you need to master pleats, bias binding, and bust darts. While a little bit of an effort, this is great for a beginner who is ready to start stretching their legs creatively.
For someone new to the garment world, you may not be familiar with all the right names for everything. But the shift dress is one of the most common dresses in the world, and you undoubtedly see somebody wearing it at least once a day if you are out in public.
For a beginner, this is a great pattern to go from the first to the final stitch while perfecting your dressmaking process. You will need to attach neckline facings and bust darts. Once you have mastered the ease and simplicity of the shift dress, you can continue on to more customization and freestyle dressmaking.
The Date Dress
No list would be complete without this ultra-popular dress pattern. This has to be the most widely Instagrammed dress of the century. It is a simple slip dress, easy to sew while following the instructions, and yet it is genius in its subtle design.
You can wear the date dress loose or with a belt, with a fabric sash or even with a shirring. But whatever you wear this dress with, the pattern is easy to follow and the finished product is always stunning.
The Moneta Dress
We will finish off with a burst of elegance. For a beginner seamstress, this is one of the best dressmaking patterns available. In just a few hours each day, you can easily learn how to follow the pattern and make this incredibly fashionable and suave dress.
There are different versions of the Moneta dress, all of them coming with a curved neckline, in-seam pockets, a fitted bodice, and a shirred skirt. You can even adjust the length of the sleeves to suit different styles. This is a really fun pattern to play with while learning the ropes.