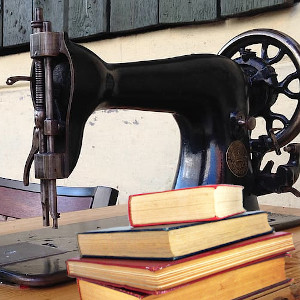 "Books are the quietest and most constant of friends; they are the most accessible and wisest of counselors, and the most patient of teachers." – As quoted by Charles W. Eliot in "The Happy Life."
Are you an amateur in the world of sewing and want to learn more? What better than referring to a book (or two or three). Books are the best way to learn and acquire new skills and put them to use for your benefit. Sewing, like any other form of art, is something you can learn with adequate personal attention or from books. There are tonnes of sewing books for beginners and experts alike! All you require to do is pick the ones that will help you and take you on a joyride into the wonderful and vast world of sewing.
What Makes For An Ideal Sewing Book?
A good book on sewing will have all information needed by the learners be it a beginner or a more advanced sewer. The book will remain relevant to the subject for a more extended time across every part of the world. It must cover in-depth details and illustrations of every sewing technique in a readable and easily doable format. An ideal sewing book should be able to appeal to different people as people tend to have different personalities and learning styles, leading to different outcomes each time they attempt a different book.
Now, due to the availability of different sewing books authored by different people, it can't be easy to find the best book for you. So, here we are with our hand-picked list of some of the best sewing books for beginners.
You can purchase these sewing books from your local bookstore or online from your preferred e-commerce websites:
"School of Sewing: Learn it, Teach it, Sew Together" by Shea Henderson
"Sew Everything Workshop" by Diana Rupp
"Me and My Sewing Machine" by Kate Haxel
"First Time Sewing: The Absolute Beginner's Guide" by the Editors Of Creative Publishing International
"Sewing 101: Master Basic Skills And Techniques" by Ruth Wilshaw
These books are instrumental in developing necessary sewing skills and instill in its readers the confidence to complete practical and straightforward sewing projects, thus laying down the foundations of advanced sewing.
More about our hand-picked sewing books for beginners: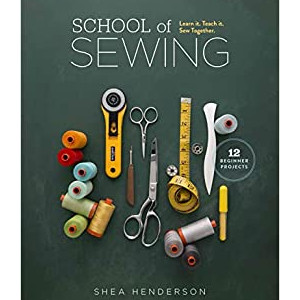 This book by Shea Anderson teaches its readers several sewing techniques, tips and trades of the art of sewing, and complete sewing projects with illustrations. This book is very engaging and gives step by step process of learning to sew with utmost confidence.
The book offers a detailed lesson plan on topics intended to teach newbies the art of sewing like workings of the sewing machine, fabric selection, color theory, and accessories used in tailoring.
The best thing about this book is the stepwise illustration that records each stitch or needlework pattern with appropriate tips and photographs, ensuring that the reader faces no issues during their sewing project.
Ms. Rupp's book "Sew Everything Workshop" was rated one of the most popular sewing books for beginners and advanced learners alike. It is comprehensive with several detailed illustrations of several sewing techniques, sewing machine related instructions, and much more (basically the A to Z of sewing). It is a handy guide that helps experienced sewers from time to time.
"Me and My Sewing Machine" by Kate Haxel
This book by Kate Haxel is easily an all-in-one solution for all sewing problems for beginners. The book includes easy guidelines and step by step illustration that hand-holds a reader through his/her sewing project.
The book includes instructions on the basics of patchwork and quilting along with basic sewing techniques and its numerous patterns. Haxel has avoided the use of technical terms and complicated jargon to keep the readers glued to her book and prevent confusion among them.
"First Time Sewing: The Absolute Beginner's Guide" by the Editors Of Creative Publishing International
This guide to sewing is one of the best sewing books for beginners as it details the stepwise instructions for completing any sewing project and enables its reader to learn the art of sewing with comprehensive descriptions and beautiful images that help illustrate the work.
This book can be used by beginners and advanced sewers alike as it touches upon some of the basic as well as complicated patterns used in sewing.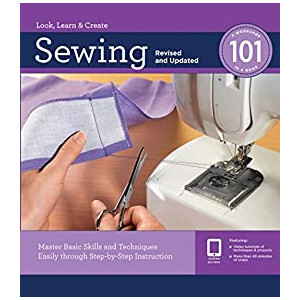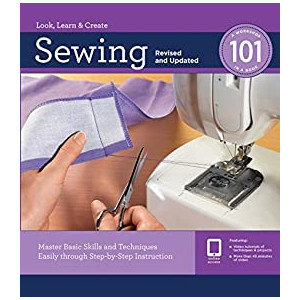 This book, like all ideal sewing books for beginners details steps by step instruction and accompanying photographs for most basic sewing projects. It is an excellent choice for those readers keen on improving their skills and gain expertise in the art of sewing.
Other notable books for new sewers include:
"The Sewing Book: An Encyclopedic Resource of Step-by-Step Techniques" by Alison Smith and Diana Rupp
"Stitch by Stitch: Learning to Sew, One Project at a Time" by Deborah Moebes
"The Sewing Machine Classroom: Learn the Ins& Outs of Your Machine" by Charlene Phillips
"Singer Complete Photo Guide to Sewing" by Nancy Langdon
While the books mentioned above may appeal to adult beginners who are intending to pursue sewing as their hobby, there are many books ideal for younger people who want to learn the fantastic art of sewing.
Some of the best sewing books for beginners in the kids/teen category includes:
"See And Sew: A Sewing Book For Children" by Tina Davis
"My First Sewing Machine: Fashion School" by Alison McNicol
"A Kid's Guide To Sewing: Learn To Sew With Sophie And Her Friends" by Sophie Kerr
Sewing Books For Beginners: Final Thoughts
Sewing may not be a skill that could be acquired by anyone and everyone, but you sure learn it, and with the right amount of patience and perseverance, you can learn the art of sewing. Get your copies of your favorite books and start learning the basics of sewing. Indulge in some of the most innovative sewing projects and enjoy the learning process!